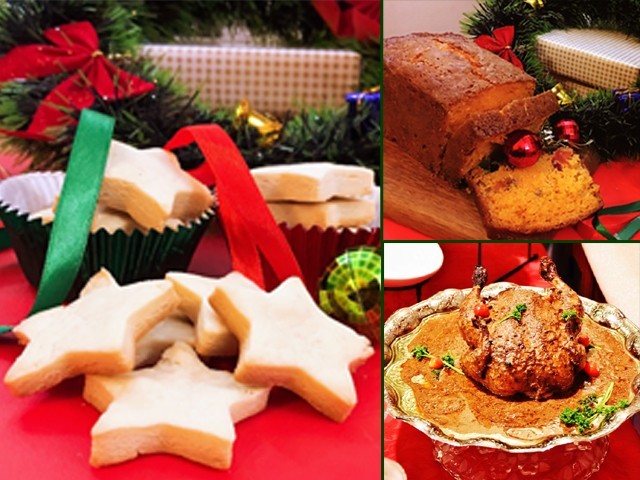 Finally, it's that time of the year again. Christmas, as traditional as it sounds, is reminiscent of many childhood holidays. From stuffing the chicken and turkey to baking fragrant ornaments for the Christmas tree, hanging up stockings and decking up the living room, some of our favourite festive memories have come from this holiday.   Cooking for Christmas is the way many share the joy of this holiday with their friends and family. You cannot just serve the Christmas bakes on the table; you should wrap them, adorn them with beautiful embellishments and send them to your loved ones as ...
Read Full Post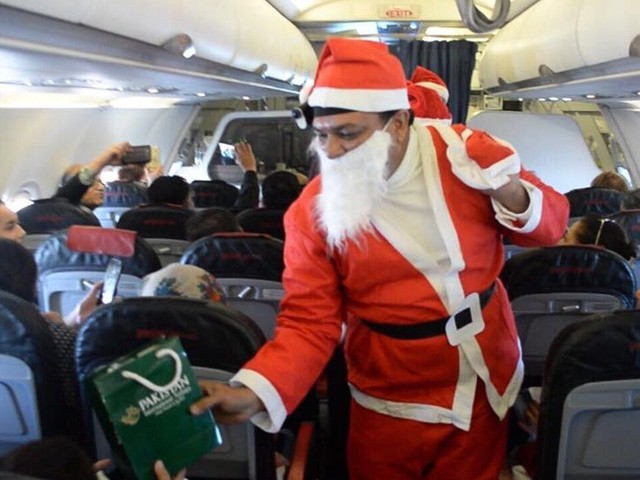 Everyone is aware of the fact that Christmas is a festival celebrating the birth of Jesus Christ. It is not only a day of celebration for Christians around the world but over time, it's celebration has become a global festival, being regarded as a symbol of joy and togetherness, not just religion. It is a day where families and friends get together and give each other gifts, quite similar to Eid, where Muslims get together and give each other Eidis and celebrate over food. However, celebrating Christmas in Pakistan has become a debate over the past decade. Many Pakistanis take offence when a Muslim wishes someone ...
Read Full Post
Most of us are familiar with Christmas carols. We have either grown up listening to them live or on television. "Deck the halls with boughs of holly, Fa la la la la la la la!" is a tune not unknown to many of us, hence the beauty of globalisation. The holidays are not only the perfect occasion to spend time with loved ones while eating your weight in cookies; they're also the ideal opportunity to sing your heart out. And most of us are familiar with Charles Dickens' A Christmas Carol, an instant bestseller, published almost 173 years ago. In a nutshell, Christmas is ...
Read Full Post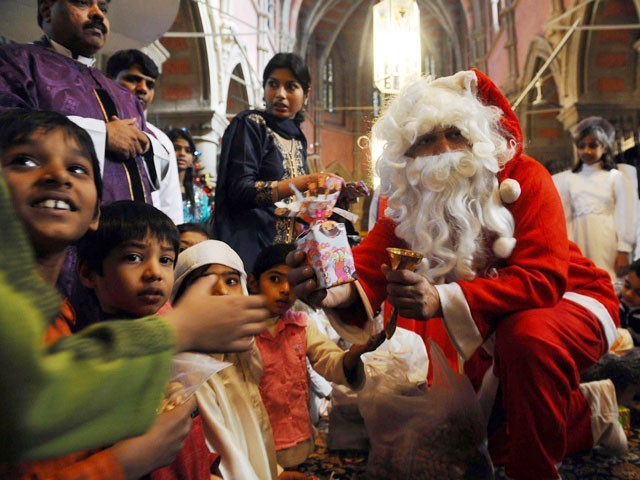 Moderating BBC Asian Network phone-ins, the DJ's energetic voice brusquely interrupted my overlapping memories of Christmas and Eid. Coarse cotton straight from the forty-yard tha'an bolt. Shimmering saris, suits, and achkans. Coriander, jasmine and mustard seed hair oil. Old spice, khas attar, and shalimar. Narcissus and roses surrounding individually wrapped fruits in da'ali gift baskets. Desi ghee from mithais scintillating with gold and silver leaves. Gota, glitter, and glitz. Teeth shining from a walnut bark rub, lips red, eyes sparkling. Cakes decorated with 'Happy Christmas', 'Happy Eid', 'Merry Christmas' and 'Eid Mubarak'. And then British Asians hyper-ventilating on BBC with their glottal stops and vowel shifts in top gear, breathing hard over ...
Read Full Post
Pakistan saw its darkest hour when innocent kids were brutally massacred in Peshawar by terrorists last week. As every single Pakistani was in mourning, the whole world beyond borders and beliefs stood by us. Thousands of miles away here in Canada, Peel District School Board lowered its flag to half-mast for a whole week. In India, every school observed two minutes silence and Twitter trended #IndiaWithPakistan. The Christian community in Karachi sang prayers for the children of Peshawar. I hear now that the Christian community in Pakistan has decided not to celebrate Christmas this year. When I heard about this, it took me down memory lane, ...
Read Full Post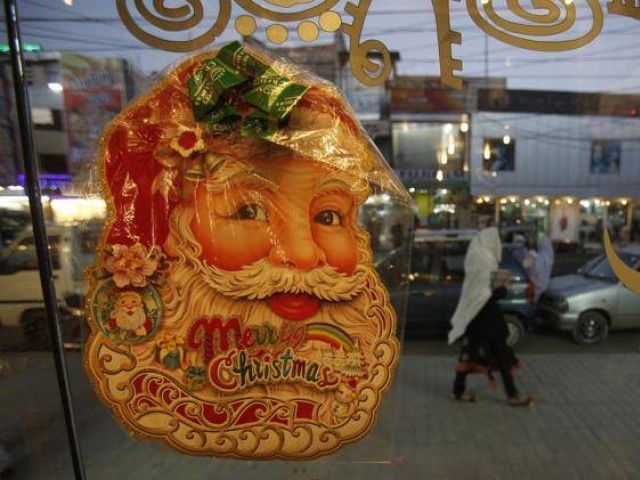 Tis' the season to be jolly! December always comes with great tidings; winter chills, hot chocolate, numerous holidays and an opportunity to make new resolutions. And along all this, it also brings the joyful day of Christmas. This day is an embodiment of religious beliefs, which celebrates a miraculous event and a time of togetherness. Two billion Christians all over the world celebrate this day with great spirit and felicity. As a child, the idea of Christmas for me was all about decorating Christmas trees, receiving presents and Santa stuffing himself down a chimney. I used to be most excited about meeting Santa ...
Read Full Post
Growing up watching Disney movies, and having lived in London, I have always loved the winter festivities surrounding Christmas. Christmas carols playing in restaurants, malls and shops gives a celebratory kick to the cold winters. Twinkling green pine, spruce or fir trees with fake snowflakes and buntings lit the hearts and house space of so many. The old age tradition of celebrating the winter solstice, red-cheeked Santa Claus, chariots, appreciative giveaways, culture specific dinners are all marks of peace, compassion, happiness and laughter. And that is exactly what we need right now! Globally, the need of the hour is huge chunks ...
Read Full Post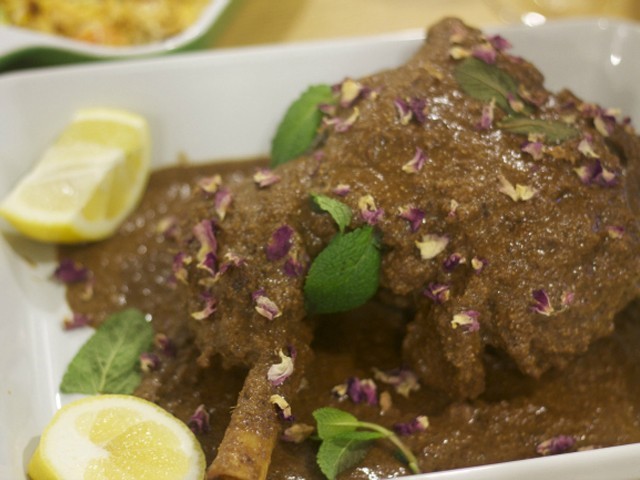 A Pakistani Christmas is so different. With a large local Christian population and the concepts of Christmas firmly entrenched in our culture from the colonial times, it is no wonder that we, in Pakistan, celebrate this festive day with much excitement yet in such different ways – menus, traditions and styles. The fact that December 25th also marks the birthday of the founder of Pakistan, Quaid-e-Azam Muhammad Ali Jinnah, the public holiday is definitely welcome, not only for our Christian population (which would be given a day off regardless), but also for us to enjoy this wonderful time of year. I remember well, always being excited ...
Read Full Post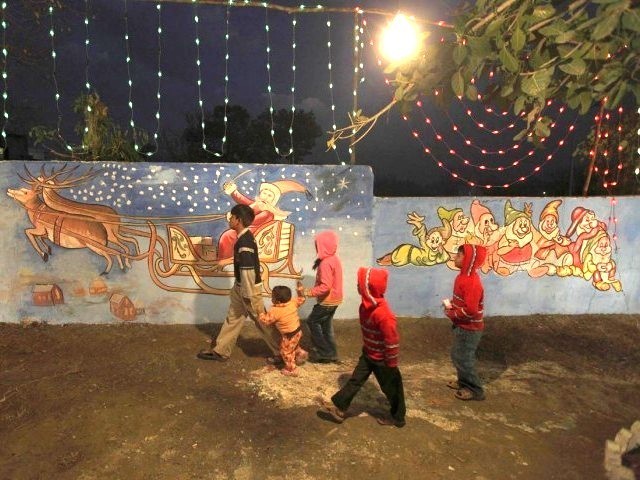 I plan to take my family out for dinner. I may call it a Christmas dinner and I don't think there is anything wrong in calling it that. As Pakistanis, I think it is a great coincidence and blessing that today is also the birthday of our founder, Quaid-e-Azam, whose message wasn't far off from what Jesus Christ taught us. Not only is there a religious connotation but a national association to this day for us to be united as one, spread the love and share the blessings with those less privileged. Before anyone takes objection to the term "Jesus Christ" please note ...
Read Full Post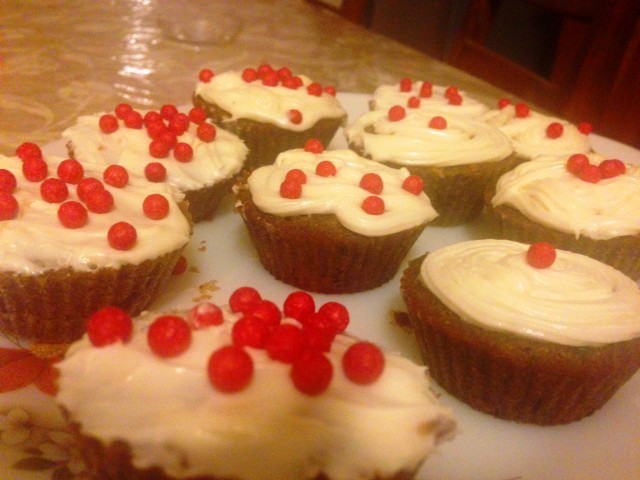 Christmas is that time of the year where you just want to cozy up near a fire with your loved ones and enjoy some soul food. Whether it's a nice little turkey combined with some exceptional roasted vegetables or some scrumptious dessert that just melts in your mouth. So in the spirit of Christmas, I've decided to spruce up an old Christmas recipe and give you something to share with your loved ones. For those who want to spread some Christmas spirit this holiday, here is my recipe of Christmas cupcakes with lemon zest and dried fruits. Ingredients: Photo: Laila Dharamsey Butter – 125 grams Soft ...
Read Full Post