This is in response to the recent blog on The Express Tribune by the name of, Can the US Government kill American Citizens? Although I agree with the author on the point that any person found guilty of treason should be punished, I would like to add a few points of my own, and clarify some confusion caused over the White memo. A brief summary of the White memo is provided below: 1) The White memo lays down the legal justification for targeting persons through drones. US Citizens, who are al Qaeda operational leaders, members and sympathisers, are the intended targets. 2) USA assumes that al Qaeda is continually ...
Read Full Post
After the uncovering of a leaked document in the United States, White House officials are facing criticism over an internal memo that was acquired by NBC News.The memo regarded drone strikes and how the US government is allowed to strike Americans with drone attacks if they are suspected or known to have any past or current ties with al Qaeda or any other wanted terrorist organisation. Naturally, the White House faced a huge backlash when the memo was discovered, but still kept their ground and insisted that they complied with US law and the Constitution, even if Americans are the targeted ...
Read Full Post
Perhaps no individual in Pakistan has had a rise as steep as Husain Haqqani. As an ordinary journalist, he climbed the ladder of success to become first a respected academic and then Pakistan's envoy to the United States within a couple of decades. Before becoming an ambassador, he was a staunch critic of the Pakistan Army and its US support. His books, opinion pieces and articles in various newspapers are ample evidence of his pro-democratic mindset. The notorious Memogate scandal, accusing Haqqani of seeking US help against the Pakistan military unfolded in a very strange and unbelievable way. As a ...
Read Full Post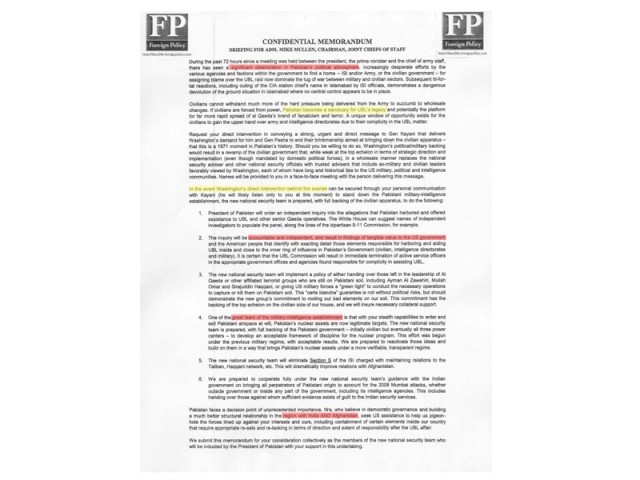 1. Whoever wrote the memo was speaking for the supremacy of the civilian, democratic setup with acknowledgement of the ground realities of a country easily swayed, even toppled off-course by the military. Kudos. Caveat: The sentiment to preserve civilian rule may have stemmed from self-preservation rather than democratic principles – but either way it is worth applauding. 2. The fact that Osama bin Laden was found on our soil, living a stone's throw away from the Army encampment really called for an accountable and independent inquiry along with the exposure and termination of service of those possibly involved in the whole ...
Read Full Post