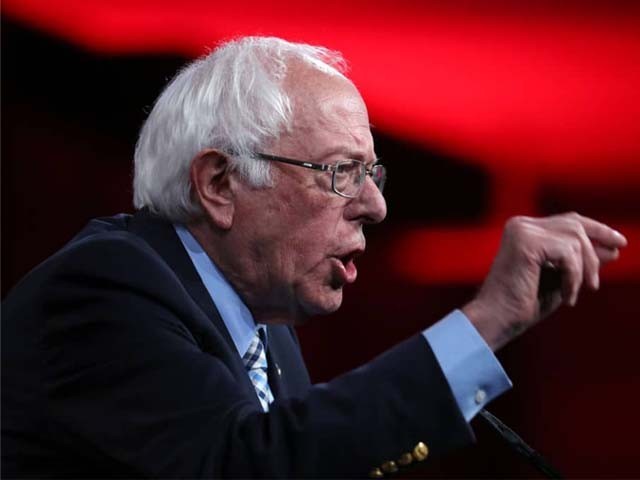 We are a nation that rejoices at semantics, not action. You need only look towards the reaction to Bernie Sanders' statement regarding Kashmir to get a sense of that. Sanders, who is currently one of the candidates vying to become the Democratic presidential nominee, recently spoke at the Islamic Society of North America (ISNA) in Houston and made some remarks which led to a whole host of reactions. He called India's actions in occupied Kashmir "unacceptable," and went onto state, "The communications blockade must be lifted immediately, and the United States government must speak out boldly in support of international ...
Read Full Post
Theresa May's resignation has prompted a mixed reaction. There are those who suddenly feel sympathy for a woman they were berating just days earlier, and there are those who remain steadfast in their criticism. I, for one, don't feel sorry for her, nor do I harbour any anger about her handling of the Brexit deal. The simple fact is that no one could have done this impossible task any better. May was elected leader of the Conservative (Tory) Party on a campaign of uncompromising, understated competence. That was her appeal and it made her stand out from the barrage of ...
Read Full Post
On Monday, as the clock struck midnight, Darren Osborne, a 47-year-old from Cardiff, drove a rented white van over innocent people outside Finsbury Park Mosque in London. Eleven innocent people were injured while one succumbed to injuries. Onlookers recalled Osborne shouting, "I want to kill all Muslims." Why did he commit this act? What were his motives? What does he want? I suppose we will find out more over time, though one thing is for sure – as much as this attack is against Muslims, it is also an attack against London. I'm glad each and every political figure condemned this attack, regardless of the attacker's ...
Read Full Post
This was supposed to be a bloodbath. This was supposed to be a funeral. This was supposed to be utter humiliation for Jeremy Corbyn, for this was supposed to be the day that Theresa May finally put to rest the party that had been the arch nemesis of the Conservatives (Tories) once and for all. So said the press, so said the pundits, so said the Tories, and even the Labour establishment. Yet, they were all wrong, for the voters had other ideas. Even as his colleagues sharpened their knives, Labour, under Corbyn's brilliant leadership, exceeded everyone's wildest expectations. Not only did they retain the ...
Read Full Post
Last week, I found a pamphlet of a budding political party innocuously placed next to my door. It embossed a pulp and a round South Asian face wearing a blue tie. Or was it a purple tie? I cannot remember. The party manifesto intrigued me the most. Notwithstanding the poor grammar, which showed the carelessness on part of the party candidate, it was the ambitious claims that interested me. As a Member of Parliament (MP), he promised to nationalise transport, improve health services, reduce housing cost and, wait for it, improve global trade. The manifesto's language did not only lack grammar, it ...
Read Full Post
As England starts paving its way towards Brexit negotiations following the trigger of Article 50, another bombshell was dropped on Britain's political arena.  Theresa May, in an act of complete surprise, declared that she was calling for snap elections to take place in June.  A mere 50 days away, the country is now being hastily prepped to deal with the upcoming general elections. May's sudden U-turn has been a surprise manoeuvre considering she said no snap elections would take place.  The general election, which was to take place in 2020, will now be pushed to 2022.  May's decision stems from her ...
Read Full Post
The decision of British voters in Thursday's referendum to leave the European Union will have vast consequences for Britain, for Europe and for the world. For a day, the British people were the government, and by 52 per cent to 48 per cent, they took the decision to go. I was a British prime minister who believed completely that Britain's future lay in Europe. I was the prime minister responsible for legislating substantial self-rule in Scotland so that it would remain part of the United Kingdom. I negotiated the Good Friday Agreement so that Northern Ireland could be at peace within ...
Read Full Post
I took a photo while Jeremy Corbyn – a British politician who is the leader of the Labour Party and the Opposition, and is the Member of Parliament (MP) for Islington North – Naila Hussain, and I were leaving for lunch in a rickshaw in Karachi, where we had gone to attend the World Social Forum in 2006. Tariq Ali, along with Corbyn, were one of the highlights of the forum. Dr AH Nayyar introduced me to Corbyn, since his elder, more radical brother was in Dr Nayyar's research group at the Imperial College in London). Having heard Corbyn, Tariq Ali and ...
Read Full Post