Mahnaz sat under an ivory sky on the ground outside the library building of her college. A light and wispy summer breeze kept turning the pages of a tattered and well-thumbed copy of Jane Eyre lying at her feet. She had just finished reading the book for the umpteenth time, which was evident from the pages that were all worn and dog-eared, the margins that crawled with hastily scribbled notes, the pastel-coloured post-its that protruded from every page, and the spine that was riven with creases. Every time she finished reading the book, she could not help but cringe ...
Read Full Post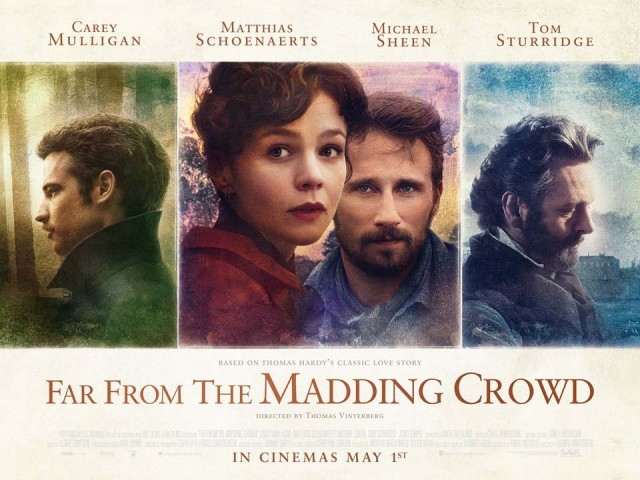 "They spoke very little of their mutual feeling; pretty phrases and warm expressions being probably unnecessary between such tried friends." (Thomas Hardy, Far from the Madding Crowd) Based on a Victorian novelist of naturalist movement and poet Thomas Hardy's 1874 literary masterpiece of the same name, Far From The Madding Crowd is an aesthetically created alluring romantic yet heady melodrama with the calculated rhythms and opulent aspects of rural life – all expressed with poignancy and the unforgettable character of a determined and eccentric female protagonist, Bathsheba Everdene.   Photo: IMDb Danish director and co-founder of the Dogme 95 avant-garde film movement, Thomas Vinterberg's drama adaptation ...
Read Full Post
Despite the many differences between the East and the West, one dilemma is shared all over and that is the emancipation of women. Irrespective of social status, age, ethnicity or time period, women have faced oppression and have been forced to 'compromise' their basic rights. Today, the world celebrates womanhood. Every woman is made to realise that she is more than just someone's daughter, mother or wife. Today is a day of celebration for both men and women – a day when you feel proud about being a woman or knowing one. Art has always had a way of recounting history in a ...
Read Full Post