Lately, there has been a lot of buzz about the possibility of an alliance between the Muttahida Quami Movement – that is now divided into MQM-Pakistan (MQM-P) and MQM-London (MQM-L) – and the Pakistan Tehreek-e-Insaf (PTI) at a federal level. Furthermore, this alliance is allegedly to replace the current opposition leader, Khursheed Shah of the Pakistan Peoples Party (PPP), with someone nominated by PTI. It is said that all politics are realpolitik and eventually realist concerns dictate what political parties actually do. PTI and MQM, given their history of intense confrontation, would prove this saying true if this alliance materialises. Both the parties have been clashing ...
Read Full Post
The Pakistan Tehreek-e-Insaf (PTI) has been witnessing a successful stint in Khyber Pakhtunkhwa (K-P) and it went on to claim that the education sector in K-P has improved greatly under their tenure as well. I concur with the previous statement since it is evident that people in K-P have begun to trust public sector schools more, so much so that the K-P Minister also admitted his child into one of these government-run public schools. Education remains the top most priority of all governments, specifically since 9/11. This is because the Pakistani government and international forces realised that the root cause of militancy in this particular region could be due to the lack of basic education. Numerous ...
Read Full Post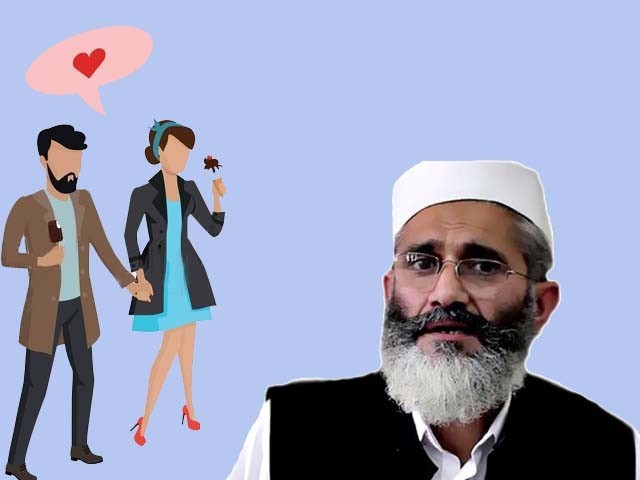 Recently, the Jamat-e-Islami (JI) chief, Sirajul Haq, made a controversial speech that sparked a debate. In the speech, Haq tried to compare western culture to Pakistani culture and trivialised it by claiming that it advantaged individuality over everything else. In order to make his point, Haq gave several examples. He stated that in the West, children don't live with their parents or take care of them when they grow old. However, the statement which really made the headlines was the anecdotal "evidence" he gave that in the West, men don't even buy their girlfriends ice cream and couples pay for things separately. It was ironic that the JI chief tried to ...
Read Full Post
Madiha was a 22-year-old girl in Gujranwala who had just gotten married. You know how it is for newly-wed girls; the apprehension, the stress of adjusting to a new home, the worries about making everyone like you and leaving your family behind. For Madiha, these worries became small compared to the horror she ended up facing. Her husband, Amir, would beat her regularly. Madiha's crime? She was unable to bring a motorbike for Amir in her dowry. Two months or so after the wedding, Amir and his family doused Madiha with petrol and set her on fire. She died within ...
Read Full Post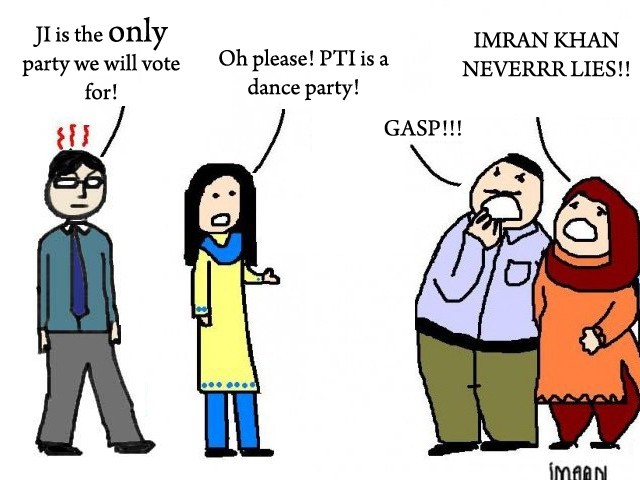 My youngest brother, Fahad* arrived from the US, having pulled his originally planned trip forward, to attend PTI's May 1 Karachi rally. Much to the amusement of some other members of my family, his political fervour this time was unrewarded as he arrived a bit too early for the rally which had already been cancelled. Under most circumstances, we would be excited about Fahad visiting us but this time, the news of his arrival was met with hushed anxiety. It brought back memories of his last visit when he and his wife went whizzing to the PTI  headquarters with their ...
Read Full Post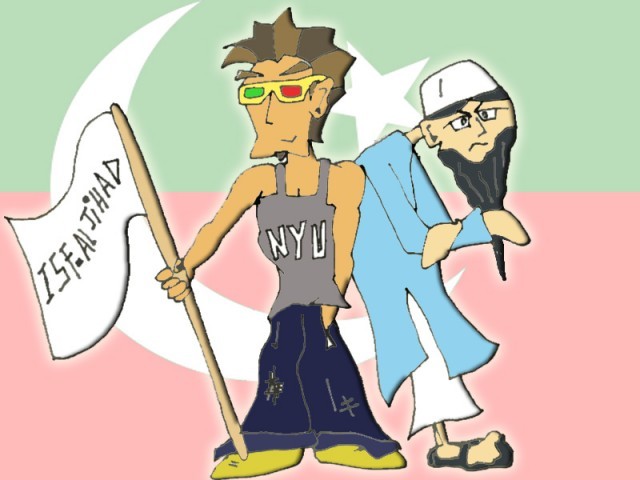 The characters: Dharna Dude: Loves X-Box, facials and Pakistan Tehreek-e-Insaaf (PTI) Jaali Jihadi: Hates the Jews, likes the Taliban, loves Jamat-e-Islami (JI), and also Katrina Kaif (secretly) Dialogue ensues sometime in the future, at a "Shukrana Rally" called by PTI and JI to celebrate the American withdrawal from Afghanistan. Dharna Dude: Helloooo JJ ma man! Whats happening Bro? We did it didn't we dude? PTI and JI are like BFF man. Americans are tu bhago-fying (the Americans are running). Jaali Jihadi: Asalam o Alaikum bhai jaan. Thanks to Allah we have succeed. We must do shukrana (gratitude) Nawafil, as it is holy day of Friday. Dharna Dude: So true ...
Read Full Post