Even though baked goods are notorious for being laden with sugars and fats, we crave them and indulge in them quite often. Our children love them and thoroughly enjoy them too. However, when these treats are baked at home, it gives us the liberty to control the ingredients and portion sizes. And what can be healthier than wheat bran? It is an excellent source of dietary fibre that aids in preventing colon diseases, including stomach cancer, breast cancer, gallbladder disease, haemorrhoids and hiatal hernia. It is also used for treating constipation, Irritable Bowel Syndrome (IBS), high cholesterol, high blood pressure, and type-two ...
Read Full Post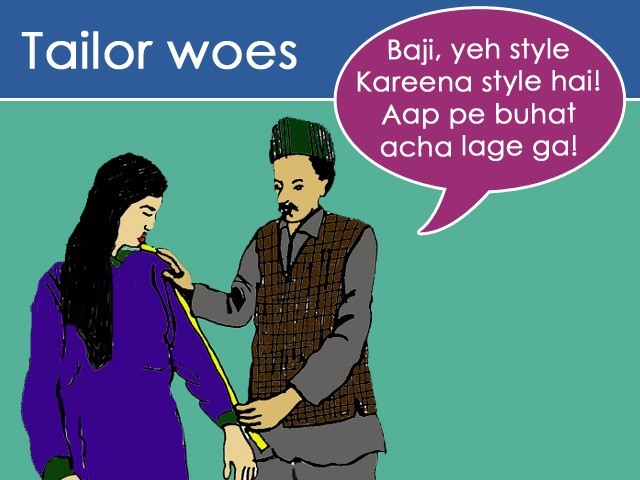 You're a Pakistani and you've never made a trip to the tailor? I find that hard to believe. Whether it's a job interview or a high school farewell party, tailors are the ones who can make every little occasion of a typical Pakistani woman's life either completely miserable or an absolute fairytale. You stand in front of a full-length mirror and study your newly stitched dress like a hawk. You look at the loose side fittings and feel aghast. The long, loosely dangling sleeves feel out of place. You swear to yourself that the deep neck you see in your reflection ...
Read Full Post
Getting stuck in Karachi's downtown traffic jam in the month of June is never pleasant and that jam was a brute. After an hour in the searing heat and the never ending snarl of cars, bikes and rickshaws I was on the verge of a breakdown when from the car radio came Zubaida Khanum's lilting voice. The song was 'Masti mein jhoom jhoom re' from Noor Jehan's classic 'Koel' and I was transported from the inferno to an idyll-like place because of the mellifluous song. The song, much like much of Zubaida Apa's work, represented so much. It harked back to ...
Read Full Post
The recent "Masterchef" hype has made us all fall in love with Australia. The TV show presents a land that is beautiful and inhabited with kind, loving and of course, good looking people with a passion for food. The latest season, that was aired on Star World, had everyone talking about the appetising dishes and exciting challenges. The mouthwatering food put up by the contestants, resulted in cravings and I ultimately wanted to try out their recipes. I am grateful to a young girl who informed me that the recipes were available on their website – I decided to try out ...
Read Full Post