India's reluctance to any third party mediation in Kashmir is, at best, a juvenile attempt at distortion of history and denial of context. Deliberately ignoring historicity and context, the vast sections of Indian media are narrating fairy tales on Kashmir while cashing on falsehood, provocation, propaganda and vitriol with an aim to insult the intelligence of a common man in India and hoodwink international audiences. India took the Kashmir case to the United Nations (UN). Nothing can be more ironic than the fact that it is India which is averse to the UN intervention on Kashmir issue. New Delhi's denialism and its ...
Read Full Post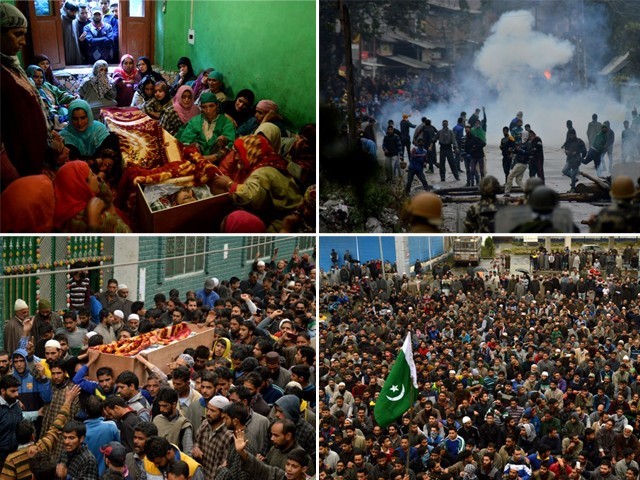 Indian-administered Kashmir is on the boil against the mob killing of 18-year-old Zahid Rasool Bhat, who was attacked with petrol bombs on the Srinagar-Jammu Highway near Udhampur on October 9th, when he was travelling back to the valley from New Delhi. Bhat, the Kashmiri trucker, sustained serious injuries when the right-wing goons mercilessly beat him up and set him ablaze. Bhat's killing raged violent protests followed by a shutdown on October 12th, called by the pro-freedom factions. The same day, the Jammu and Kashmir government had imposed strict restrictions in most parts of Kashmir to prevent protests against Bhat's killing. However, Bhat's body was ...
Read Full Post
The unusual series of attacks on cellular towers in different parts of Indian-administered Kashmir Valley has already resulted in the killings of two civilians. And furthermore, the way these attacks have been taking place is also very dubious in my opinion. Many appear clueless about the perpetrators, despite claims made by Lashkar-e-Islam, a lesser-known outfit that had purportedly circulated threat-posters to cellular companies, their employees, and local owners who usually rent out space for installing towers in their compounds, in North Kashmir. These attacks allegedly carried out by Lashkar-e-Islam, which seem to have categorically asked the mobile operators, vendors, and their employees to shut ...
Read Full Post
Khalid returned home in peace. Not on his own legs, but on four shoulders. He looked alright, just that he did not talk. His bones made a cracking sound, his teeth floated in a pool of blood. His face was mutilated, his nose had been cut. He was not shot at; they had been very good to him. They had only tortured him to death. His face was covered with stale blood. His blood. Khalid's 'crime' – he happened to be a brother of a freedom fighter, a militant. Khalid's brother Burhan Wani, on his own, has given seven lakh Indian forces sleepless nights. He has been ...
Read Full Post
On January 19, 2015, the Hindu community of the Kashmiri Pandits completed 25 years of exile. Following the outbreak of Islamist insurgency in Kashmir during the late 1980s, Kashmiri Pandits started finding themselves at the receiving end of a mindless wave of violence unleashed by terrorist groups. The mass exodus of the Kashmiri Pandits from the valley began on the night of January 19, 1990, as the valley reverberated with slogans of "azaadi", "nizam-e-mustafa" and "la ilaha illallah". Militant outfits like the Hizbul Mujahideen had issued open threats to the Kashmiri Pandits to leave Kashmir. Those who managed to escape the violence and migrate to the ...
Read Full Post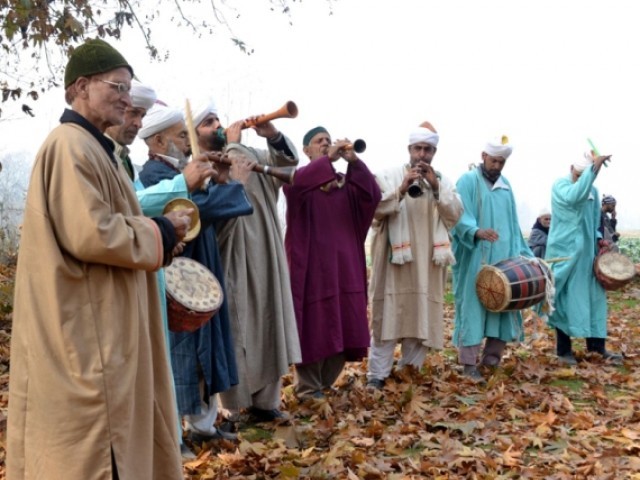 Bhand e Pather, part of Kashmiri folk theatre, is a satirical and realistic drama, one which incorporates mythological legends and contemporary social satire; a traditional mixture of art. Mostly performed in the countryside, it is used to entertain the public, especially on different ceremonies. The artists have a separate dress code, in accordance with the theme, for the various plays performed. These plays are always performed in an open ground. The characters in the Bhand e Pather are well versed, and because the performances are based on social issues, they are seen criticising the rulers and stressing upon the betterment of society. In its early ...
Read Full Post
The harud (autumn) is when the hustle and bustle in Kashmir villages begin with the season of harvest. The green turns to gold and then to russet and red; leaves fall to melodious cracking sounds under the feet of passers-by beneath the shades of the Chinar (maple) trees. Autumn, the indication of a long winter season in Kashmir, is marked by a crimson yellow on the Chinar trees. In Kashmir, the season in September, October and November can be dry, wet or windy. With the decrease in temperature, it's the season when the maple trees turn into bonfires and leaves start falling from them. [caption id="" align="alignnone" ...
Read Full Post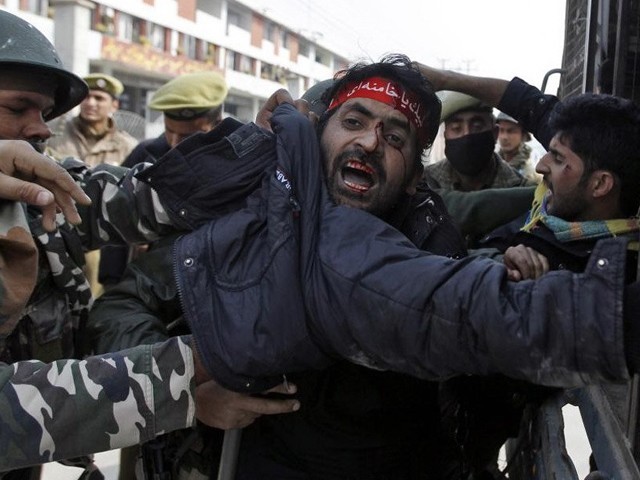 On Sunday, November 2, 2014, Indian authorities imposed severe restrictions in different parts of Srinagar city and prevented Shia mourners from taking out a Muharram procession from Shaheed Ganj area of the city. Strict orders, as per section 144 regarding processions, were imposed in areas falling under Kothi Bagh, Shaheed Gunj, Maisuma and Kralkhud police jurisdictions of Srinagar city. The Shia mourners, however, defied the restrictions and continued to take out processions from various areas. Many mourners were seen striking their chests and reciting Noha and Marsia to pay tribute to the martyrs of Karbala. This ban on Muharram processions in Kashmir ...
Read Full Post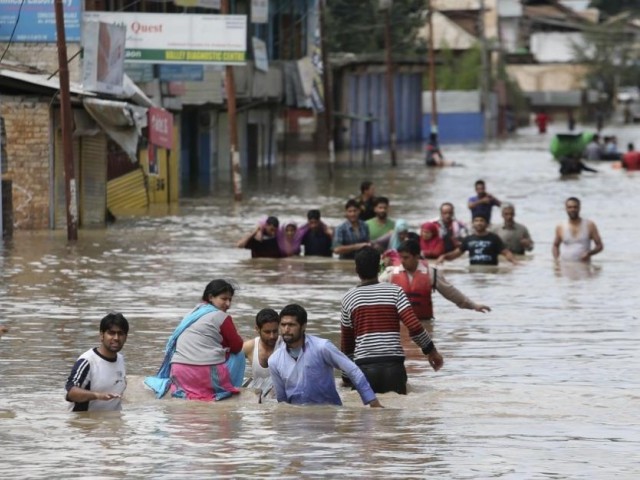 Kashmir is battling the worst of times in its living memory. A flood that has inundated half of the valley is causing unimaginable devastation, yet the hyper-nationalist and jingoistic Indian media has made the so-called rescue operations by its army the centre of its attention and coverage. "Army and air force are risking their own lives to save lives in #JKfloods. Separatists who have only abused the fauj should feel chastened now," tweeted the cheerleader of India's broadcast media Barkha Dutt. Army & Air Force are risking their own lives to save lives in #JKfloods. Separatists who have only abused the Fauj should ...
Read Full Post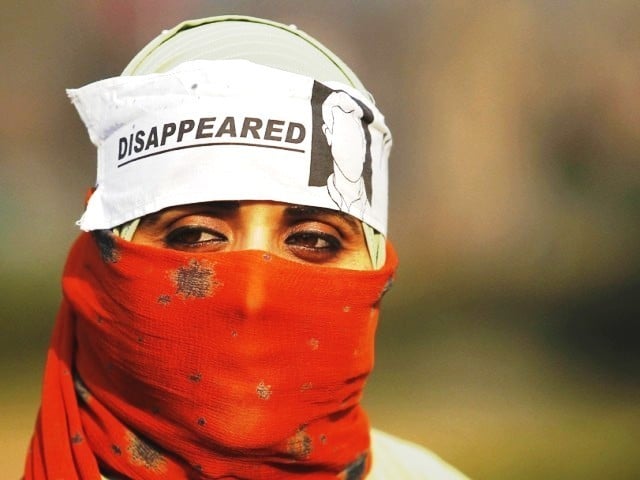 For hundreds of Kashmiri families whose relatives – mostly sons or husbands – have been subjected to custodial disappearances, the struggle for justice is, in many ways, a battle between memory and forgetfulness. They insist they won't give up their fight; they won't forget; and they won't forgive. Among many other serious crimes committed against humanity in disputed Jammu and Kashmir, the Indian government forces are also accused of subjecting between 8,000 to 10,000 Kashmiris to enforced custodial disappearance since the eruption of popular armed uprising against Indian rule in restive Himalayan region in 1989. During a press conference in 2008, the state government led by ...
Read Full Post