The 10th of December is celebrated annually as International Human Rights Day to highlight the importance of safeguarding civil liberties across the globe. It was on this day, in 1948, when the United Nations General Assembly adopted the Universal Declaration of Human Rights, a document that sought to protect basic freedoms of the world's population. Today marks the 71st anniversary of the same. This year's theme is "youth standing up for human rights" which seeks to highlight the innovative mediums through which today's youth is raising awareness regarding pressing civil liberty issues.  Human Rights Day – A brief history After World War II, it was apparent ...
Read Full Post
It seems that PTI's Kashmir narrative has, unfortunately lost some of its momentum on the international stage. The human rights struggle in Kashmir remains in limbo, as over eight million people in the region are still under a constant lock-down. The government's policy in Indian-occupied Kashmir (IoK) has been slightly marred by the lack of a subsequent follow through. Meanwhile, the Indian government has revealed the hidden demons of a society which is polarised beyond repair and a government which is furthering the religious divide in the country. The nation, already fragmented over claims of atrocities taking place inside its own geographic boundaries, has to be held responsible ...
Read Full Post
As 16 Days of Activism to end gender-based violence came to a close on December 10th, World Human Rights Day, the Asia Pacific Transgender Network (APTN) launched its #ChangeTheClap campaign. This campaign comes at an imperative time, considering that gender-based violence is on the rise and atrocities against the trans community, especially, are extremely prevalent. The campaign aims to directly challenge the way people perceive transgender people in Pakistan. Brutality and humiliation towards members of the transgender community is something every citizen of Pakistan is aware of, or has taken part in, directly or indirectly, in some form or the other. ...
Read Full Post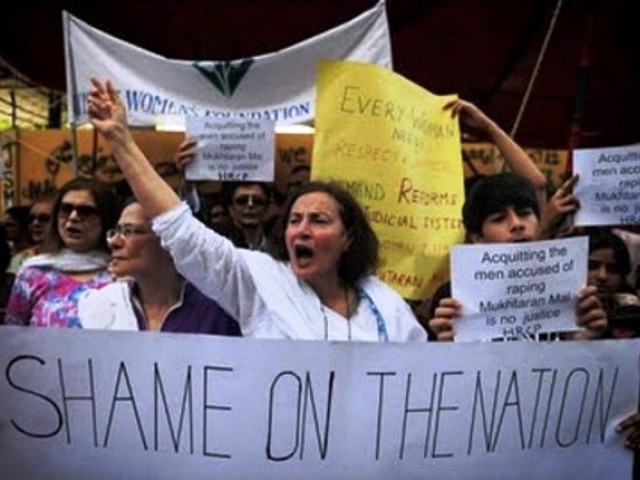 I hate to be an emissary of doom and gloom. Unfortunately, when I often look around to seek inspiration for my write-ups, I find the wretched in much greater numbers than the elated souls. My quest then becomes one of bringing forth the voice of those derelict yet quiet masses. It is on this note that I would be talking about today, December 10, which is celebrated around the world as the Human Rights Day. This exercise was taken up in the 1950s to commemorate the passing of Universal Declaration of Human Rights (UDHR) by the United Nations (UN) general assembly ...
Read Full Post