We start our journey on foot from the doorways of our ancestral home on Allah Da'd street, located across from Sarpak (meaning 'pure ground' in Urdu). I visit Chakwal occassionally and we always spend a few days in this house, owned and originally built by my great-great-grandfather. The baithak in the centre commands serenity and space, and brings all the members of the household together for communal dining and reminiscing of the past. The surrounding rooms have changed shape over the years and have adapted to modern day comforts, but the elders still remember how everything was originally, comprising of: a space to keep cows and hens, ...
Read Full Post
Throughout human history, there have been numerous individuals whose existence and actions have adversely affected the course of a nation or the world on a whole. They have been the cause of great pain and suffering directly such as Joseph Stalin with his agricultural program or Adolf Hitler's war on Jews and the minorities of Germany and later on, the rest of the world. Pakistan too has had its fair share of such individuals but none of them stand out in comparison to the man who sowed the seeds of dissension, discord, sectarianism and extremism in our country – General Ziaul Haq. On the ...
Read Full Post
"Quaid-e-Azam aao zara tum, Dekho apna pakistan, Jiski bunyado ki khatir, Lakho ne di apni jaan." (Quaid-e-Azam come, Look at your Pakistan, For whose foundation sake, Millions of lives were sacrificed.) So starts the poem penned by Urdu poetess Gulnar Afreen – the refrain of which has become ubiquitous thanks to its completion being denied to a young speaker very recently in a Ramazan transmission. Now while it makes perfect sense for the literarily crippled philistines of the country to know zilch about where the verse comes from, the fact that the farce was broadcasted on live television, specifically in the holy month of Ramazan, serves as something of an expergefactor. And while the masses in general and ...
Read Full Post
The conflict between forcible conversions and an Islamic Republic flits on borderline blasphemy or heresy. Although the three Abrahamic religions forbid forcible conversions, their followers do carry a blemished record. Christians might reveal lingering cases of coercion and enticement and the single, tiny Jewish state constantly squirming in the limelight dare not add to its troubles. That leaves Muslims and their minorities in Pakistan living under the banner of an Islamic Republic. The deviant practice of forcibly converting and marrying non-Muslim minority members in Pakistan has finally been acknowledged in a laudable parliamentary announcement. On October 5, 2016, The Express ...
Read Full Post
Sometimes it becomes inexorable and practical to change the paradigms, let the past stay in the past and forget about historical incidents in order to open doors that lead to peace, prosperity and harmony. History documents that Pakistan and Israel are never directly involved in hostility or disputes with each other. However, in showing solidarity with Arab countries and in support of Palestine, Pakistan has categorically refused to recognise Israel as an independent state since its inception. Our history books and widespread stereotypes have played a major role in filling our hearts and minds with hatred against Israel. Considering the cost-benefit analysis and without ...
Read Full Post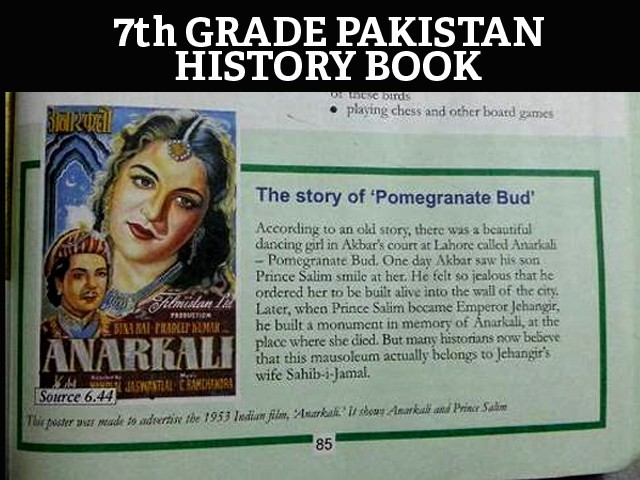 A few days ago, I was browsing through my Facebook newsfeed and thinking how boring this particular social media website had become of late. Scarcely had the thought entered my head, when I saw that someone had shared this image on their page, I was about to scroll down, thinking it was probably some 'blown-out-of-proportion' news about the Bollywood actress Aishwariya Rai, when I noticed the words "class seven history book" accompanying the image. When I stopped to read the status, image and accompanying text as well as the comments that followed, I was literally left dumbfounded. This image is from ...
Read Full Post
The history of Rawalpindi is one, which is scattered across a vast area. To draw a complete picture of our history, one has to collect the scattered pieces and put them together. No doubt, it's quite a difficult task but with time and patience, all can be achieved. Most of us know Rawalpindi as a convenient route taken by the invaders, when coming from the north-western regions. It also served as one of the most important cantonments established by the British Army in the north-western region of British India, in days of the The Great Game. Before the partition, Rawalpindi was an urban centre ...
Read Full Post
To say that August 30, 2013, was the darkest day in Pakistan's hockey history would not be an exaggeration. As the founders of the Hockey World Cup and four time world champions (in 1971, 1978, 1982 and 1994), it's a shame that Pakistan could not even qualify to play in the 13th edition of the world cup matches this year. This is a terribly painful situation for a team which had once been a master of this game. Pakistan had a smooth passage into the last four Asia Cup tournaments, which was refreshing for the nation but then, as it ...
Read Full Post
Ever wondered what the butterfly effect would be if one person who helped shape history was not there in the chronological time line? Without Abraham Lincoln and Winston Churchill, America and Britain wouldn't be the same today. Had Martin Luther King died before making the "I dream of a day" speech, who knows how African Americans would be treated today. Pakistan has also seen its fair share of inspirational people. They provide not only hope to Pakistan with their actions but also provided dignity with their thoughts and stance. I have a list of five names whose presence is so fundamental to Pakistan's ...
Read Full Post