If you were a child in the 1980s, you would surely know how nothing could even come close to beating the sheer thrill of racing bikes with friends through the streets of your neighbourhood, unless you have experienced Stranger Things. The kids are back on their bicycles, and boy are we psyched!  Last year's sleeper hit, along with being a damn good TV series, was a nostalgic trip down memory lane for all of us who had spent their childhood during the 1980s. Season one left us with some huge questions, so the second season, which later got confirmed, was always a possibility. ...
Read Full Post
Anyone who knows me knows my love for 'The Joker'. So whether you are Heath Ledger or Jared Leto or even Jack Nicholson for that matter, my admiration for your eccentric-self increased the moment you signed up to play the Clown Prince of Crime. Such is my fascination with the character that it transcends the confines of cineverse, so whether you are cosplaying for a comic-con or simply dressing up as Gotham's favourite Jester for Halloween, I like you, period! Lewis Hamilton walked in to Heidi Klum's annual Halloween bash of dressed up as Heath Ledger's version of The Joker.Photo: ESPN So when ...
Read Full Post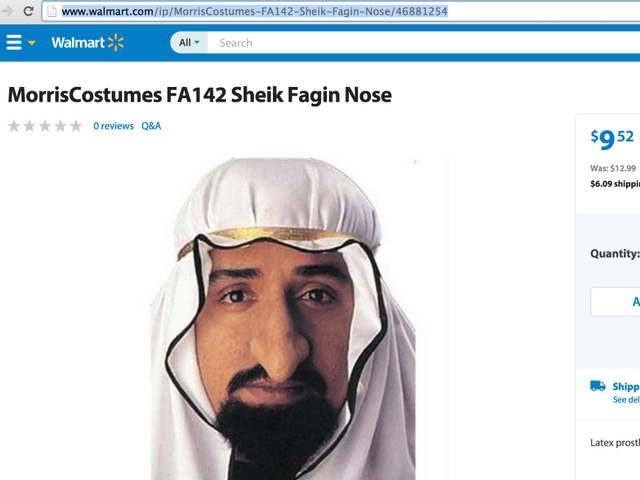 A fake 'Sheikh' nose, blackface, and a Mexican sombrero? Let me guess: you're going to that Halloween party tonight as a 'Howling Racist'. Halloween has little relevance to the lives of most Pakistani people. It is celebrated in certain elite quarters, while the rest of us wonder what scarcity of spookiness there is in this country that needs to be compensated for with a few extra zombie masks. For those who participate, I may have a Gullu Butt costume to lend out, if you ask nicely. But it is an important tradition in much of the Western world, particularly the United ...
Read Full Post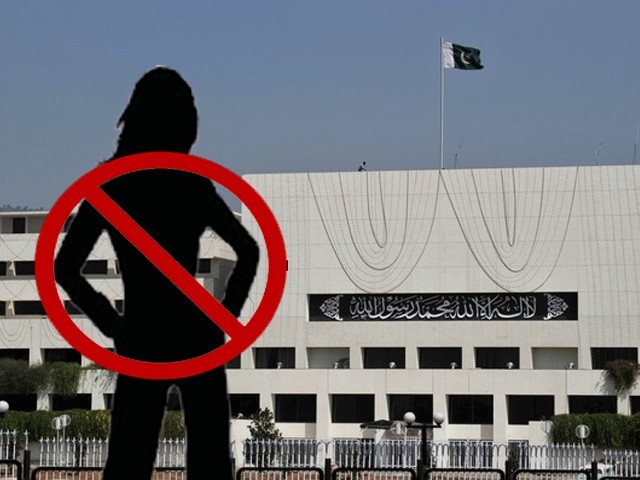 To be honest, I had no plans of writing this blog post, till some well-intentioned friends noticed my passive-aggressive rant on Facebook a few days back and nudged me to let it all out. Indeed, I owe it to their encouragement and to my own sanity. Not to mention, the borderline harassment incident that makes me want to smash pumpkins for Halloween. Just for starters. It all began when I was stopped by security guards at the gate of the Parliament House, asking me to prove my identity. As if flashing my press and senate cards was not enough, I had to verbally ...
Read Full Post
I hadn't seen Hercules in a while, and I wondered how djinns celebrated Halloween, perhaps by pretending to be human. I, myself, had celebrated Halloween by putting on a Rehman Malik wig and a pair of Asif Zardari grinning dentures. I found him on a stool, and he was made up to look human. Atop his pint-sized body, on his normally clean shaven face now without a veil, were the most outsized moustaches I had ever seen; bushy, black and shiny, upturned and pointy at the ends. Before I could say anything, Hercules struck a 'Ta-da' pose on the carpet in front of me. "But… ...
Read Full Post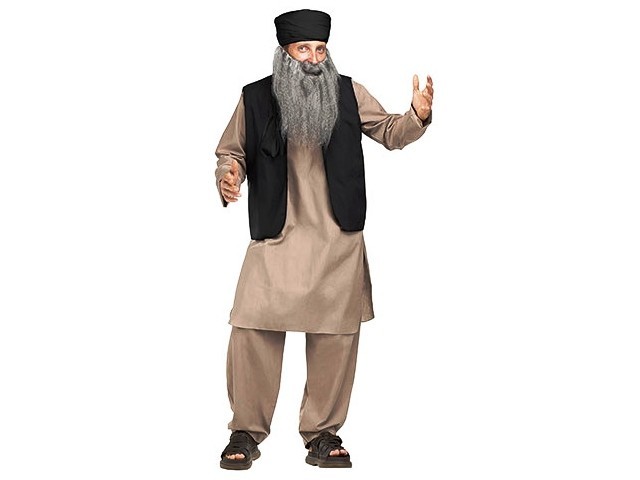 Dear Walmart, I liked you. I really did. Your prices are decent and I occasionally made a run to you when other stores in the area were closed, because of your late hours of operation. You were convenient and I really liked that about you. However, it came to my attention a couple of days ago that you tried to sell a Halloween costume depicting an 'old Pashtun Papa', full with a beige-coloured parthog and kameez, turban and a long fake, grey beard. Photo: Walmart.com Really, Walmart? Tasteless much? I've realised that you have now taken down that 'costume', apologised, and tried to ...
Read Full Post
The Pattersons, an English couple and previous owners of my grandparents' house, had returned to where they had come from when their countrymen left India. There's a picture of them on the landing; she is sitting on a deck chair in shorts while he is hanging over the back in white flannels with a chota peg in hand. Both of them appear to be sun-streaked blondes, the "dahling", coffee party types. My grandmother, on the other hand, modelled herself as the ideal woman in her Bahishti zewar (heavenly ornaments) which meant that the sun rose on my grandfather's… well from his ears, ...
Read Full Post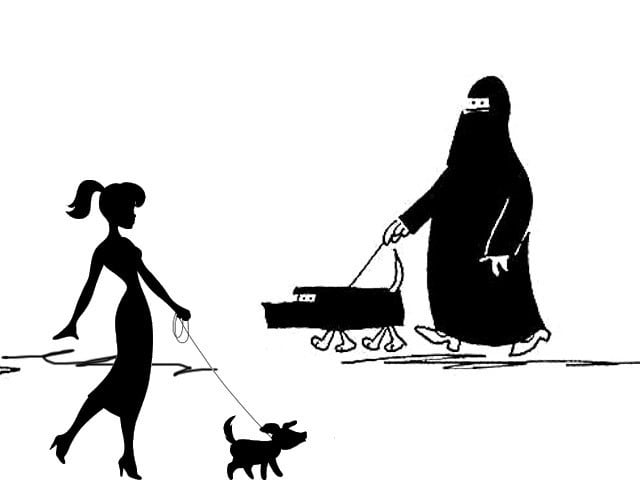 I remember watching a movie a couple of years ago, called Kingdom, the plot of which centred around an armed assault on a Saudi Aramco housing compound. For those who are not aware of the oil and gas industry, Saudi Aramco is a Saudi Arabian state-owned oil company, which has exclusive rights of oil extraction in the country. At the moment, Saudi Aramco is the biggest oil exporter in the world. The movie Kingdom was released in 2007 and that was my first exposure to the life-style followed in the housing compounds of this company. Last week I got a chance to actually visit a ...
Read Full Post
The end of October this year brings us news of the upcoming Eid-ul-Azha break and once again people flock to any and every place bearing livestock to purchase their sacrificial animals. For others though, the end of October marks the advent of new preparations for an entirely different kind of celebration. I present to you, ladies and gentlemen 'the Halloween party'. Never mind the number of shops selling awkwardly coloured Superman and Batman costumes, and schools that are organizing costume parties over the more traditional Eid gatherings. These lavish extravaganzas are aiming to take All Hallow's Eve to a whole new level. Shiny ...
Read Full Post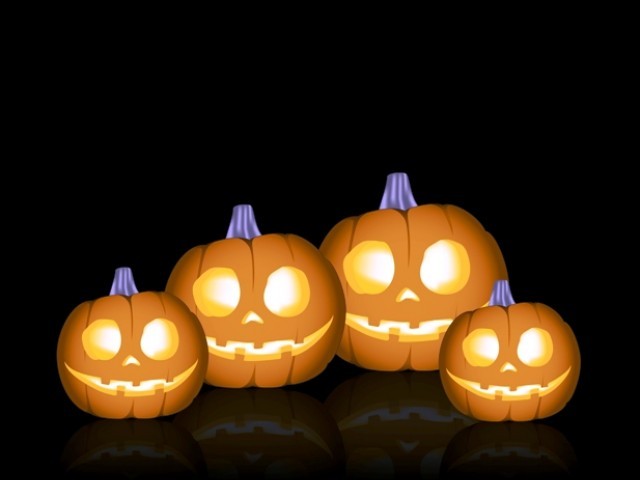 Halloween can be absolutely amazing when everyone gets into the festive mood and makes the effort to dress up. From mouth watering candy to delicious pumpkin pie, the treats, no doubt, are delicious, and the tricks can get pretty imaginative for those so inclined. I for one, prefer to scare and horrify (trick) rather than be bribed by sweets (unless pumpkin pie's on offer) but hey, that's just me. However, what really gets people psyched about Halloween is the dressing up. Over the years some costumes have become established as Halloween classics (like pirates, Superman, Spiderman, Darth Vader, etc.) while others ...
Read Full Post