Just about a couple of days ago, on the eve of yet another 9/11 anniversary, I was telling a friend how painful these past 17 years have been for the US. What happened that dreadful September morning was nothing less than a shock to the American system; a jolt of unprecedented proportions that we, as a nation, still haven't been able to get over or recover from in more than several different ways. September 11, 2001 changed America and the rest of the world forever. It tore apart the settled norms and values. It uprooted age-old beliefs that America must ...
Read Full Post
Last week, Barack Obama made his first public appearance after stepping down from office earlier this year. Back in his home territory of Chicago, where the former president started out as a community organiser before gaining nationwide recognition as an up and coming senator, Obama spoke in front of an audience of young people at the University of Chicago where he had taught law for years before entering into politics. The former president discussed the necessity of young people becoming involved in their communities and bridging the divide that's cut a bloody schism across the nation. Hillary Clinton and Donald ...
Read Full Post
"Listen lady, if you don't want to be whisked away to a brothel in Brussels and your three girls trafficked into pedophile rings or have their organs removed, please go back to Pakistan. Stop trying to make your way into Europe." These were the words of British aid worker Sajad Shah to a Pakistani mother with three very young daughters. The woman was seeking asylum in Germany, along with thousands of Syrians and Iraqi refugees, after claiming she was being persecuted as a Christian in her home country. The founder of the charity Love for Humanity, Sajad Shah has been helping in ...
Read Full Post
As a child growing up in Karachi, in PECHS, I just had one dream, one day I will go bridge kay us par (across the bridge, to the other side). The Kala pull was the Berlin wall of my world. Every rickety road I travelled on only strengthened my desire. Every night I slept with a pillow on my rear end, dreaming of the perfectly paved roads on the other side of the bridge. I even wrote a poem, "I have a dream that one day we will live in a city where we will not be divided by the imperfections in our roads ...
Read Full Post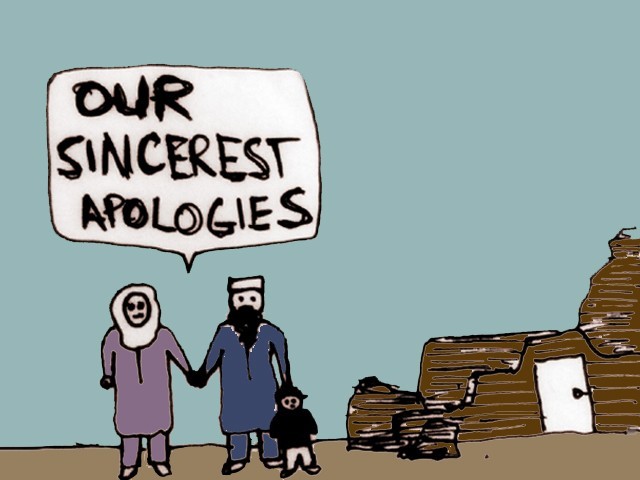 After the tragic Charlie Hebdo shootings, there has been a call by some people to make Muslims all over the world apologise for the incident. I completely agree with the sentiment. It is the only way to root out terrorism for once and for all. Nothing could make all the victims of terrorist attacks all over the world happier than watching every single Muslim in the world say 'sorry'. To really drive the point home, we can even send them greeting cards with our heartfelt apologies. I am sure the world would reciprocate in kind. We can start an apology trend. Once every single Muslim in ...
Read Full Post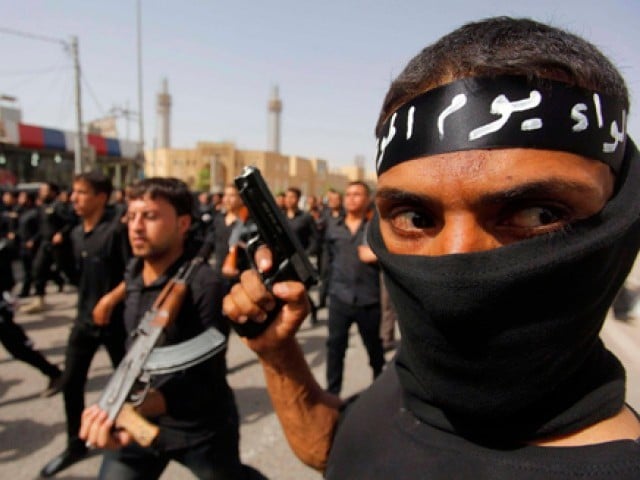 The Islamic State or IS (formerly known as the Islamic State of Iraq and Syria, ISIS) was born during the turmoil of Iraq – which was a melting pot of jihadist movements – in 2003 after the American invasion. However, it was only in June when the world really took notice of this eccentric organisation after militants with black flags took the strategically important city of Mosul and claimed it to be a part of their 'caliphate', defeating the Iraqi Army almost at will. According to conservative figures, the current number of IS fighters is estimated to be somewhere around 20,000 ...
Read Full Post
Pablo Picasso once said, "Painting is a blind man's profession. He paints not what he sees but what he feels; what he tells himself about what he has seen." The 46th ex-governor of Texas as well as the 43rd former president of the United States (from 2001 to 2009) and now an artist, George W Bush has surprised the world with his first ever solo art exhibition ingeniously titled 'The Art of Leadership – A President's Personal Diplomacy'. The exhibition opened at the George Bush Presidential Library and Museum in Dallas and it will run from April 5 through June 3, 2014. Former president Bush, who has taken ...
Read Full Post
This is the story of two Washington Iftar dinners. First, the Israeli Ambassador, Michael Oren, invited Muslim leaders to a diplomatic Iftar dinner last week and Imam Antepli of Duke University wondered aloud if the event was meaningful. Then the Obama administration invited Muslim leaders to the White House Iftar dinner and Omid Saifi, the Islamic studies professor from the University of North Carolina Chapel Hill, called to boycott it. It's obvious that we, the American Muslims, are struggling to identify the right posture: Boycott, and you sever a diplomatic tie; attend, and you are seen as the "enemy's" ally. While I empathise with the demands laid out ...
Read Full Post
On November 6, Barack Obama made it into the history books one more time. He has been re-elected as president of the United States for a second term despite high unemployment numbers, at a time when the majority of Americans are very uncertain about their futures. The last time re-election in the face of such dismal unemployment rates was accomplished in 1936, when Franklin Roosevelt took the presidency for the second time. America is increasingly becoming multicultural and ethnically diverse. In 2008, Hispanics, African-Americans and other minorities turned the tide for democrats in most states, showing overwhelming support for the first ...
Read Full Post
A few nights ago, I had a dream where I had ended up in Guantanamo Bay again to cover a military commission hearing sans any luggage. It may sound like the stuff nightmares are made of, but in reality, going to Guantanamo Bay to cover military commission hearings of detainees has been a fascinating, if not surreal experience. From the moment the airhostess on the chartered flight announces, "Welcome to Guantanamo Bay", to the realisation that you are on a tiny strip of land that has borne witness to some of the worst human rights abuses to have occurred on US ...
Read Full Post