When you sit all the way in the fashion "dungeon" or what is affectionately called "the back row", you notice and hear a lot of things you would not normally know or hear about while sitting all the way in the front. None of it has anything to do with the actual show. That is because your view of the runway is usually obstructed by a lady who decides to Empire State out her hair that day. The front rowers smoothly click, swipe, post on 10 different social platforms in a matter of seconds. You get up excitedly to shoot from your Chinese ...
Read Full Post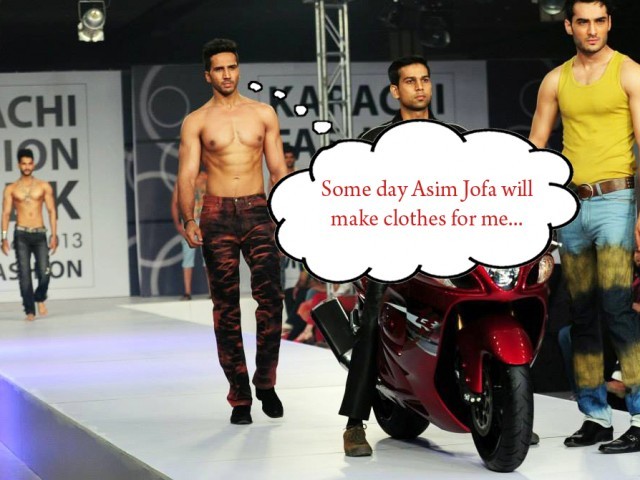 Hey girls, but more importantly — guys! The last time I wrote on fashion, I covered the all-important impact local fashion is having on terrorism (n' stuff). This time, thanks to the recently held first-ever Men's Fashion Week in Pakistan and Fashion Pakistan Week 2013, I present to you an exploration of men's fashion! I think the clothes really speak for themselves, but with a handy dandy speech bubble, I hope to call to your attention the nuances that go into design through the imaginings of the models that get to wear these splendid creations. Without further ado… THE HOTTEST MOMENTS IN PAKISTAN MEN'S FASHION ...
Read Full Post
It rained fashion weeks It was the year of the fashion week multitude; there were two in Karachi, two in Lahore and then Bridal Couture Week – yet more announced (Islamabad Fashion Week and Peshawar Fashion Week). The world's fashion capitals Milan, Paris, New York have one fashion week. Pakistan, however, seems way ahead of the game…or not. Do we really have that many retail buyers in Pakistan? We definitely have enough bored housewives, busy darzis and a multitude of 'fashion' magazines. What's next—Sukkur Fashion Week and Head & Shoulders' darzi Fashion Week? Our social network Facebook—the 'un-Islamic' website was temporarily banned ...
Read Full Post
Pakistan Fashion Design Council (PFDC) Sunsilk Fashion Week has been a success. From Maria B's clichéd yet imposing collection 'Tribal Militants' to Feeha Jamshed's commendable attempt at paying homage to 40 years of the Teejays trademark, the show is a shimmering example of the surfeit of talent that exists in our fashion industry. But under the circumstances in which it was conducted, it serves to demonstrate the nation's resilience against political violence. Ironically so, it is this very resilience that has been spurned upon. There is a section of society which believes that in the event of the suicide attacks in ...
Read Full Post