Ever look at those expensive designer dresses in the display windows and felt sad? Ever felt left out because you couldn't possibly afford to buy a Dior or a Balenciaga dress? Fret not, for Pakistani designers have a genius way of saving you of this misery.  No, no, I'm not talking about cheap knockoffs. Oh no. This is a strangely real deal. You'll still be wearing designer clothes, probably might even cost an organ, but you'll be halfway there on the social ladder. One of Pakistan's leading fashion houses, Sana Safinaz is under the spot light once again and for the same ...
Read Full Post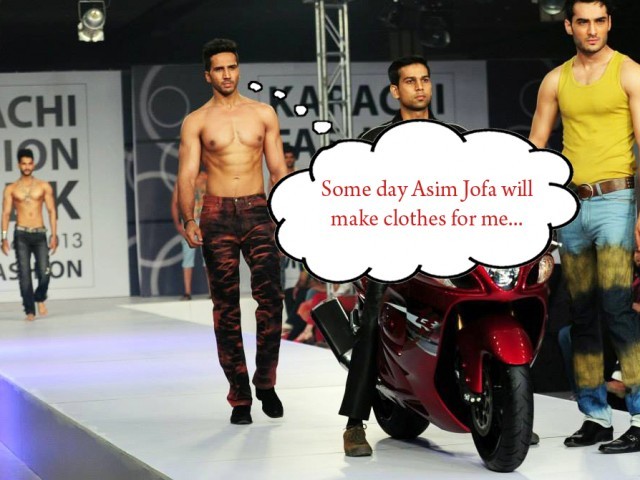 Hey girls, but more importantly — guys! The last time I wrote on fashion, I covered the all-important impact local fashion is having on terrorism (n' stuff). This time, thanks to the recently held first-ever Men's Fashion Week in Pakistan and Fashion Pakistan Week 2013, I present to you an exploration of men's fashion! I think the clothes really speak for themselves, but with a handy dandy speech bubble, I hope to call to your attention the nuances that go into design through the imaginings of the models that get to wear these splendid creations. Without further ado… THE HOTTEST MOMENTS IN PAKISTAN MEN'S FASHION ...
Read Full Post
The Annual Academy Awards is about fashion as much as it is about great cinema. It is a grand fashion show where stars dress to impress. Just because you did not attend the Oscars, doesn't mean you can't get in on the fun. Local designers on the pulse of fashion are second to none when it comes to glamour. If you have an upcoming special occasion, let A-list actresses inspire your style. Here are 15 of my favorite looks. Getting the look means keeping it simple, elegant and modern. Safia Abbas' silk gown channels Amanda Seyfried's gorgeous Alexander McQueen gown with a halter neck, crystal beading, ...
Read Full Post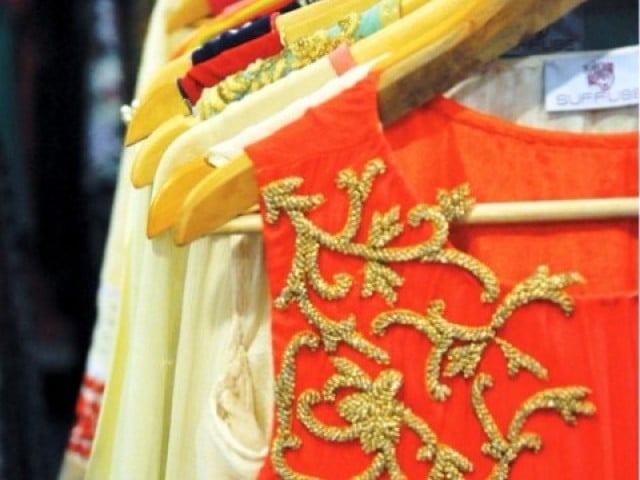 Is it just me or does local off-the-rack fashion appear to be more cookie-cutter than ever? On the lookout for an Eid-appropriate outfit recently, I expected to enjoy browsing through the racks featuring the usual array of namesake labels, from trained professional designers  to bored housewives. Instead, the general search was nothing short of a frustrating nightmare; hideously large crystals on chikan, animal prints with fussy aunty-style details, and radiant colours made mundane with maternity cuts. Now, people pay tens (or hundreds) of thousands to look like sparkly gift-boxes on certain occasions, (and I've voluntarily done it, too) but I honestly couldn't stomach it ...
Read Full Post
Aunties are the essential thread that holds the delicate fabric of Pakistani society together. In fact, it's quite surprising that a proportion of our country's defence budget isn't allocated towards the Aunty Brigade. 'Society Aunties' are the crème-de-la-crème of the Aunty Brigade. Deceptively formidable, they are armed with snubs, icy stares and an ammunition of feline comments. Beautifully groomed, dazzlingly arrayed, and possessing razor-sharp social finesse 'Society Aunties' reign drawing rooms, ballrooms, and fashionable weddings. Just don't make the mistake of addressing them as 'Aunty' especially when they appear 39 and Botoxed while their classmates are getting hip replacements. Have you ...
Read Full Post
I recently joined a firm where most women dress well. But there is one particular girl whose dress sense is admired by many others. As soon as she enters the room all heads turn towards her just to see what is she wearing. Every day she wears something trendy which makes her look different from everyone else.  She wears unique kurtas with jeans, long frocks, shirts and complimentary jewellery. I often hear comments like "Did you see her shoes? They must be imported!" but some will hiss "Imported? Give me a break…I saw that in Sunday Bazaar!" While still others would stare in wonder and ask "Where is ...
Read Full Post