The Pakistan Super League (PSL) has been a great addition to Pakistan's domestic calendar. For almost a decade, foreign teams refused to tour Pakistan and PSL managed to end that drought for us. Furthermore, young local cricketers were able to play alongside international players. Spending time with maestros like Vivian Richards, Dean Jones, Wasim Akram, Kevin Pietersen, Darren Sammy is important for young players, as it can help boost their confidence. Moreover, domestic matches typically do not see stadiums filled with people to the brim but PSL changed that and brought with it huge crowds, teaching cricketers how to play under immense pressure. Darren Sammy ...
Read Full Post
Our very own Internet darling, Momina Mustehsan, giving her thoughts on women empowerment, Shakeel Sheikh finally coming to terms with Misbahul Haq's success, Ahmer Naqvi performing duties and no 'bhabhi, bhabhi' chants every time Shaneria Akram came on screen – Islamabad United's celebratory match in Rawalpindi was a genuine celebration of things finally heading in the right direction – a celebration of cricket in Pakistan. Our grounds have been deprived of such jovial occasions for over past nine years because of one act of terror that refuses to detach itself from us. When plans for Pakistan Super League (PSL) were in its preliminary stages, it received ...
Read Full Post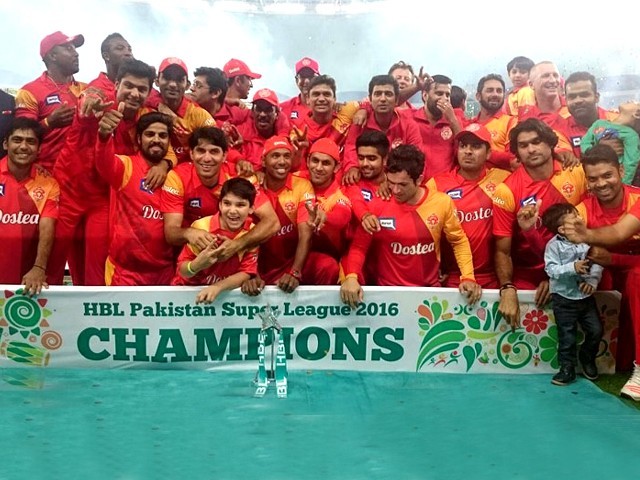 It came, it started and it conquered the hearts of millions, in our nation and beyond. The Pakistan Super League (PSL) finally concluded last night and what an ending it was. It was, arguably, the biggest and most colourful cricketing event ever held in the history of this country. PSL was an event which many thought would not kick off and an event that was continuously bombarded with criticism from all directions during its inception stage. But PSL's success proved everybody wrong. I'm pretty sure its success may have even surprised its financial backers. Speaking of surprises, the winners of the ...
Read Full Post
Pakistan cricket has a glorious history as far as wicket keepers are concerned, with the likes of Wasim Bari, Moin Khan and Rashid Latif serving the country successfully for long spells in the past. Moin Khan (L), Rashid Latif (C) and Wasim Bari (R). Their successor, Kamran Akmal, made a breakthrough entrance into the team and continued to perform consistently, up until that dreaded Test match in Sydney in January 2010. Kamran failed to hold on to four catches and also missed a run-out, due to which Australia were able to seal a highly unlikely victory. Ever since that horrid day, Pakistan's wicket keeping standards have experienced a ...
Read Full Post
The quiet, soft spoken and religiously devout Hashim Amla who hails from the Natal province in South Africa was a relatively unknown cricketer back in August 2006. It was then, during a pulsating Test match between South Africa and Sri Lanka when Dean Jones, former Australian batting legend turned cricket commentator, hurled an extremely offensive jibe at Hashim Amla. "The terrorist has got another wicket" Said Jones, referring to Amla after he took a catch. Jones was under the impression that the microphone was not live. Regardless of that, his comment was absolutely preposterous. Amla had been left out of the Test side after ...
Read Full Post