*Spoilers lie ahead* There is a certain gleeful pleasure — I'm sure the Germans have a word for it — to being witness to a moment in which people learn information about themselves that you have known for long. What a pity it is then, that the long, eventful and yet largely unsurprising seventh season finale of Game Of Thrones denies us that pleasure. Before this episode, even casual viewers knew the truth about Jon Snow's origins, that he isn't Ned Stark's bastard and that he is actually the legitimate son of Rhaegar Targaryen and Lyanna Stark. Readers of the books and frequenters ...
Read Full Post
The season six finale of Game of Thrones (GoT) had left all of us on the edge of our seats. Diehard fans were aching to watch the season seven premiere. Everyone wanted to know what would happen and how things would go down. A few months after the season finale, it was reported that shooting had been delayed. All us poor fans could do was wait, and wait we did. We waited for one entire year for the next season. If you think the year flew by, you clearly aren't a GoT fan. But all this is in the past now. The season seven premier ...
Read Full Post
Just like Melisandre brought Jon Snow back to life in season six, Game of Thrones (GoT) fans were resuscitated by producers after the teaser trailer for season seven was released on social media a few days ago. And the one-and-a-half minute teaser was as cryptic as GoT can get. Kit Harington in Game of Thrones. Photo: IMDb The trailer begins with sigils of all the major houses of Westeros, with famous dialogues by people belonging to these houses playing as the background score. We hear iconic lines from Daenerys Targaryen, the Mad King, Robert Baratheon, Cersei Lannister, Joffrey, Balon Greyjoy, Roose ...
Read Full Post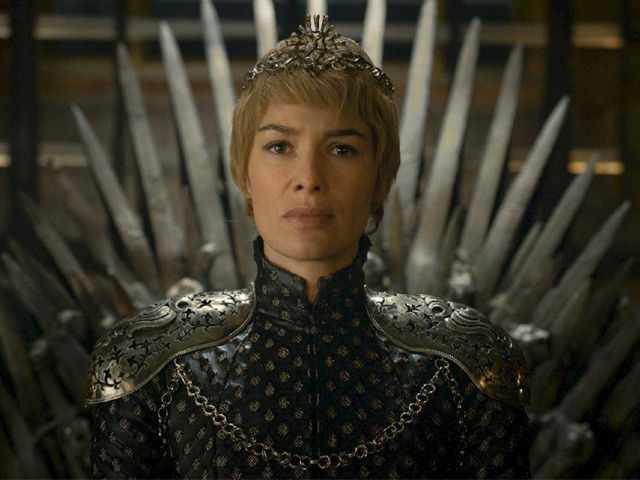 The thing about a show like Game of Thrones – although it's not hard to argue that there's nothing quite like it on the television landscape – is that due to the epic nature of its storytelling, characters are necessarily scattered far away from each other, with their own narrative arcs that are completely disparate and diverging. This has been especially true of the past few seasons, where beloved characters get tantalisingly close to meeting or reuniting, only to be flung away from each other again. This is not necessarily a criticism of the show and it certainly doesn't diminish the thrill ...
Read Full Post
Jon Snow came back to life, Brandon Stark got back in action, Brienne of Tarth saved Sansa Stark (finally), Roose Bolton and Balon Greyjoy (two of the most hated characters in the show) were killed, Tyrion Lannister got cozy with one of Daenerys Targaryen's dragons and Melisandre turned out to be a 100-years-old. Wow – what a thrill the past two weeks have been for GOT fans! Photo: Game of Thrones Memes Facebook Page The global sensation aired its first episode of Season 6 on April 24, 2016, and the producers made sure that its return was greeted ...
Read Full Post
We all know the red woman. Some hate her, others are transfixed by the fiery curls, but the one thing all Game of Thrones fans can agree upon is that she oozes sex appeal and is usually up to no good. Having left many a mouth hanging over the years, the very end of the first episode has to be her most jaw-dropping moment. However, it may not be for the reasons you might think.   I was personally expecting a lot more from the first episode considering all the hype created around it. So without giving an spoilers to the current episode, lets ...
Read Full Post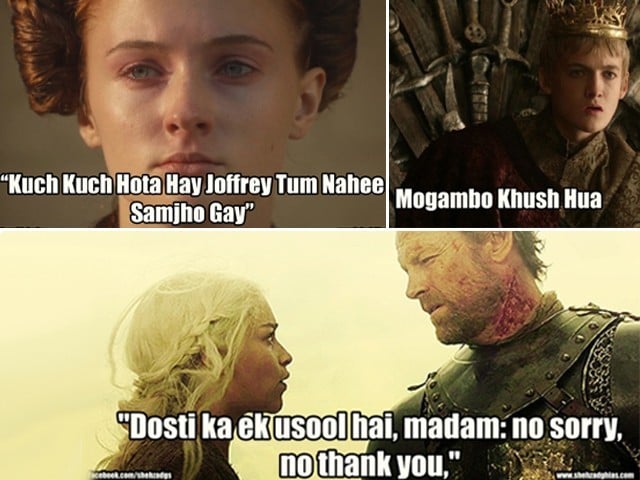 Social media is full of news of Game of Thrones being adapted as an Indian television show. Am I the only one who thinks that the plot lends itself perfectly for a Bollywood movie instead of a TV show? I would pay good money to see a Karan Johar production titled 'Kabhi Games, Kabhi Thrones'. The story would begin with Ned Stark and Robert Baratheon riding together on a motorbike merrily singing a song together. The evil sautayli ma (step-mother) would ask Jon Snow to be banished from the kingdom, and the Stark jayedaad (inheritance). Snow's storyline would become even more contentious in a Bollywood setting with the word 'bastard' repeated multiple times with the echo ...
Read Full Post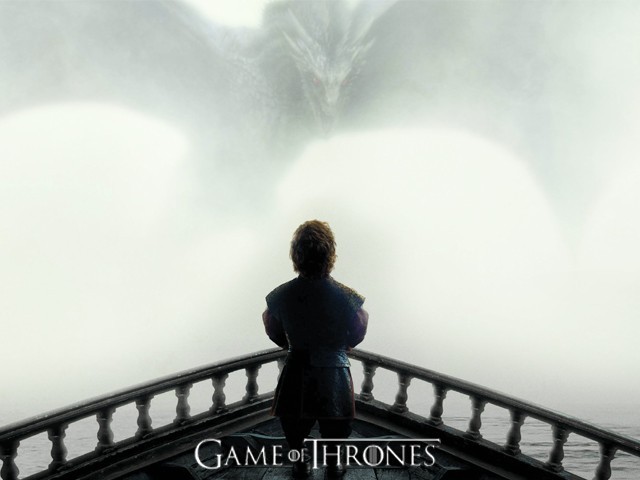 For most of the world, spring is just around the corner – but for HBO's Game of Thrones fans "winter is coming", as the new season kicks off on April 12, 2015. Game of Thrones is one of the most widely watched shows of this decade and is increasingly becoming part of the urban culture due to its surging popularity. However, for me, the charm of the show started to fade sometime last season. Yes, I am one of those I-have-read-the-books people and as the show drifted further away from the books, it left me exceedingly frustrated as significant subplots and characters ...
Read Full Post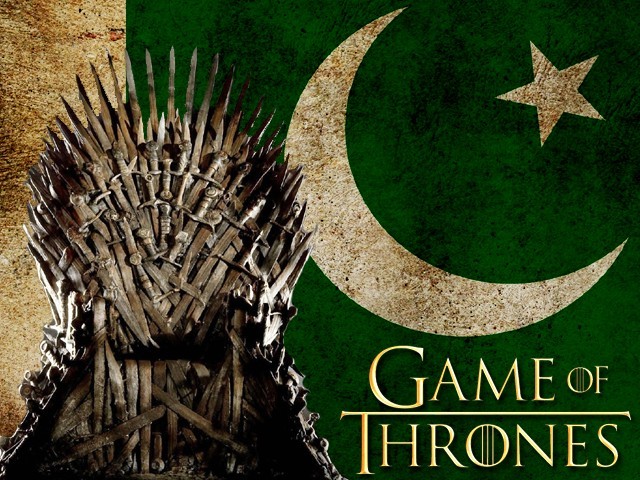 There are rumours flying around of production beginning on an Indian version of Game of Thrones (GoT). We let India sneak ahead in the nuclear arms race but we seem to be far ahead of them in the television dramas race. However, this could be a game-changer – to ensure we maintain our advantage we must make our own version of GoT before India! To make the job easier for all prospective producers, I have taken the liberty of casting the Pakistani Game of Thrones. 1. Mahira Khan as Daenerys Targaryen Our latest export to Bollywood is really the only option to play ...
Read Full Post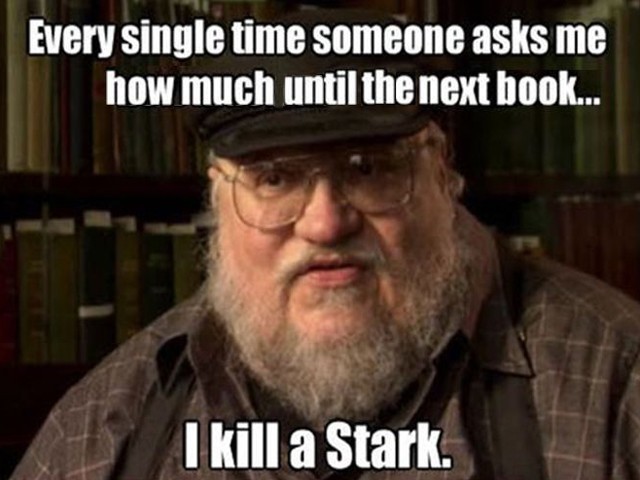 There is a rumour afloat that strikes fear in the hearts of millions. It's not the reports of the brain eating amoeba or SARS or an exotic epidemic. No, this is much more critical, infinitely more blood-curdling horrifying. The rumour is that (hold on to your dear ones. If you are a misanthropic loner then a pillow will do) George R R Martin may not be able to finish the last installation of his 'Song of Ice and Fire' books which form the plot of the wildly popular TV show, Game of Thrones (GOT). There, it's off my chest. The ...
Read Full Post