Nadia unlocked the door to the art studio, the hallway was empty and silence ruled. It was really early in the morning but this was the only time she would get to work on her semester project. Trying to balance the coffee holder in one hand, bag on her shoulder and keys in the other, she pushed the door open with her shoulder. Rushing to the nearest table, she put the two coffees hurriedly on the top before dropping her bag on the ground. She exasperated almost as if she had saved the day. Closing the door behind her, she ...
Read Full Post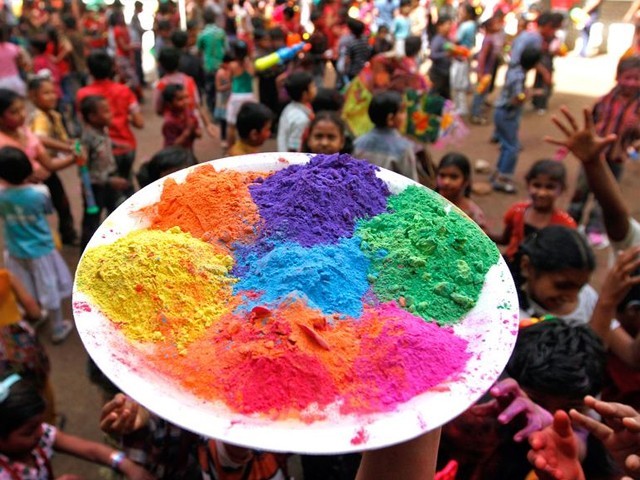 Phagwa, more commonly known as Holi, celebrated on the full moon day of Phalgun (the 12th month of the Hindu calendar), is a festival that heralds the arrival of spring. Celebrated with colours, it is a symbolic expression of the changing of temperatures and the blossoming fields of green. My childhood memories are consumed with numerous instances from Holi. Living in a predominantly Hindu neighbourhood in Delhi, and belonging to one of the few Muslim families, we were surrounded by bright, colourful faces on the day of Holi. The enthusiastic crowd did not hesitate to smear my parents with colour the second they stepped out, ...
Read Full Post
Lights, camera, action! The music starts.  "Fateh suron ki, jeet sangeet ki!" (Triumph of melody, victory of music!) Yes, you might have guessed that I'm talking about "Sur Kshetra", a music reality TV show where participants from India and Pakistan contest against each other. Each team brings six contestants from their respective countries to fight against each other in a singing competition. Their mentors are the sensational Atif Aslam (for team Pakistan) and Himesh Reshammiya (for team India). The jury members consists of Abida Parveen from Pakistan, Asha Bhosle from India and Runa Laila from Bangladesh. Their job is to mark the contestants either with ...
Read Full Post