Sylvester Stallone is a great actor, especially after he's had a few punches to his jaw. If you were a kid growing up in the 80s, Stallone and Arnold Schwarzenegger were the primary Hollywood heroes giving young men around the world bodybuilding goals. It was, of course, better to watch them than the flogging of criminals on national television during the Ziaul Haq era. One particularly provocative Stallone film which turned out to be a cult classic over the years was Judge Dredd. The idea that a police officer had the authority to carry out justice on the streets – ...
Read Full Post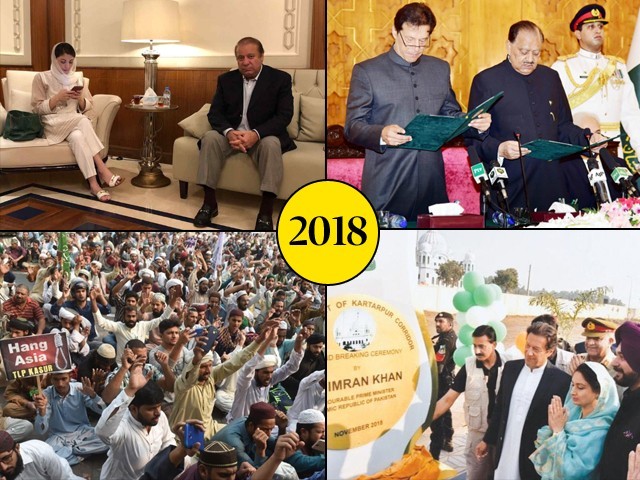 This year can rightfully be termed the year of change for Pakistan. After all, the General Elections held this year saw the rise of the Pakistan Tehreek-e-Insaf (PTI) into the power corridors. While the political temperature in Pakistan remains high despite the cold weather of December, the following are glimpses of the main political events that had an impact on Pakistan's political dispensation this year.  January: US President Donald Trump lashed out at Pakistan in a tweet and withheld aid worth millions of dollars. February: Renowned human rights lawyer and activist Asma Jahangir passed away. March: Pakistan Muslim League-Nawaz (PML-N) leaders Nihal Hashmi, Talal ...
Read Full Post
For an outside observer, September 19th in Islamabad could easily have been mistaken for Eid – thousands gathered and cheerfully embraced each other with exuberance, and sweets were handed out to all in sight. The entrance of the Islamabad High Court was buzzing with excitement, in the aftermath of the decision to suspend the sentences handed down by the accountability court to Nawaz Sharif, Maryam Nawaz and Captain Muhammad Safdar Awan. Amidst it all, the cause of celebration – former Prime Minister Nawaz – was relatively mute. Of course, the sombreness is in many ways understandable, Nawaz's wife and former First ...
Read Full Post
 "Independence means voluntary restraints and discipline, voluntary acceptance of the rule of law." – Mahatma Gandhi The much talked about judgment in the Avenfield case issued by the accountability court  should be celebrated for upholding accountability from the top, and promoting the rule of law in Pakistan where everyone is required to obey the laws of the country.  The verdict given by Justice Muhammad Bashir relates to case filed under Section 18(g) read with Section 24 of National Accountability Ordinance (NAO) 1999 against five accused, namely deposed Prime Minister Nawaz Sharif, Maryam Nawaz, Captain (retired) Muhammad Safdar, Hussain Nawaz Sharif ...
Read Full Post
A few weeks ago, before the media storm was unleashed by Imran Khan's alleged third marriage, a friend of mine sent me a WhatsApp message in which he mocked Bilawal Bhutto Zardari. His contention was that Bilawal had "technical" faults and was a closet homosexual. I tried to ignore him at first, but he kept pressing at the issue. I replied by saying that firstly, he had no proof for making such an assertion and secondly, even if it was true, it was his personal matter. Some days later, I got another message, in which he was desecrating Maryam Nawaz's ...
Read Full Post
It's December already, the reflective month of the year where everyone looks forward to ending the current year on a high note and making some resolutions for the year ahead. This year was satisfactorily distinctive for Pakistan – politically speaking – especially for the government and its cohorts. It was also by that direct correlation, quite ecstatic for the opposition as well. As a disclaimer, I would like to warn my readers to take everything with a bit of caution. If you did not understand the statement – conspiracy theory alert! This year has been quiet tumultuous for the Pakistan Muslim ...
Read Full Post
Chaos prevailed for at least a week due to the large-scale protests in which not only property was destroyed, but the daily lives of citizens was disrupted, holding them captive in their own homes. As if that was not enough, violent clashes between the protestors and the police forces resulted in the deaths of at least seven people, not to mention the hundreds who were critically injured. How exactly did it come to this? Was it just the amendment in the clause of the oath that resulted in the rise of Khadim Hussain Rizvi, and hence the bloodshed? The answer is a ...
Read Full Post
After much drama, an accountability court has proceeded to indict Nawaz Sharif and his kin for obtaining their foreign properties and businesses through dubious earnings. The indictment was a result of yesterday's hearing in which only Maryam Nawaz and her husband Captain Safdar Awan were present. Nawaz is in London tending to his wife, Kulsoom Nawaz, who is undergoing chemotherapy. The hearing was originally scheduled to take place on October 13th. On the day though, Pakistan Muslim League Nawaz's (PML-N) workers and lawyers barged into the court and created a ruckus claiming that their client had been manhandled and requested another date for the hearing. Also, ...
Read Full Post
A few days ago, I came across a video making rounds on social media which disturbed me a whole lot. In the said video, a retired major, belonging to a newly formed political party, was openly threatening to kill the former prime minister of Pakistan, Nawaz Sharif. In his view, Nawaz, by constantly reaching out to Ahmadis, had become 'Wajibul Qatl' (necessary to be killed). I could not believe that someone could so openly express hatred against a minority community and incite violence against a former PM for just displaying kind and courteous behaviour towards our minorities. It was the ...
Read Full Post
The poster boy for the arbitrary use of blasphemy laws has been hanged. His supporters have carried out various protests all across Pakistan. Members of the Islamabad Bar Association called his hanging a judicial murder and observed a "black day". Tens of thousands gathered for his funeral. Many of them turned violent and attacked journalists and reporters even breaking their equipment. Some self-professed clerics cornered up and verbally abused Information Minister Pervez Rashid at Karachi airport. The government responded by not allowing any in depth coverage of these incidents and asked anchors to keep a lid on it. But does ...
Read Full Post