It may seem disingenuous of me to criticise another writer for employing 'click-bait'. When I contribute to The Express Tribune Blogs, I do suggest attractive titles for my pieces designed to earn reader interest. After all, aside from publishing well-written pieces every editor wants to boost traffic numbers on their publication, while every writer wants their work read. But the difference between an eye-catching title and pure click-bait is like the difference between mixing a few spoons of sugar into your tea versus adding the contents of an entire sugar mill. After all, aside from publishing well-written pieces every editor ...
Read Full Post
There are certain positive developments in Pakistan that I wished to extend my solidarity with as a liberal from across the Indo-Pak border. But as I set out to write this piece, we had the news of the arrest of an Indian on espionage charges in Balochistan, fanning hatred in both Pakistan and India. Apart from this, we had some sad news coming in at the global level from Brussels,  Ivory Coast, and the blasts in Lahore on Easter. However, negativity has to be fought with positivity. We, the liberals, have to move forward with our actions to defeat the agenda of those coming in our way rather ...
Read Full Post
On a page that is dedicated to sharing glimpses into people's lives, the unexpected took place on March 14, 2016, when 'Humans of New York' founder Brandon Stanton exposed his own sentiments in an open letter to Donald Trump. This letter took the internet by storm, receiving over two million likes and one million shares on Facebook. "An Open Letter to Donald Trump: Mr. Trump, I try my hardest not to be political. I've refused to interview several of your fellow candidates. I didn't want to risk any personal goodwill by appearing to take sides in a contentious election. I thought: 'Maybe the timing is not right.' ...
Read Full Post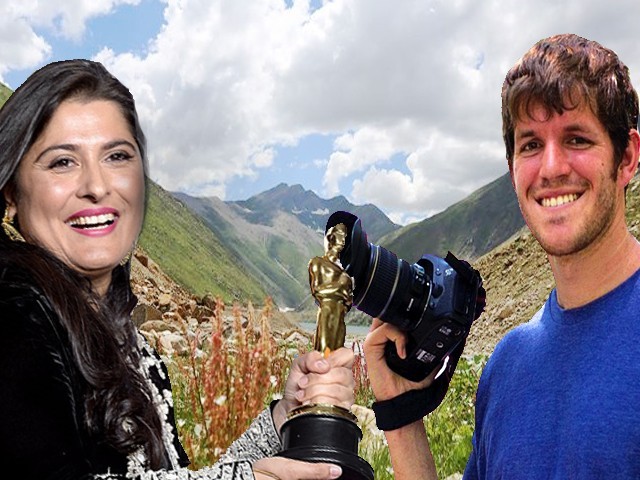 Like so many in Pakistan, I was pleased when American photo-blogger Brandon Stanton, founder of Humans of New York, visited the country to tell the stories of every day Pakistanis. As with his other excellent work, Brandon shared some moving tales, creating empathy as only he can. At the end of his Pakistan series, Brandon moved on to a despicable social ill of Pakistan: Bonded Labour, which is used to victimise thousands of Pakistanis and has been described as modern day slavery by the United Nations. Like any good journalist, Brandon highlighted the issue by sharing several heart-breaking stories alongside striking photos while relating some ...
Read Full Post
One week after Humans Of New York (HONY) completed their series on Pakistan, Humans Of Pakistan (HOP) published a photograph of a woman named Sarah* sitting with her two young boys. As per Sarah's narrative, her husband had left for a job offer abroad, two years after their marriage while she was expecting her first child. He left them for five years and came to see her and the children only twice, that even on her insistence. Eventually, Sarah learnt that her husband had remarried and no longer intended to come back or financially support her or their children. Hence, she decided to stand ...
Read Full Post
Brandon Stanton has done a great service to Pakistan, but what have you done for your country? Of late, my Facebook newsfeed projected a new Pakistani face every morning, credit Humans of New York (HONY), and a wonderfully fascinating story to go with it. There were moments I sat crying, moments of awe, moments of elation, moments of gratitude to Stanton for projecting to the world an image of Pakistan that is so awesome in its depth, humility, reality, humanity and simplicity. His wrap-up titled 'A final word on Pakistan', and the parting shot of the 'Magnificent Seven' (seven beautiful little boys) inspired a comment on ...
Read Full Post
I love brick houses; specifically the feel of those rectangular blocks. But when I know the hands that made those bricks were of a 12-year-old who couldn't afford a decent meal in the morning, I don't want to even see one let alone live in one. I cannot hold a passion for those houses anymore. Bonded labour is a shameful reality in Pakistan, which many are unaware of, as we celebrated our so called independence last week. So my question is, are we really free? Without sounding metaphoric, there are helpless people in our country who have been condemned to lifelong labour without or with ...
Read Full Post
National songs play a vital role in instilling love for a country in the hearts of children and the youth. They are the incentive and encouragement needed to express affection for one's motherland in every way possible. I remember when I was in school and TV channels would play the national anthem and patriotic songs beginning early August. The voices of the singers – painting new colours to the land in the minds of the patriots and making green flags greener – were the background music of our childhood. Skits and performances on patriotic songs were the life of celebrations in August, especially ...
Read Full Post