This honey sesame chicken with boiled rice is so amazing, in part because it is relatively easy and quick to whip up in the kitchen for lunch or dinner. Perhaps one of the easiest main courses to cook up and easily concocted in less than 30 minutes. Just think, you can prepare and be eating this chicken in less time than you can order takeout from your favourite Chinese restaurant. Ingredients For chicken: Chicken breast – 500 g (skin removed and cut into small pieces) Olive Oil – ¼ cup Milk – 2 tbsp Egg white – 1 Flour – ½ cup Salt – a pinch Black pepper – ½ to 1 tsp Spring Onion ...
Read Full Post
Here are some of the similarities between Pakistan's 1992 and 2015 World Cup squad that most of us are not aware of: 1. Venue 1992: Australia- New Zealand 2015: Australia- New Zealand 2. Captain Imran Khan Niazi of Mianwali (1992) Misbahul Haq Niazi of Mianwali (2015) 3. Captain's injury In 1992, Pakistan's captain, Imran Khan entered the tournament with an injury. In 2015, Misbahul Haq has also sustained an injury just before the World Cup. 4. Surprise all-rounder Ijaz Ahmed (1992) Haris Sohail (2015) 5. Opener who can also bowl Amir Sohail (1992) Mohammad Hafeez (2015) 6. Two leg-spinners in the squad Mushtaq Ahmed and Iqbal Sikander (1992) Shahid Afridi and Yasir Shah (2015) 7. Middle-order batsman  Inzamamul Haq, ...
Read Full Post
After depriving the world of the most glorious sight in international cricket – Saeed Ajmal in all his grace, splendour and beauty giving an interview to Nasser Hussain after a match – the ICC plans to throw the book at bowlers. I welcome this hard-line decision taken by the International Cricket Council (ICC) on the matter; if only these regulations had come a few years earlier, Kachra would never have been able to win the match for the farmers and the British could have enjoyed imposing dugna lagaan. Had they banned Imran Khan, our politics would have been deprived of the numerous cricket analogies ...
Read Full Post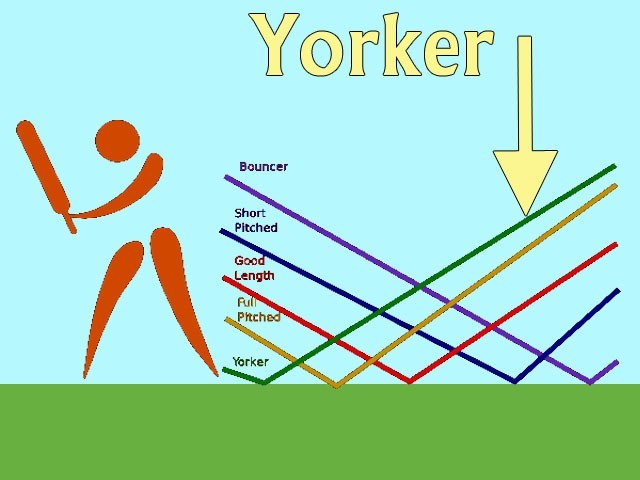 There was a time when yorkers used to be the favoured delivery of every seam bowler, especially in those matches that had limited overs. This was usually played when the opposing team was looking for quick runs, towards the end of an inning. If played perfectly, the yorker is a delivery that is almost impossible to hit. Even the most accomplished of batsmen face difficulty trying to get a yorker bowled at a fast pace. Pakistan had bowlers who could deliver yorkers almost at will. Sultans of Swing (Wasim Akram and Waqar Younis) had mastered the art in the '90s and, then we had ...
Read Full Post
The dream of recording the first ever Test series win in the Caribbean for Pakistan was shattered on Sunday after the greens lost by 40 runs. Many of us were sure that Misbahul Haq would be the one to succeed where the great Imran Khan failed. But sadly, it was not to be. A track that must have given bowlers worldwide hope and righted some of the travesties done to them over the past decade – coupled with an inept umpire – made sure that Pakistan ended up in the dumps. The World Cup left no doubt over the ineptitude of Asoka ...
Read Full Post
"Drop Hafeez." "Drop Ahmed Shehzad." "Make Kamran Akmal open." "No, replace Kamran Akmal and make Umar Akmal keep." "Wahab Riaz should be in the team." "Replace Rehman with Saeed Ajmal." "Replace Umar Akmal with Asad Shafiq." Is there any other request that Pakistani fans want fulfilled? It's high time we stop acting like the selectors of the team and focus on celebrating its success stories. Seriously, have they not done enough to make us happy? Pakistan have played three matches this World Cup and have won all three! What more do we want? If we understand the game so well, we should also understand the age-old captaincy rule: never change ...
Read Full Post
It was disconcerting and depressing to see bowlers like Sohail Tanvir and Abdul Razzaq being handed the new ball in the third ODI against New Zealand; some months ago, it was the greatly talented duo of Mohammad Asif and Mohammad Amir sharing that responsibility for the national team. The verdict on the banned trio's future is due on February 5 and Pakistani fans will be praying desperately for the ICC tribunal to at least show some leniency towards Mohammad Amir. Is Amir our only realistic hope? Inn my view, Mohammad Amir has the best chance of being acquitted, with a light or ...
Read Full Post
Not taking anything away from Pakistan's victory, the fact that the win in the Hamilton Test came under slightly fortuitous circumstances (some freak dismissals and the condition of the pitch), cannot be and, perhaps more importantly, should not be ignored. To keep up the good work that was undeniably done by an at-last-united looking Pakistan team, and to ensure a series win, the management and the players need to take care of some issues very quickly, before the second test at the Basin Reserve, Wellington, starts on Saturday. The favourable pitch The first and foremost factor that went in favour of Pakistan ...
Read Full Post