Oscar and Emmy Award winner, and an all around advocate for women rights, Sharmeen Obaid Chinoy (SOC), like for many others, is an inspiration for me too. With documentaries like "A girl in the river" and "Saving Face", she has won the hearts of millions of people all over the world. A few days ago, one of my friends mentioned the news about SOC getting a doctor sacked from Agha Khan University Hospital (AKUH), a renowned hospital in Karachi. Hearing this, I had a million questions going around in my mind: "What could the doctor possibly have done?" "Did he make an inappropriate comment?" "Perhaps he made an incorrect ...
Read Full Post
"Pakistan is going through difficult times." "The future looks bleak." "Hope seems to be a luxury we cannot afford." Statements such as these are common nowadays. However, I tend to disagree. I don't believe there is anything as bad about Pakistan that can't be fixed by what's good about it. Pakistan is a beautiful country that has proven to be the epitome of resilience in the most difficult of times. Here's to celebrating everything that makes Pakistan a country so beautiful and so strong. Here's to the breath-taking beauty and unimaginable strength. Here's to things you probably didn't know about Pakistan. 1. The world's 26th largest economy It is a nuclear power ...
Read Full Post
I've written extensively about the society's attitude towards overweight people. Seemingly harmless jokes and unsolicited weight-loss advice often has serious, negative impact on the lives of people struggling with weight problem. I sat down with academic prodigy Ali Moeen Nawazish, to discuss the issue of fat-shaming and body image. Do you consider shaming people for their weight as something perverse? Definitely. Just judging anyone by not their actions, but the way they look, they sound, they speak; the whole concept of judging people based on these arbitrary things is perverse. Have you personally been a victim of fat-shaming, or suffered from poor self-image? Ever ...
Read Full Post
Being an overweight public figure isn't easy. In a world obsessed with appearances, it's like wearing a ready-made joke on your lapel that you just know your critics will use the first chance they get, however irrelevant it might be. Fat-shaming is effortless. On the list of categories of comedy arranged by the level of creativity involved, a fat joke is half a step higher than letting out a fart and giggling. All one requires, is to take note of the obvious fact that a person weighs more than normal, and compare him or her to any number of large, heavy ...
Read Full Post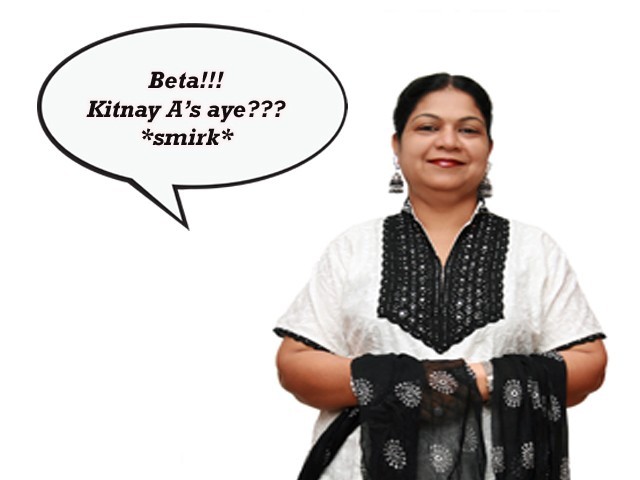 Is it just me or did every long lost relative have a big red circle around the date August 13, 2012 on their calendars? On this date they dusted up their phone books and called you or your parents – after lord knows how many months of not acknowledging your existence – just to inquire about your  Cambridge International Examinations (CIE) results. Typical Pakistani mentality. Read: Poke your nose into everything. Correct me if I am wrong, but isn't your result something personal? In my opinion, you should control the right to share it with whoever you choose to share it with. This right, however, is ...
Read Full Post