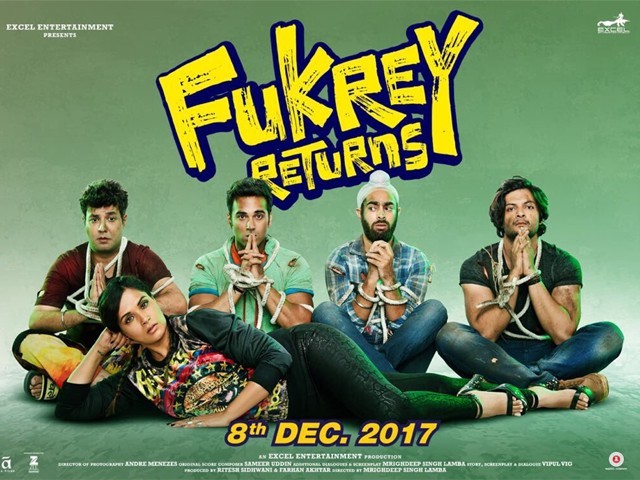 Bollywood is now an industry that is strong enough to experiment with quirky genre films. At times, these experiments do not seem to make any sense whatsoever, yet sometimes, they turn out to be immensely popular and successful with audiences. Fukrey (2013) was one such instance, where a film launched with four comparatively new faces and no hype prior to its release, and managed to wow audiences and attract them to movie theatres. The film became a sleeper hit as well as a cult classic, despite its hard to believe storyline and faulty narration. This success is why, four years later, the team ...
Read Full Post
Victoria and Abdul, the latest offering by director Stephen Frears, is a cautiously patterned yet realistic biographical drama about the deep friendship between the Queen of England and her Indian-Muslim servant. The story of this rather unbelievable bond is all about reminiscence and loss, making it immensely pleasing to watch a historical narrative presented with such convincing solemnity. Based on eminent author Shrabani Basu's book of the same name, Victoria and Abdul is set in 1887 against the backdrop of the queen's golden jubilee – the 50th year of her ascension to the throne of England. Abdul Karim (Ali Fazal), ...
Read Full Post
In most biographical dramas, the notion of adaptation is never fully exercised; it is often an amalgamation of history, art, rhetoric and entertainment. Every once in a while, filmmakers craft their historical and biographical pieces very critically; filtering factual bits and pieces to create rigorous dramatic composition that eventually gives superlative performances. For instance, Steven Spielberg's Schindler's List, Roman Polanski's Pianist, Tom Hooper's The King's Speech, Marc Forster's Finding Neverland, Martin Scorsese's The Wolf of Wall Street, James Mangold's Walk the Line, and Bernardo Bertolucci's The Last Emperor. Dangerous Liaisons (1988), The Grifters (1990) and The Queen (2006) famed English director Stephen Frears' freshest project is also a carefully crafted realistic biographical drama about the ...
Read Full Post
What's the formula for an entertaining movie? Whisk romance, comedy, drama, emotions and relatable characters together, and there you have it; an entertaining movie. Happy Bhaag Jayegi is a combination of all the aforementioned ingredients, plus another ingredient; a comical Indo-Pak angle. Happy Bhaag Jayegi is about Harpeet aka Happy (Diana Penty) who, on her wedding night, plans to ditch her groom, Bugga (Jimmy Shergill) and plans on eloping with her boyfriend Guddu (Ali Fazal). Thanks to a carelessly formulated runaway plan, things take a chaotic turn and Happy ends up jumping off her balcony, into the wrong truck, which takes her ...
Read Full Post
Keeping the taste of Bollywood fans and critics in mind, director Samar Shaikh and producer Dia Mirza came up with a great formula for their new movie, Bobby Jasoos, one which they thought would be a hit movie. To understand it better, the formula is a mix between women-centric movies, like No one killed Jessica, Hate Story, Dirty Picture, Gulaab Gang and English Vinglish, and detective thrillers, like John Day, Samrat & Co., Kahaani, Mr Joe B Carvalho.  So what is the movie about? Bobby Jasoos is about Bilquis Ahmed (Vidya Balan), also known as Bobby Jasoos, who aspires to be a detective ...
Read Full Post