When a former Miss World decides to make a comeback to the main screen after a five year long hiatus, the movie will definitely be worth watching. By teaming up with one of the most bankable and creative director cum producer, Sanjay Gupta, Aishwariya Rai Bachan, along with the supremely talented Irrfan Khan – the true Maqbool of Bollywood – have laid out a wonderful cinematic journey for viewers in the form of Jazbaa. Jazbaa is a thrilling and captivating movie, inspired by the Korean movie, Seven Days. The plot of the movie revolves around varying focal points regarding a murder-rape case. The main characters ...
Read Full Post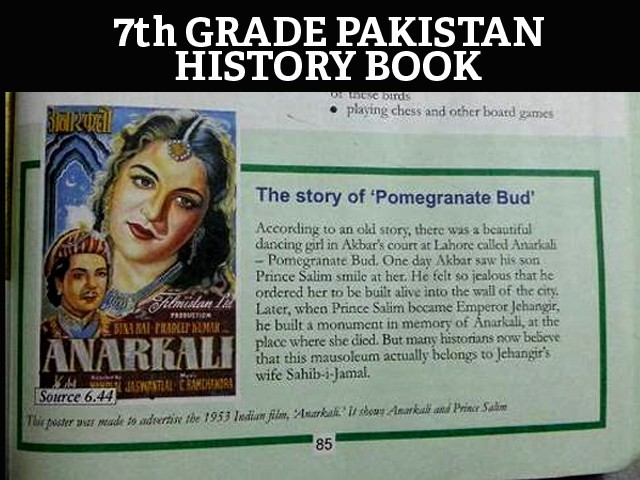 A few days ago, I was browsing through my Facebook newsfeed and thinking how boring this particular social media website had become of late. Scarcely had the thought entered my head, when I saw that someone had shared this image on their page, I was about to scroll down, thinking it was probably some 'blown-out-of-proportion' news about the Bollywood actress Aishwariya Rai, when I noticed the words "class seven history book" accompanying the image. When I stopped to read the status, image and accompanying text as well as the comments that followed, I was literally left dumbfounded. This image is from ...
Read Full Post
Ever since Aishwarya Rai-Bachan appeared in public having retained some of her pregnancy weight, the internet has been ablaze with unflattering and intrusive comments for the actress: Fit babe to fat aunty. Hot chick to mother hen. Beti-B flab. Aishwarya shocks us with her double chin. These are just some of the remarks floating around about the former Miss World. The web is inundated with such news about the extra pounds this glamour goddess has put on. For a quick preview of the sort of thing circulating on the web, watch the video below: Amongst all this criticism, ...
Read Full Post
Magic and wizardry rocked the silver screen this weekend. Harry Potter from Hollywood and "Guzarish" from its infamous counterpart, Bollywood. Guzarish of course set a precedent of being released in Pakistan on Eid, a couple of days ahead of India. The much talked about Sanjay Leela Bhansali's "Guzarish", a story of a quadriplegic ex magician raises some ethical questions about euthanasia. But overall as a movie, it seems to be a drag. From his first venture Khamoshi, where Mr Bhansali had Manisha Koirala playing a mute person, he  has focused on stories revolving around disabled people. In "Black" with Rani Mukherjee played a ...
Read Full Post
If you need a laugh try watching the Hindi version of Rajnikant's Robot (2010). The film is like a plate of mixed chaat of Hollywood hits Terminator, I Robot and Universal Soldier.  The whole story is completely senseless. After watching it I want to give a suggestion to director of the movie. Please, take some time out to have your mental health checked. A very unlikely love story The leads of this film are Rajnikant and Aishwariya Rai. When I heard who the cast was I was shocked and knew I had to watch this movie. Rajnikant is plays two roles in the movie – ...
Read Full Post
There was a battle in Sanya, China today. 115 pretty, young contestants were competing against each other and in the end, Miss USA, Alexandria Mills won the title of Miss World 2010. She is, or so the organizers of the pageant tell us,  the most beautiful miss in the world. What a thing to be told! But what about the remaining ladies? Weren't they left behind feeling ugly?  They must have felt hopeless and rejected. Pageants have often been criticized for being demeaning and accused of making  women feel bad about themselves. Also, many feel that these are beyond just being contests of beauty. Remember ...
Read Full Post