Golden moments from the 2012 Globes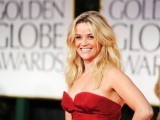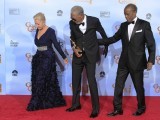 "I feel like five million dollars!"
Sofia Vergara's red carpet comment at the Golden Globes updated the million-dollar phrase to today's currency values. Clad in her signature form-fitting, mermaid style strapless gown (this time by Vera Wang), with massive Harry Winston diamond cuffs on her wrist, she was a sight to behold. Mature glamazon Helen Mirren, trendy as ever, sported no less than five trends listed below, while wildchild-turned-crusader Angelina Jolie surprised many with an elegant old Hollywood look. Here are some red carpet trends and other memorable moments:
Gowns
Lengths: Typically floor-length and trailing.
Colours: Ranged from pale champagne, metallic gold, teal, and canary yellow. There was some interesting red detail which showcased glitter and beads.
Cuts and fitting
Strapless (Reese Witherspoon, Natalie Portman)
Form fitting
Cinched at the waist with a skirted flare (Salma Hayek)
Plunging necklines with a banded waistline (Evan Rachel Wood, Laura Dern, Emma Stone)
Trailing mermaid hemlines (Sofia Vergara)
Low backed (Claire Danes)
Hair
Swept back (in a bun if long enough)
Hair-bands (Charlize Theron, Michelle Williams)
Cascading curls (Salma Hayek)
Accessories
Matching glittery clutches: (Angelina Jolie, Zooey Deschanel)
 Discreet jewellery: There was a significant lack of bling, with the exception of dazzlingly large diamond earrings worn by Missy Elliott and Kate Beckinsale
 Tassle earrings
 Chunky bracelets and cuffs
Make-up
Red, red lipstick
Lots of alabaster skin without fake tans
Honourary awards
Best looking presenters:
These pairs looked terrific presenting together (far better than with their respective spouses)
1. Channing Tatum and Jessica Alba (best bods, not brains)
2. Clive Owen and Nicole Kidman (imperfect masculine style with robotic feminine perfection)
3. Antonio Banderas and Salma Hayek (an older version of 'Desperado')
4. Ashton Kutcher and Elle Macpherson (best cougar pairing)
Funniest moments at the Golden Globes
1. Ricky Gervais and Johnny Depp's repartee (a continuation of last year's 'The Tourist' cracks)
2. Ricky's jibes at Justin Bieber's doubtful fertility levels
3. Jimmy Fallon moving like Jagger
4. Ricky's 'Queen of Pop' crack at Elton John
5. Madonna dissing Ricky G (her tongue's as intimidating as her biceps)
Foreign name pronunciation awards
1. 'Iran' pronounced perfectly by Madonna (now Obama's not the only one)
2. French nominees' names pronounced correctly by Angelina (she must be sharing Maddox's tutor)
Hottest grande dames
1. Jane Fonda (74)
2. Helen Mirren (66)
3. Michelle Pfeiffer (53)
4. Elle Macpherson (47)
Crappiest dress choices
1. Freida Pinto (you had all that to choose from and you picked THIS?!)
2. Jessica Biel (schoolmarm)
3. Lea Michele (trying too hard)
Cutest bromance
George Clooney and Brad Pitt