Why the LUMS fee hike is problematic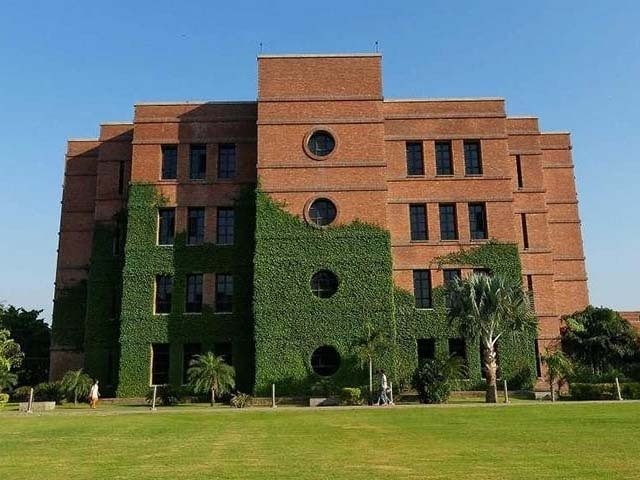 The spread of Covid-19 at breakneck speed has ravaged Pakistan's economy in unprecedented ways. Countless households have faced crippling reductions in their income, if not a complete loss of employment. Many of these families include students currently enrolled in universities across the country – now confined in their homes, struggling to keep up with the demands of a remote education. In unparalleled times of economic recession such as these, the responsibility of ensuring continuing access to education falls on the shoulders of leading universities.
However, in the midst of what is already a challenging time, there have been reports of Lahore University of Management Sciences (LUMS) implementing an exorbitant hike in their annual fee for both, current and incoming students. Email correspondence from the university administration describes a structural change in the fee system. Combined with a 13 per cent inflationary increase in the charges of each credit hour, students may be now faced with an inordinate fee bill which only adds to already existing financial strain.
While it could be argued that the institution decided on a fee hike due to inflationary pressures, students have expressed outrage at such a significant change being finalised without their voices being heard, raising questions about the legitimacy of a decision-making process that inherently minimises student representation.
As per the previous fee system, students taking between 12 to 20 credit hours were charged the same amount despite the difference. After the change, students will be charged according to the number of credit hours they take. Through emails, the administration argued that that the difference in annual fees under the new system would be "ignorable" for a student that is enrolled in 12 credit hours every semester.
However, what LUMS seems to have ignored is that most of its students typically take on a much heavier course-load. Depending on their degree, students on average end up taking at least 16 credit hours per semester. Such students may be taking additional courses to simply graduate on time, or may have structured their future semester plans in a way that would requires them to take more than a certain number of courses in a single semester – obviously, without prior knowledge that the fee-structure would be drastically changed.
For many students who have now been enrolled in the university for over two years, it is practically impossible to redistribute their course-load to avoid a significant increase in the fee. LUMS has effectively changed the terms of the student-university agreement without prior notice.
The reports have sparked widespread condemnation on social media from students and instructors alike. Instructors have expressed disbelief over the reported change:
The fee hike makes no sense, and I'm sure @LifeAtLUMS will clarify and reconsider this decision.This is completely unacceptable for any student, parent, or even faculty member, at a time when we should be supporting our students, not further burdening them. We need to do better. https://t.co/EpBQxrKNYC

— Tania Saeed (@taniasaeed) May 4, 2020
Hundreds of students have also gathered around the hashtag "LUMSFeeHike" on Twitter, questioning the timing of the institution's decision:
we got an email a few weeks ago from the provost reminding us to write +record our experiences of the pandemic because it will translate into imp archives. let this history bear witness to LUMS' inhumaneness, hunger for profits & blatant manipulation of these times. #LUMSFeeHike

— wafa (@baewafa2) May 4, 2020
Taking notice of student outrage, the University's Student Council initiated communication with the administration, arguing that the change in fee for most students is far from "negligible". Quoting the LUMS Student Handbook, the council stated that the university itself recommends that students typically take 17-20 credit hours. Taking different undergraduate degrees as examples, they provided calculations showing that the new system could result in an increase in fees ranging from Rs100,000 to Rs 200,000 for graduating seniors. Therefore, students must either prepare to pay an outrageously inflated fee in the midst of financial hardship, or risk delaying their graduation.
Whether or not the students' protest against the fee hike will lead to a revision in policy is yet to be seen. However, the incident raises important questions about the role students have historically been allowed to play in the matters that impact them the most.
If LUMS is truly as inclusive as it claims, it must acknowledge the devastating effect this decision has on deserving students during a time that is already very demanding. The varsity has often been criticised for its fostering a certain kind of students, creating an environment that only a certain economic class may have access to. If universities are to avoid social and economic gatekeeping, it is necessary that they begin to involve students from under-represented backgrounds in major financial decisions – after all, it is they who face the brunt of the consequences.
Difference between the old and new fee
| | | | | | | |
| --- | --- | --- | --- | --- | --- | --- |
| Major | Credits to be taken in last year alone (according to UG Guide) | New minimum senior year fee | New maximum senior year fee | Previous fee (Figures provided by Accounts Receivable) | Minimum difference | Maximum difference |
| Anthropology | 37-40 | PKR 891,700 | PKR 964,000 | PKR 760,000 | PKR 131,700 | PKR 204,500 |
| Pol Sci | 37-40 | PKR 891,700 | PKR 964,000 | PKR 760,000 | PKR 131,700 | PKR 204,500 |
| History | 38-40 | PKR 915,800 | PKR 964,000 | PKR 760,000 | PKR 155,800 | PKR 204,500 |
| English | 37-40 | PKR 891,700 | PKR 964,000 | PKR 760,000 | PKR 131,700 | PKR 204,500 |
| Econ | 34-40 | PKR 819,400 | PKR 964,000 | PKR 760,000 | PKR 59,000 | PKR 204,500 |
| Econ Pol | 35-36 | PKR 843,500 | PKR 867,600 | PKR 760,000 | PKR 83,500 | PKR 107,600 |
| Chemistry | 34 | PKR 819,400 | – | PKR 760,000 | PKR 59,000 | – |
| Math | 35-40 | PKR 843,500 | PKR 964,000 | PKR 760,000 | PKR 83,500 | PKR 204,500 |
| Law | 36 | PKR 867,600 | – | PKR 760,000 | PKR 107,600 | – |
| MGS | 33 | PKR 795,300 | – | PKR 760,000 | PKR 35,500 | – |