Was Nawaz Sharif really soft on India?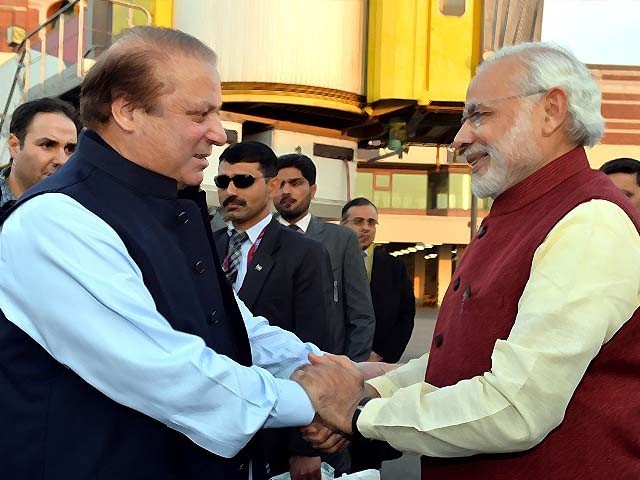 Former Foreign Office spokesperson Tasneem Aslam in a recent interview claimed that not only was former prime minister Nawaz Sharif soft on India himself, he directed the Foreign Office to not highlight India's sponsorship of terrorism in Balochistan or mention Kulbhushan Jadhav, the Indian spy who had been arrested in the same province. She also went on to allege that Sharif was soft on India due to his business interests in the country. These claims have since been rubbished by Pakistan Muslim League-Nawaz (PML-N) stalwart Khawaja Asif, while Pakistan's former High Commissioner to India Abdul Basit has seconded the allegations. 
Was Sharif really soft on India?
The short answer is: Yes. There are numerous historical facts to substantiate the claim that in comparison to other Pakistani heads of government, Sharif was exceptionally friendlier towards India. During his 2014 visit to India, Sharif's decision to not meet with the Hurriyat leadership was a distinct departure from Pakistan's age-old policy. The Ufa declaration, signed by Prime Ministers Modi and Sharif the following year, was the first prime minister-level joint statement from the two countries that did not mention Kashmir. The fact that the declaration explicitly mentioned the issue of terrorism while Kashmir was conspicuously absent, made it an even bigger diplomatic retreat for Pakistan. In another unprecedented move in 2016, after the Pathankot airbase attack, a First Information Report (FIR) was registered in Gujranwala by the then Pakistani government. And lastly Pakistan government's complete refusal to effectively highlight India's sponsorship of terrorism in Balochistan, even after Kulbhushan Jadhav's confessional statements, was so consistent that it was most certainly a deliberate policy decision and was not because of the oft-blamed ineptness.
Was Sharif protecting his business interests in India?
He wasn't. This allegation is based entirely on speculation; at this time there is no evidence to suggest that Sharif had any noteworthy business interests in India. In fact, there is a more plausible explanation for his overtures: like most level-headed people Sharif likely believed that a peaceful subcontinent was critical to improving the lives of nearly two billion people. Improved trade between India and Pakistan, reduced defense spending and increased focus on human development would benefit both countries. Moreover, Sharif knew that de-escalation with India would limit the influence of Pakistan's powerful military establishment, a desirable objective for him given his checkered history with the military.
Did it work?
The path to hell, as they say, is paved with good intentions. No matter how well-intentioned this strategy may have been, the bottom-line is: did it benefit Pakistan? It did not. During Sharif's tenure Pakistan made several crucial diplomatic concessions to India that went largely unreciprocated. The time and space afforded by Pakistan's unilateral diplomatic retreat was used by India to aggressively further a malicious anti-Pakistan narrative. While Sharif was staking his political career to improve Pakistan's ties with India, his Indian counterpart was brazenly striving to isolate Pakistan. For four years Pakistan did not have a dedicated foreign minister, India in the meanwhile through proactive diplomacy effectively placed itself as a major global player.
The fundamental flaw in Sharif's analysis was that he did not realise how India had changed since the last time he was in office. The Modi-Shah duo at the helm in India today is driven by the RSS ideology of Hindu supremacy which fuels India's hegemonic designs. A passionate longing for the "Golden Age" when the entire subcontinent was a Hindu empire has led to a disconnect from contemporary realities. This unrealistic urge to turn back the clock recently manifested as violent communal riots in a city no less than the national capital. Sharif clearly did not take into account the fact that he was dealing with an ideologically driven Hindu supremacist regime and therefore all his overtures only served to embolden India.
The way forward
Pakistan should continue to strive for peace in the region and try to establish friendly relations with all its neighbors. If at any point, India takes one step towards peace Pakistan must reciprocate with two steps. Realistically however, the likelihood of that happening is minimal as long as the current dispensation is running the show in Delhi. If anything, as seen in the last few years, any olive branch from Pakistan is likely to be misconstrued as a manifestation of weakness. Therefore, Pakistan must keep the guard up on all fronts, and stick to the robust foreign policy that has been on display in the last year and a half.