Remembering Dr Mubashir Hasan and his contributions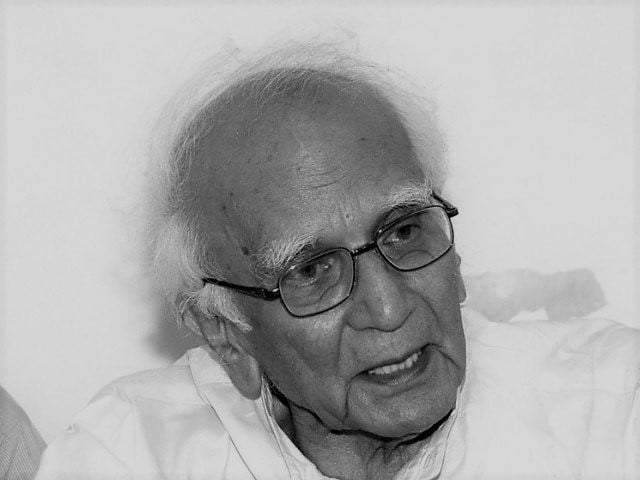 Former finance minister and the co-founder of the Pakistan Peoples Party (PPP), Dr Mubashir Hassan passed away on Saturday, March 14, 2020 at the age of 98. It is perhaps somewhat poetic that he breathed his last at his Gulberg residence in Lahore, the very same house where the PPP was formally founded on December 1, 1967. Although he was widely viewed as Zulfiqar Ali Bhutto's deputy, he did not always see eye to eye with Bhutto on several matters. For starters, by his own admission, he did not hold Bhutto in very high esteem initially. This is because Bhutto was a minister in former military dictator Ayub Khan's cabinet and Hasan was always a proponent of separating the military from the executive and the federation.  However, after the 1965 war with India, there was a clear political vacuum and a dearth of leadership that was proving to be quite worrisome for the civil society.
One such section of the civil society contained a group of men and women from Lahore in their thirties and forties who hailed from a variety of socio-economic and educational backgrounds. Hasan was a prominent member of this group which had begun to have regular meetings where they discussed topics including the country's education sector and the economy. They eventually published a paper titled 'A declaration of the unity of the people' in 1967 which, according to Hasan, felt like the issuance of a "revolutionary manifesto."
By this time, Bhutto had fallen out with Ayub Khan and was galvanising political support with a view to establish his own political party. Hasan had already met with Bhutto once before in 1966 when he had invited him, on behalf of the Nawa-e-Waqt group, to deliver a lecture in Lahore. During the brief exchange, he had asked Bhutto whether the party he intended to form would be left-wing or right-wing to which Bhutto responded assertively,
"Left wing of course!"
This was in line with Hasan's own political ideology who, according to Shahab Jafry, was an "ardent secular leftist." In his book, the 'Mirage of Power' Hasan writes that he was also impressed with Bhutto's plans to nationalise industries and the educational sector. Hasan also acknowledges that Bhutto needed him to create a foothold in Punjab because Bhutto's political stronghold was primarily Sindh and Hasan knew the political elite in the northern province. That was one of the reasons why he held a convention on November 30 and December 1, 1967 at the lawns of his Lahore residence where ultimately, the PPP was born. Ayub Khan saw that the newly formed party was a sizeable threat to his government and therefore, moved to clamp down on their political activities. When Bhutto was arrested on November 13, 1968, he was at Hasan's residence and consequently, Hasan was arrested too.
It was clear that Hasan and Bhutto had become very close over the years and so, when Bhutto eventually formed a government in Pakistan after the succession of Bangladesh, he made Hasan finance minister. This is somewhat puzzling, considering that Hasan had obtained his bachelors, masters and doctorate in engineering. Regardless, he was a key member of Bhutto's cabinet and oversaw the nationalisation of industries which sadly, proved to be quite detrimental to the economic growth of the country. He also supervised the financing of Pakistan's nuclear programme after Bhutto personally directed him to do so, by stating,
"I hereby abolish all the several committees dealing with atomic energy in various ministries. You give [Munir Ahmed Khan, chairman of the Pakistan Atomic Energy Commission] the money as he puts in a request."
Differences arose between Bhutto and Hasan when the former began to give excessive leeway to right-wing religious parties in order to appease them. Bhutto eventually  dismissed Hasan from his charge, even though he said in an interview that it was he who had in fact resigned. Hasan also vehemently disapproved of Bhutto's lack of action during the anti-Ahmeddiya riots especially because Mirza Tahir Ahmed of the Jamaat-e-Ahmadiyya played a substantial role in the PPP's election campaign in Punjab.
After the Bhutto government was overthrown by General Zia-ul-Haq in 1977, Hasan was jailed where he spent the next seven years. He tried to advise Benazir when she returned to the country, but felt that his counsel was not being given due credence. He believed that the PPP had turned away from its socialist roots and had become capitalistic. He was also quoted saying,
"Bhutto's PPP was a socialist and an anti-imperialist party. Today, it is neither of the two; it has become like all the other parties — a pro-capitalism party. Benazir Bhutto and Bilawal Bhutto have turned the party upside down. Earlier, ideology was important. Now personalities have gained more significance than ideology. Nawaz Sharif, Imran Khan and the Islamic parties all have a capitalist agenda."
From the above, it is apparent that even though Hasan and Bhutto had developed fragmenting differences, he still held the former prime minister in high regard, referring to him as a "remarkable man" whose "brain was always at work."
Undoubtedly, for better or for worse, Dr Mubashir Hasan played a key role in shaping the history of our country. It is also important to remember that one his foremost philosophies was related to abolishing the feudal system, an ideal that would certainly serve us well today. He propagated this stance unabashedly and did not hold back while Bhutto was meeting with a group of landlords. During the meeting, Bhutto had asked Hasan,
"Doctor, you are against these zamindars. Will not goondas dominate society if these people cease to exist?"
Hasan responded,
"Sir, this will not happen as these very people are the patrons of the goons."