Was Imran Khan's Davos trip a success or a failure?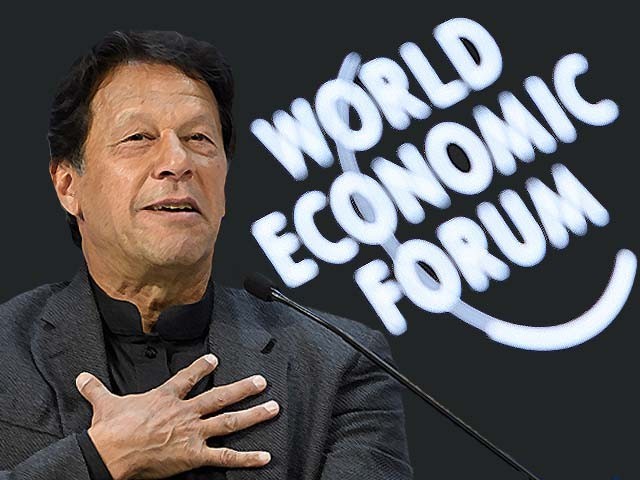 Nestled in the snowy Alps of Switzerland lies a quaint town that plays host to the World Economic Forum's (WEF) annual meeting. For fifty years, Davos has provided a platform for the world's political leaders, economists, academics, journalists and corporations to come together to accomplish an impossible task: "improving the state of the world". From the outside, Davos seems like yet another stomping ground for the global elite. Their onerous mission entails a discussion on the eternal conundrums of economic inequality, political instability and social development. Members of civil society mingle with the heads of powerful organisations to shape policy, while politicians tout their country's credentials in the hopes of building new partnerships. For less economically developed countries (LEDCs) like Pakistan, however, Davos presents a unique opportunity.
Khan's pitch
Travelling amongst the procession of jets and limousines to the alpine town last week was Imran Khan. Over four days, the prime minister delivered a key address, was interviewed by several media platforms, and engaged in a bilateral discussion with his United States (US) counterpart, Donald Trump. Khan sought to present his vision for Pakistan – and Davos seemed the perfect place to do just that. Beyond its reputation as a dangerous country in an unstable region, Pakistan remains relatively unknown to the rest of the world. But the last few years have seen a marked shift in in a number of areas: domestic terrorism has considerably declined, the tourism industry has received a decent boost, and since coming to power Khan has enhanced the country's diplomacy by highlighting its strategic role in regional conflict mediation. So how did the prime minister fare in front of one of the largest congregations of leading businesses?
A good innings?
Khan's unscripted yet articulate speaking style was praised by commentators. The earnestness with which he spoke about Pakistan conveyed pride for what has so far been achieved, but also an awareness for the obstacles that prevent it from becoming an Islamic welfare state. Indeed, after an International Monetary Fund (IMF) bailout and foreign loan packages, Pakistan's economy has somewhat stabilised. But as the rupee continues to suffer, revenue streams dry out, and debt and inflation rates rise, the road to economic growth remains long and arduous.
Macroeconomic instability and years of mismanagement have dominated Pakistan's recent history, made infinitely worse by an inherently weak national tax collection system and corruption that has permeated across all strata of the state. Piecemeal reforms, such as 2018's populist-driven austerity programme have failed to deliver substantial results, not least because the military retains huge chunks of non-development expenditure and maintains its influence over the government's fiscal policies. It is no wonder that potential investors are dubious.
When asked whether the country is in the throes of debt entrapment with China, the prime minister dismissed any notion that the China Pakistan Economic Corridor (CPEC) has exacerbated Pakistan's debt crisis, instead attributing the doubling of foreign direct investment (FDI) within a year to the Chinese. However, CPEC has generated concerns among the international community, in large part due to its lack of transparency and the prospect of China's increased territorial control in Pakistan. The case of Sri Lanka's Hambantota port confirmed that China does not do anything for free and ultimately comes out winning even if the debtor state defaults on its loans. As the trade deficit grows and local economies get dismantled under projects like Gwadar's 'Port-Park-City', it is likely that Pakistan will become yet another victim of China's debt trap diplomacy.
The sad state of Pakistan's economy simply reveals its age-old problem of deeply entrenched reliance on neighbours and powerful allies for support. This was evident at Davos in Khan's unwillingness to criticise China's brutal treatment of the Uighurs, instead suggesting that Muslims in Kashmir and Myanmar are facing worse. Khan's admission that he cannot publicly go against China since it helped Pakistan when it was at "rock bottom", was helpfully candid – but it also undermines his call to unify the Muslim Ummah at the United Nations General Assembly (UNGA) meeting last year. So, throughout his performance at Davos, one could not help but wonder: did Khan's charisma belie the bleakness of Pakistan's trajectory, and does Pakistan wield any real influence in regional politics?
The highlight
If one thing stood out from Khan's trip, it was showcasing Pakistan's ability to remain friendly with an array of actors (such as Saudi Arabia, Iran, the United States and China). Trump's apparent enthusiasm to help mediate in the Kashmir crisis shows a distinct improvement in Pakistan-US relations over the last year. However, India's repeated rejection of any such proposal means that Trump's words don't mean much, and if anything, look more like lip service in return for Pakistan's assistance in the Afghan peace talks. Similarly, Khan's adamant refusal to get involved in any possible conflict between the US and Iran is unlikely to deter either party from escalating the conflict. Whether Pakistan's recent popularity is merely a smokescreen for darker underlying trends, or a forecast for positive change, will be subject to continuous debate. At this rate, the prime minister's vision for Pakistan is looking more like a list of red flags.