Virender Sehwag: The Genghis Khan of modern cricket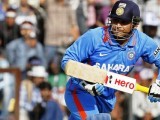 Sometimes, we just have to admit that we have seen something just a little bit special. I was in Antigua when Brian Charles Lara broke the world record (the first time), in Durban when Yuvraj Singh flayed the young Stuart Broad for six sixes in an over in the 2007 World T20, and at The Oval in 1975 (albeit aged one) when a certain Alvin Kallicharran set the inaugural World Cup on fire with a scintillating assault on Dennis Lillee. They were moments when you simply inhaled deeply, and said "I was there!"
In the modern era, smaller grounds, better wickets, and bigger bats, have seen a proliferation of spectacular batting exploits from a number of players, but there are occasions which still take the breath away.
During the course of his 240 ODIs and 92 Test matches, Virender Sehwag has done this on many occasions. I first took serious notice of him on the 2002 tour of India. At this point, he was considered to be a flashy, hard-hitting and entertaining middle-order batsman. He was promoted to open the batting in the opening Test at Lord's. Surely he would rein it in?
Not a chance of it! Whilst criticised for his dismissal with India chasing down a large first innings total, he entertained the crowd at the home of cricket with an extraordinary cameo in the circumstances of 84 in just 96 balls.
Surely he was not an opener? He still is. Surely he would not make big scores dashing like that at the top of the order? Six Test match double centuries, including two triples, tell a different story. Surely he could only bat like that on the flat pitches of the subcontinent? That is maybe still a slight stain on his record, but two hundreds in Australia, one each in South Africa, England and West Indies is more than many have achieved.
I digress, simply because I have talked about the longer form of the game, but it is the true yardstick by which greatness is measured. An average of 52.25 over 92 Test matches is not quite greatness, but it is pretty close to it. And if nothing else, he has certainly been one of the great entertainers in the modern game.
Perversely perhaps, his record in ODIs is far from spectacular. 8,025 runs at 35.66 is reasonable by anybody's standards, but not by those that you might expect from him. The strike rate of 104.62 is just slightly useful, mind you!
Again, it is the way that he has plundered those runs that stands out, that blade of his flashing faster than the speed of light, sending the white ball crashing into the board, more often than not somewhere between a wide third man and extra cover. Many players have style without substance; in fact there are many who have had substance without style; Sehwag has both in abundance.
Now the small ground of Indore, a batting track sent from Heaven, and a bowling attack … well, let us not at this point speak about the West Indian attack, is not a confrontation that would have had Sehwag grimacing with fear as he slept the night before the Indore ODI. However, the beauty of this man is that no contest seems to find him taking a backward step.
It does not matter whom it was against, or the conditions; 219 runs in a One-Day Internationals is ridiculous. Ridiculously good that is! It is the kind of performance that few have ever produced in ODI cricket. Sorry, it is a performance that nobody has ever produced in ODI cricket.
Whilst writing a column for another publication with a West Indian slant, I attempted to look away from the bowling figures, such was the scale of destruction caused by this little Indian maestro. It was the kind of innings that could cause psychological damage to those on the receiving end, whilst it was fortunate not to have caused physical damage to those in the crowd.
It was right up there with anything that you will ever see, a fact recognised by fellow professionals from across the cricketing globe:
"If you are a cricket fan, please switch your TV's on right now and watch a genius bat… Sehwag destroying the WI… World record coming…" – Kevin Pietersen
"I say it again! I never saw Sir Viv bat but, I've seen Sehwag bat! What a player, 219 in a one day game is next to impossible!" – Yuvraj Singh
The name Vivian Richards appeared on a few Twitter timelines yesterday as people tried to find a comparison. The obvious comparison is that no other batsmen in my memory has made brutality look so beautiful.
I include all of the big hitters of the modern game, the likes of Chris Gayle and Kevin Pietersen, fine players in their own right, but unable even at their best to match such barbaric artistry. They can murder, but not with the grace and beauty of the assassin that is Sehwag, and was Richards.
I started above by recollecting some of the greatest performances that I have been fortunate enough to witness. Although Thursday's world record was watched from the safety of a television room on the opposite side of the world, it is right up there amongst the very best.
However, there was one performance that I have omitted. That was the May 31, 1984, a day before my tenth birthday. It still remains the greatest innings that I have ever seen as Viv Richards flayed an England attack consisting of Ian Botham and Bob Willis, amongst others, to all corners of Manchester's Old Trafford.
His maroon cap never unruffled, the motion of jaw chewing on gum never disturbed, the icy stare of a killer undisturbed even by the chaos of 102 for seven and then 166 for nine, Richards' magnificent 189 not out on a seaming pitch, out of a total of 272 for nine, is still by some way the greatest innings I have ever seen. Period.
However, the modern generation have, and continue to, entertained. At the very top of that list is Virender Sehwag, the true modern entertainer. His legacy is as yet unknown, but there are already a list of moments to which people will say 'I was there!'
His record is not safe, but that is simply because at the age of 33, I suspect there is still plenty to come from this little daredevil from Delhi.
The article originally appeared in www.cricketcountry.com