Pakistan's precarious waltz with the FATF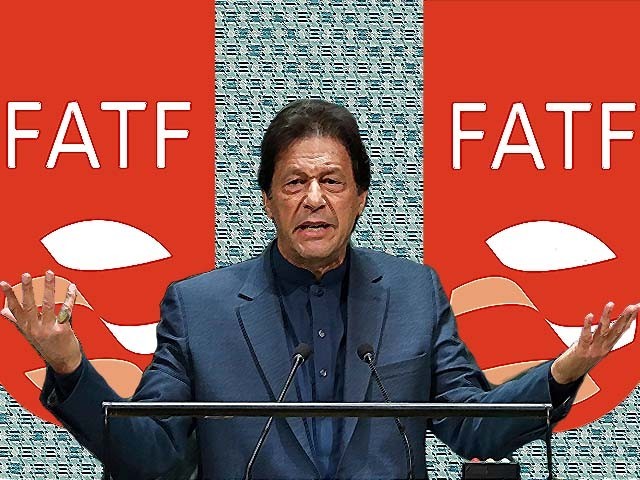 A quick internet search reveals a litany of news articles, twitter rants, and opinions regarding the presence of Pakistan in the Financial Action Task Force's (FATF) infamous black and grey lists. Back in October, the global watchdog posed 150 questions which Pakistan had to respond to. While it remains to be seen as to how many issues the government has actually addressed, the subject in question goes beyond the scope of clamping down on terror financing and money laundering for Pakistan. Major shifts in the global balance of powers, geopolitical conflicts and diplomatic duels have significantly affected the FATF problem, which the Pakistan Tehreek-e-Insaaf (PTI) government​​ is trying to combat.  
Pakistan was given an additional lifeline of four months in October 2019 so that the government could fully comply with the FATF recommendations about the mechanisms needed to eradicate terror funding and money laundering. This leeway was given after FATF recognised the efforts made by Pakistan to move towards compliance of the proposed action points. However, failure to comply with the complete set of recommendations this time around could potentially place Pakistan on the blacklist, where North Korea and Iran are regularly featured.
The question remains; why is this important and are there any realpolitik elements masquerading behind the façade of an anti-corruption organisation? Pakistan's relationship with FATF is becoming increasingly prominent because the national economy has, time and again, been forced to turn towards the International Monetary Fund (IMF) for bailout packages. Therefore, if Pakistan is placed on the blacklist, it may deprive us of a crucial bailout package, not to mention the numerous international sanctions that would be placed on us which essentially, would choke development across the country.
The United States is one of the major financiers of FATF, a country that has had a very rocky relationship with Pakistan. With Indian lobbies working around the clock in Washington DC, a significant amount of effort is being poured into ensuring that Pakistan is placed on the blacklist in February. However, Pakistan's critical role in the Afghan peace process and the imminent withdrawal of NATO troops also needs to be taken into consideration. President Trump's noticeably warm response to Prime Minister Imran Khan's visit to the USA is testament to an American desire to keep Pakistan happy.
Additionally, the meteoric economic and military rise of China, spearheaded by the Belt and Road Initiative also has the USA worried. The emergence of new pro-China blocs around the world is already posing a major challenge to the supremacy of Washington in international arenas. It is also rumoured that the USA is strongly considering that Pakistan be offered either an alternative to the China Pakistan Economic Corridor (CPEC) or at least, some economic mechanism that would water down the influence of CPEC. Therefore, allowing the country to be blacklisted would surely be counterproductive and will undoubtedly strengthen Beijing's grip over the region instead. 
There is also a very potent Indian dimension to the issue, Narendra Modi's government has been on a mission to isolate Pakistan geopolitically and economically. Modi has openly blamed Pakistan for terrorist attacks in Indian Occupied Kashmir while the Indian Air Force allegedly conducted 'surgical strikes' on Pakistani soil which they claim is a 'safe-haven for terrorists.'  However, it is debatable whether this brand of foreign policy has actually worked for India. Pakistan's decision to return Wing Commander Abhinandan last February, the opening of the Kartarpur Corridor and the rallying cry against the abrogation of Article 370 has dented their pursuit of 'isolating' Pakistan.
In reality, the local political landscape for New Delhi is not rosy in the least. Modi's government is facing protests over the Citizenship Amendment Act and throughout much of Occupied Jammu and Kashmir. For Pakistan, building an international consensus against Indian actions is an uphill battle because India offers a potential market of 1.2 billion customers. Therefore the only way for Pakistan to gain support is to offer economic incentives to sway countries away from the promises India makes. With Pakistan's economic trends turning positive, its Moody's credit rating moving up to 'stable' from 'negative', there are signs that Pakistan may be in a position to do so sooner rather than later. However, a blacklisting from the FATF will be disastrous for any moves of the sort. Hence, it is in the Indian interest to ensure that FATF paralyses Pakistan in order to give credence to their narrative of Pakistan sponsoring terrorism and remove potential impediments for its complete annexation of Jammu and Kashmir.
Domestically, there have been instances when Pakistan has expressed its annoyance with FATF. Last February, a Pakistani senator sent a letter to the FATF president, appealing for action against Modi who was allowing funding for the terrorist organisation Rashtriya Swayamsevak Sang (RSS). The president wrote back, claiming that FATF did not have an investigative function and relied on political will to frame legislation, which would then counter money laundering and terror financing. This raised questions over FATF's ability to actually identify instances of money laundering rather than merely issuing warnings and recommendation lists.
There has also been some international criticism in the past regarding how FATF shapes a vicious cycle for some countries. Certain countries present on the grey list did not possess the resources to implement the policies that the watchdog had recommended and so, they were eventually placed on the blacklist. The resulting economic restrictions they faced because of their presence on the list moved them further away from being able to afford implementation and in actuality, gave money launderers greater freedom. Subscribers of realist political thought would appreciate the irony that this bastion of liberalism advertises.
In conclusion, while pundits may speculate as to what decision the next FATF plenary scheduled for this February holds for Pakistan, one thing is clear; this is not simply a matter of constructing mechanisms to combat terror financing and money laundering.