Is Durj worth the controversy?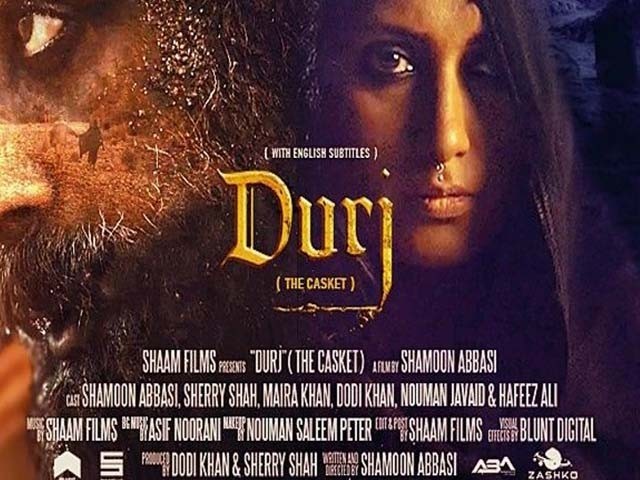 Pakistani cinema is slowly (read at a snail's pace) evolving to encompass a wider range of issues rather than just plots centred around the typical boy meets girl and disaster ensues. Durj is one such offshoot movie that tackles the sensitive, almost taboo, subject of cannibalism.
This dark theme, however, is not the reason why Durj has been in the spotlight of late. Controversy has surrounded the Shamoon Abbasi starring mystery thriller even before its release, with only two out of three censor boards of the country clearing the movie initially. But as they say, no publicity is bad publicity and the censor board fiasco only helped boost Durj's chances of faring well at the cinema by increasing the curiousity around the film.
Apart from writing and directing the movie, Abbasi is also playing an integral character in the film. He is joined on the big screen by Sherry Shah, Maira Khan, Nouman Javaid and Dodi Khan. Khan is also the movie's producer.
What adds to Durj's appeal or perhaps thrill, is that it is based on real-life cannibalism incidents in Bhakkar, where two brothers were caught for eating more than a hundred corpses from a graveyard in the vicinity of their home.
With such a strong base, one would expect the movie to be just as, if not more, exciting than the nail-biting trailer but alas, the story-telling falters a little bit and even if the story may be linear, it is not fluid in its execution.
The performances do save the movie, with Abbasi essaying Gul Bakhsh with a ferocity that would leave you a bit shaken up. Shah plays Laali and even though her initial performance is over the top, her character settles and she becomes a powerhouse to watch. There is a scene where Laali loses her cool at Abbasi with an almost tangible intensity.
The one thing that Pakistani cinema is consistently improving is the cinematography and Durj too upholds these standards. It seems like Abbasi has put in a lot of thought into the shots. I do wish the same attention to detail went into the editing process as well, so that the movie seemed less choppy. There is also a misplaced shift in the narration, which makes the storyline seem scattered.
Despite the criticism, Durj is an earnest effort by Abbasi and team to break from the mould of Pakistani cinema; a quality that could be both its claim to fame or a disaster on the big screen. It is a serious watch peppered with good dialogues, while it lacks the typical song and dance perhaps making it a movie that only niche audiences will appreciate.
Even if Durj may not be the best of the lot, it certainly does promise to pull mature audiences and is a decent attempt at creating an alternate cinematic experience.