What is Shah Mahmood Qureshi doing?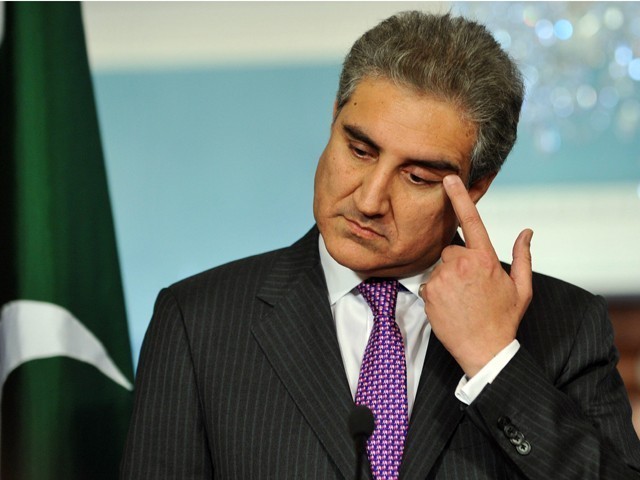 Like many observing the political musical chairs before the elections, I too was curious about Shah Mahmood Qureshi's cryptic political decision. Why did he leave us guessing by not disclosing his future plans the day he announced that he was leaving the Pakistan Peoples Party?
Perhaps, he wants to remain inthe limelight by encouraging speculations till November 27 at the Ghotki rally. He might, on the other hand, be attempting a win-win situation as both Nawaz Sharif and Imran Khan are preparing to welcome him in their parties. God knows better.
After a 20 minute conversation with him I can only guess that he is still contemplating. This perplexed me greatly given that he resigned as foreign minister earlier this year.
My inquisitive nature compelled me to talk to his family members, his devotees, and some MPAs to find out what the future held for Mr Qureshi.
The conclusion?
Nobody knows about the 'drone' he is going to launch on November 27. To my untrained eye, he is still as indecisive as he was five years ago, when his nephew and I used to visit Bab-ul-Quresh Daulat Gate in our university days in Multan.
Qureshi might prefer PML-N as one of his family members told me that Nawaz Sharif placed a call to his uncle on Friday.  The relative quoted Nawaz Sharif's words:
"You are always welcome. Our doors are open for you, Qureshi sahb."
However, I was still curious if  Qureshi would be able to replace Javed Hashmi.
I put the question to a foreign diplomat I met on Tuesday in Islamabad. His answer was:
"Yes, he can because Qureshi is now a hotcake for Sharif brothers."
What is blatantly clear is that even if Qureshi decides to join the PTI,  his devotees will stick by him and say "yes sain" in southern Punjab and interior Sindh. No matter whatever happens, it is clear Qureshi is looking for new friends now.