Can Imran Khan help ease tensions between Saudi Arabia and Iran?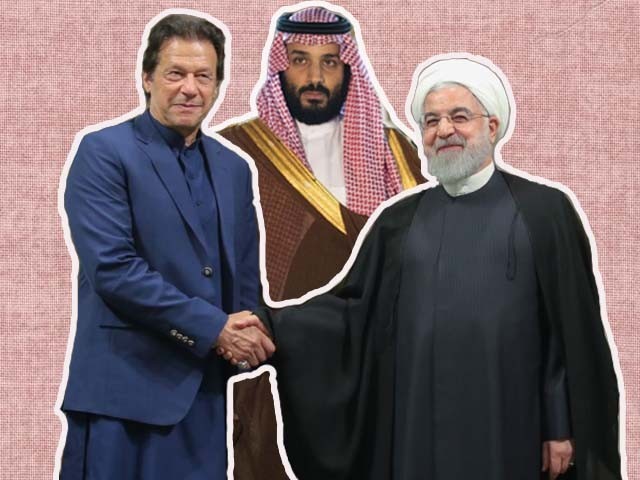 Acting upon a request from the United States to calm ongoing regional tensions, Imran Khan's mission to engage in shuttle diplomacy with Saudi Arabia and Iran has presented a respectable image of neutrality, but this image alone is unlikely to facilitate peace. One would be forgiven for conflating Imran Khan's impressive international image with productive foreign policy. A maiden visit to the United States this year, last month's emotional United Nations General Assembly speech on Kashmir, and meetings with two of the world's most bitter rivals – broken up only by a brief stop in Islamabad to welcome two British royals – have all been added to a growing list on the prime minister's public relations scorecard.
But whilst current perceptions of Pakistan may have improved by virtue of Imran's seemingly glorious statesmanship, it is doubtful as to whether this can translate into meaningful progress for many of his endeavours. His conduct of shuttle diplomacy in Iran and Saudi Arabia is only the latest example.
Amidst a slew of attacks launched on tankers and oil facilities in the Gulf, alongside substantial disruptions to the global energy market, pressure is mounting on the United States to avert a disastrous confrontation in the Middle East. It continues to show its reliance on Pakistan as a key regional mediator, not only for brokering peace talks in Afghanistan earlier this year, but now for helping to defuse tensions with Iran. Notwithstanding recent failed efforts by France and Japan to bring the key players to the table, Imran has embarked on a well-trodden path in the hopes of placating Saudi Arabia and Iran as they inch closer to a military standoff that no one wants.
Trump's withdrawal from the 2015 Nuclear Deal last year, followed by punitive sanctions and a pledge to wipe out the Islamic republic's crude oil exports, have instigated a treacherous descent to complete regional instability. As the United States scrambles to mitigate the inevitable fall-out from these actions, who better to ask for help than Pakistan? Both a neighbour to the Islamic republic and a vitally strategic ally of the Kingdom of Saudi Arabia, Pakistan seems the most appropriate choice (and stakeholder) to facilitate some sort of discussion.
Being the most isolated member of the trio, Tehran has shown an almost immediate willingness to resolve tensions, while still maintaining that it will not hold back if its territorial integrity comes under threat. Contrastingly, Riyadh has made no explicit commitment to engage with Iran and despite Khan's offer to host talks in Islamabad, his visits have not yet yielded visible results. Nevertheless, neither Iran nor Saudi Arabia have claimed responsibility for the attacks, because doing so would demand an overt retaliation which no one is prepared for or able to carry out.
Imran's show of goodwill to both countries may well calm immediate hostilities. Yet Pakistan's wider involvement in any future negotiations would still be a drop in the ocean compared to what is actually needed to resolve the complex issues underlying the Iran-Saudi rivalry. Despite his earnest efforts to be a leading voice of the Islamic Ummah, neither Imran nor anyone else will be able to mend the deep chasm that exists between the Shi'ite and Sunni neighbours for the foreseeable future. Israeli backing and support from the Trump administration have renewed Saudi Arabia's zeal to contain Iran, whilst the latter manages to retain influence in Syria, Lebanon and Yemen. It is far from either nation's interest to address the longstanding fault lines that have spread throughout the region as a result of their proxy conflicts, when they have in fact been thriving off of them for so long.
Any prospect of de-escalation would require both sides to make considerable compromises, let alone forgoing their struggle for regional dominance. So, although the prime minister is doing what is asked of him by the United States, it is unrealistic to expect that he can make a difference unless one of the concerned parties – most eyes being on Iran – either stops interfering in the affairs of its neighbours, or keeps raising the stakes in order to bring its opponents to the negotiating table.
In the meantime, Pakistan has nothing to lose by projecting an image of neutrality which will bode well for its relations with each party involved. As far as its leverage is concerned, Pakistan is certainly not in a position to convince America to return to the 2015 Nuclear Deal, nor does it hold any sway on the strategic matter of Iran's nuclear programme. Short of becoming a fly in the ointment, Imran can maintain an impartial stance without having to worry about the difficult task of taking sides – but achieving anything beyond the scope of hosting talks on home ground, is dubious.