Who is to blame for Saeed Book Bank's impending closure?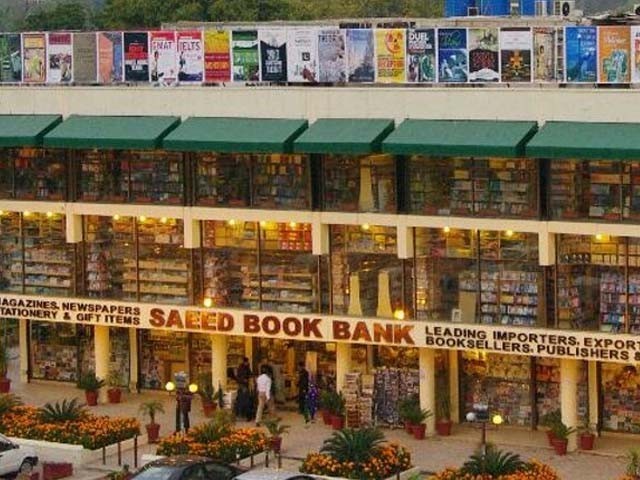 Reading about Saeed Book Bank's impending collapse made me think about my last visit to the store; it took me 20 minutes just to find someone to help look for the books I wanted. Once found, it was evident from the salesperson's disinterest that it was not by mere chance that none of them could be seen in the spacious yet dusty shop.
The help they offered was more abysmal than the look on their faces, with me having to run around two floors in confusion as the book arrangement was also haphazard. I eventually had to turn to technology and opted to use one of their self-service computers, still managing to find just one book from my list. Thinking the worst was over I approached a weirdly-placed desk to checkout. It was covered with a teetering tower of books and it was chaotic, but not in the charming way old bookshops sometimes are. 
Saeed Book Bank is the best bookstore in Pakistan – it's sad to read this https://t.co/0t68aUroqP

— fatima bhutto (@fbhutto) October 12, 2019
The nearly empty, dusty, disorganised bookstore was a far cry from the bustling, well-lit Saeed Book Bank of yore, where the owner and salespeople knew the store like the back of their hand. Bookstores are supposed to be a portal into a world of adventure and excitement, but I was left disappointed with my experience.
Saeed Book Bank, as others have rightly said, has been an institution in Islamabad's F-7 Markaz for decades. While other shops in the area closed down, moved away or opted for renovations, the book bank stood tall in its place. But even for my bibliophilic family, who devoured book after book, Saeed Book Bank was nothing more than a beautiful building; mostly because we couldn't afford most of the books sold there, especially when cheaper options were easily available. On rare occasions, we would splurge on a coveted title that wasn't available anywhere else.
Oh nooo! Saeed Book Bank is one of the best things about Islamabad. How can it be saved? https://t.co/5avouLio5I

— SenatorSherryRehman (@sherryrehman) October 11, 2019
I also remember that once my siblings and I saved up enough money to buy a beautiful hardcover collection of The Lord of the Rings. Later I came to understand that Saeed Book Bank was more expensive because it refused to sell pirated copies, a practice I came to appreciate more when I started writing for a living. But as I contemplate the news of the beloved bookstore's troubles and read pleas from elite Islamabadi's urging people to go and buy more books. I cannot help but think – when was the last time the iconic bookstore attempted to be anything but a landmark?
80% Pakistanis cannot afford books from Saeed Book Bank. A book store for the elites with only aim to make money.

— حافظ جی (@HafizJei) October 13, 2019
Around the world, independent bookshops are reinventing themselves as they face an uphill battle against e-books and online bookstores. From becoming community centres of literary activity to evolving into architectural and technological marvels, brick-and-mortar bookshops are discovering ways to stay relevant. Why has Saeed Book Bank, with its prime location and incredible resources, refused to evolve with the times? I don't recall ever attending a literary event in the huge space with its enviable outdoor area. Has the bookstore ever reached out to its loyal customers for a special community programme? Even small, indie bookstores find ways of raising funds through festivals and children's literature events. They play a role in encouraging people to read and write by inviting new authors for readings. 
Although Saeed Book Bank is a city monument, the problem is that bookstores are not meant to simply be monuments. Instead of blaming young people for spending more money on phones than books, perhaps they could think of ways to attract them. They could encourage youngsters by creating a corner where they could come and discuss their favourite books.
I am not that sad about "Saeed Book Bank" scaling down. Shopping there has always been a ghastly experience. I prefer "The Last Word" which has a much better range.

— ST (@shobz) October 12, 2019
Perhaps it's time for the store's administration to look inwards and reflect on their out-dated business model and deteriorating customer service. The purpose of such stores goes beyond the mere selling of books – they are meant to be a welcoming refuge from the tumult of the world beyond their doors. When you get lost in a bookstore, it should be enchanting rather than frustrating. Just like the out-dated birthday cards hanging despondently in the back of the store, Saeed Book Bank is becoming a thing of the past. In its defence, the bookstore has stood tall against failing trade relations, economic crises and poor implementation of regulations on pirated books. But even when it was thriving, did it make any effort to evolve?  
By innovation and creativity… Amazon after starting with ebooks just opened a book store if they can find it feasible n profitable why cant Saeed Book Bank? Just some brains to be put at work n come up with a plan. https://t.co/kbDbnAcvkS

— Shiffa Z. Yousafzai (@Shiffa_ZY) October 12, 2019
A bookstore's claim to fame cannot solely be based on the square feet it covers, especially when the service and inventory both seem to be suffering. Add to this mix competition from cheaper, more efficient options and voilá it is a surefire recipe for disaster.  The iconic bookseller can still look into making changes and turn into a hub of activity but unless Saeed Book Bank prepares for the future, it won't have a happy ending.