Abul Hasanat – The man that was my father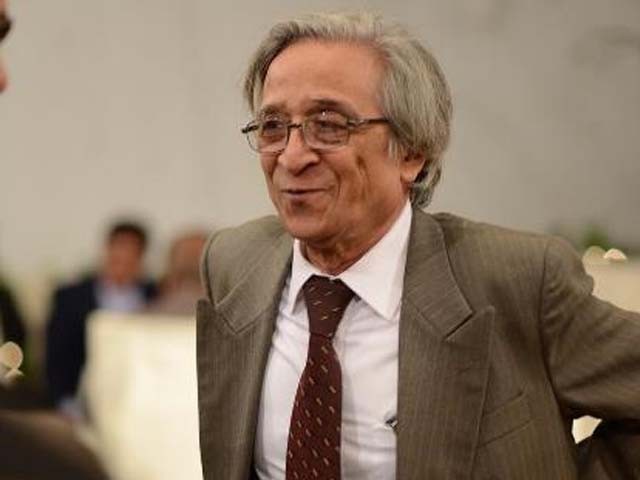 As The Express Tribune bids a heavy-hearted good bye to friend, mentor and stellar editor Mr Abul Hasanat, his daughters give us a glimpse into the great man that he was, both at work and at home.
The moving finger writes, and having writ,
Moves on, nor all thy piety, nor wit,
Shall lure it back to cancel half a line.
Nor all thy tears wash out a word of it. 

Omar Khayyam
My father, Abul Hasanat, after a brief illness passed away on October 5, 2019. He was a great human being. His passion for life, kindnesses and humanity were dominant traits in his character. He was friend of friends; he always tried to help others as much as he could.
He enjoyed hosting feasts for his friends, which were often cooked by my mother Shamim Hasanat. His biggest virtue was his humanity. He genuinely loved humans, regardless of their color, cast, creed and religion or believes. There was no pride in him; he was humble and kind even to his servants. He often lamented the deplorable situation of society and the gradual decline in values, the family system and humanity. He was champion for the cause of the suffering humanity.
Our ailing society and its horrible crimes against men, women and children, made him declare a war against them with pen. He wrote about what's right and what is wrong. He was never afraid to speak out against evils of our society. He was the one who encouraged me in my passion for art. He brought me paints brushes and canvases. He often said to me,
"Do what makes your soul happy."
He was a loving, caring and the most kind father. He loved his family very much. His granddaughters were the apples of his eye. He never came empty handed, always bought a gift, or a sweet for Zahra, his granddaughter. He chatted everyday with his other granddaughter Zainab.
He was a teacher, a mentor to his reporters and staff in office. He was friend to his colleagues. While editing and writing, he tried to bring out the best of a written word. He, like a diamond cutter, polished each and every word. He had unmatched dedication to his profession, so much so even in his illness, he was ever ready to go to work.
There is a empty space in my heart after his death. (By Ayesha Hasanat)
An apt tribute to abbu. I will never call it an obituary for he has not left us. He continues to live through his love, principles and education that he gave us. I see him in bhai's relentless nature of doing good and helping others even if it requires going out of his way or sacrificing his comfort.
I see him in baji's art, her love for poetry and in her will to look after ammi and us. I see him in Sheema's confidence and love for life. I see him in ammi's love and contentment, her satisfaction with life's simple joys and her love for reading. I see him in the affection bhabi has for us. And I see him in Zahra and Zainab's love, laughter and giggles.
I wish I could just hold his hand once, hug him tight, serve him another cup of tea, have another whatsapp video chat with him, send him first edition book that he requested or simply look at him and admire how great my abbu is and what a chamcha (Urdu slang) I was to him. I miss u terribly and I know that this wound will never heal. But abbu as bhai and I promised we will take care of each other and ammi. I dont know what ammi will do without you, for you were the constant in her life, her companion beyond the institution of marriage. I cannot believe the strength she has shown to make sure that we see and find you in her. You left too early abbu, I cant wait to be meet you till then you can rest there safely with Allah and watch us being a source of comfort for others as you were. (By Maria Hasanat)
My hands are literally shaking while writing this. And I can't believe that the one person in my life who would edit all of my writing is no more and this piece is about him. The man everyone knew, the man everyone is writing about – Abul Hasanat is no more, my father is no more, abbu is no more. Maybe if I write about it, it would be easier to accept.
A great teacher, mentor, editor, person, he was also the best father in the world. I know everyone says that about their father but believe me the qualities abbu had made him the best.
As a father he was unlike most fathers. He would never impose restrictions on any of us, he gave us all the freedom and liberty we could have desired. And believe me with three daughters one normally doesn't expect fathers to be like him.
He let us live life on our own terms just like himself. We had the liberty to choose our own lifestyle, hobbies, field of interests, careers, even life partners. He never forced any of his kids to choose a particular career path. That's why we have an artist, an engineer, a doctor and a marketing professional in our house.
It's sad that none of us could pick up his flair for writing though, which probably says a lot about him never enforcing anything on his children. I remember I once failed a course (one of many finance courses) during my BBA and I was crying so he asked me what's wrong. When I told him, he said,
"Zindagi mein is cheez pe kabhi nai rouna chaiye." 

"You should never cry about these things in life."
He was very accepting towards failures and he never discouraged anyone on that basis.
He would never praise us and never complimented us, at least not in front of us. He wanted us to be humble and stay humble and down to earth like him. He never let anything get to our head. For which I am very thankful to him.
He taught us to be helpful to anyone and everyone, not through his words but purely by his actions. We learned from our father that you should help anyone you can in whatever way possible – morally, mentally, spiritually, financially, even if you can help just by using your words, do so. And more often than not I saw him go out of the way for people he didn't even know directly only because somebody would ask him.
Abbu was one of the most humble people I know. We never knew about any of his accomplishments or the fact that he had been a mentor, teacher, guide, guru and help to so many people. We only found out after his death through all the condolences and testimonials we have been receiving and reading. That is the biggest example of his humbleness, the fact that he never spoke about any of this in front of us. He was the light of our house, the head of the family in every true sense. He was a shelter for his entire family and now we are learning that he was a shelter to so many others as well. He was full of love and only love; a source of infinite affection.
I am famously known as abbu's most pampered and spoiled child because I am the youngest amongst his kids. I was very rebellious as my father used to say, I am proud of the fact that I am, abbu. I have learned to live life on my own terms from you. My privileges were only taken away from me after the arrival of abbu's granddaughter and my niece Zahra.
The reading habits that all of us siblings have are purely from our parents. I write parents because my mother is an equally avid reader and that is something that both ammi and abbu had in common and used to connect on.
All your children are extremely thankful to you abbu for teaching us to be honest, caring, helpful and humble.
Abbu, we would try to be like you, to be Sadqae Jaria for you. But you left us too soon abbu, too soon.
If you read this, please say a prayer for my father, thank you. May Allah always keep him safe and happy in Jannah (heaven), Ameen.
Also abbu, I am sorry for the millions of grammatical mistakes that this might have.
Apki beti,
(your daughter)
Sheema Hasanat