Remembering war hero Air Commodore Rashid Bhatti: an outstanding soldier and father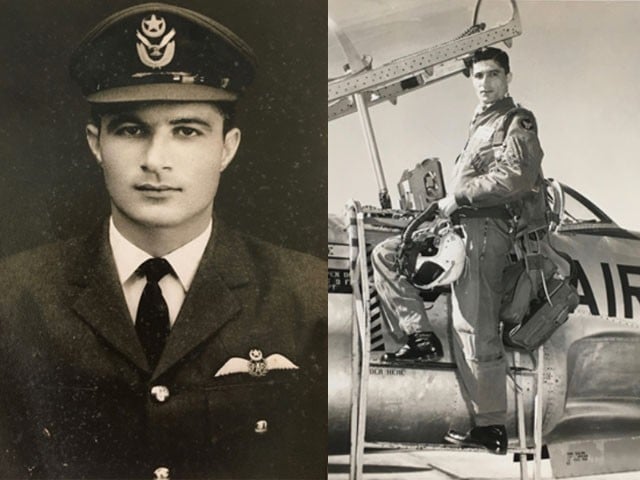 My dad was not a martyr. I didn't lose my dad to the country in his death. I lost him to the country in his life. That night, and every day, I stand proud because of that.
Pakistan and India have once again come to the brink of war after the revocation of Kashmir's special status by the Indian government. This follows the recent tension earlier this year, when Indian and Pakistani warplanes engaged in a dogfight over Kashmir on February 27, 2019, a day after Indian jet fighters carried out airstrikes inside Balakot. Pakistani fighters shot down two Indian planes and the nation celebrated the brave pilots of our Air Force whose courage and bravery made the country proud. To me, however, the event was a reminder of the courage and bravery of a hero who attempted a similar feat in the 1971 war — my dad. It took me down the memory lane recalling how celebrating our soldiers in public takes a toll on their families.
My late father, Air Commodore Rashid A Bhatti, had an illustrious career with the Pakistan Air Force. He was selected to be trained with the best fighter pilots in the world in the United States at the Luke Air Force Base in Arizona. Among his notable honours, he received the prestigious Top Gun recognition from the United States Air Force during his combat training in 1961. He was also inducted in the 'Order of Star Fighters' for mac-busting (breaking the sound barrier) while training on F-104s. Later in his life, he proved to be a Top Gun of the Pakistan Air Force as a war hero during the 1971 war.
My dad joined the elite 9th Squadron during his early days in Pakistan Air Force, where he flew F-104s, including the Star Fighter. The 9th Squadron was home to many outstanding pilots such as Air Commodore (retd) MM Alam (Sitara-e-Jurrat), who is credited for shooting down seven Indian planes in one sortie during the 1965 war. More examples include those who later went on to become Chief of Air Staff, such as Air Chief Marshal (retd) Asghar Khan, Air Chief Marshal (retd) Jamal Ahmad, Air Chief Marshal (retd) Hakimullah and Air Chief Marshal (retd) Farooq Feroz Khan.
My father's most cherished memory was being selected for a fly-past in an elite group by the 9th Squadron on March 23, 1965.
My father was a Squadron Leader posted in Sargodha during the 1971 war. He was a part of the team that conducted the first airstrike on the Amritsar radar on December 3, 1971. He also shot down an Indian Su-7 aircraft in one of the dogfights during his war mission. The details of his war mission are documented in the book 'Story of Pakistan Air Force: A saga of courage and honour'.
However, what the books of that time and the social media of today's age does not cover is what goes on in the lives of the families of these soldiers of our nation. Growing up, I did not see my father fly. My mother tells me that he was a man of great taste and always aspired for high standards of what he did in life. She shared stories and photographs of the two of them taking a road-trip across Europe back in the 1960s. 
However, my father, in his post-flying career, seemed like a shadow of the father I had seen in pictures and heard about in stories. He was dedicated to his field even after his flying career was officially over. One of his notable later achievements was founding an aviation safety institute at the Pakistan Air Force Masroor Base in Karachi, where they now have a hall named after him. However, his sense of adventure significantly took a back seat with time. Perhaps it was the lack of the adrenaline rush in his later life or the medical or psychological consequences of having actively participated war. I don't exactly know why and find myself asking this question quite often — more so after losing him last year. All I know is we, as a family, always accepted the downsides in his life to help him achieve the upsides in his career.
I know for a fact that had he been alive, my father must have been nostalgic to see the events of February 27, 2019. He was frequently interviewed by the media and news publications about his experiences of participating in the airstrikes of the 1971 war. That night, I sorely missed his company and the stories he loved to share. Serving his country was his pride and above everything else in his life. Those of us who have not witnessed war in our lives should be grateful to our national heroes who sacrifice everything to protect this country.
(All photos by author)