How Imran Khan won me over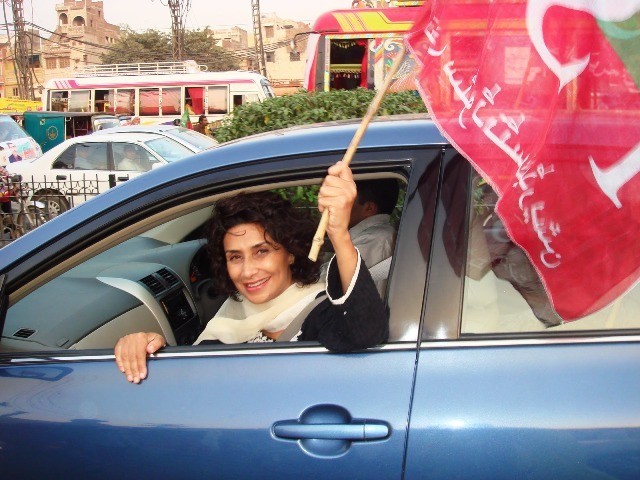 A fellow-volunteer at TCF (The Citizens Foundation) asked me the other day if I was going to the PTI rally. My first reaction was to laugh, and then wonder 'Women go to political rallies?' Perhaps what I really thought was 'Do women like us go to political rallies?' 'Us' being  shareef  (modest) and middle class, belonging to families who may have acquired almost-elite status over time, but who's middle class values dictate that the arena for women's political participation should be the family's television lounge, not the uncertain grounds of Minar-e-Pakistan. 
By the morning the momentum was clearly palpable on my Twitter timeline. I have always been ambivalent about Khan's politics but I am also a sucker for a mela (carnival) and this was promising to be a carnival like no other. Despite trepidation at braving such crowds on my own, I went out driving alone and joined the PTI caravan at Kalma Chowk, buoyed by the hope that harassment of women might figure low on the agenda of willing attendees of a rally for change. The optimism wasn't misplaced, for the most part. The Lawyer's Movement had brought the burger crowd to the streets before, but this felt different. For many of those following the caravan from Defence and Model Town, just going to Minar-e-Pakistan was an act of immersion and solidarity with the general populace, and a form of political awakening. Jeans and kurtas all powering forth in one direction.
It was certain by this time that the gathering was going to be huge. People around me made victory signs atop buses belonging to private local colleges. Cars played Amanat Ali Khan's 'Ae watan pyaare watan' but the most ubiquitous song remained 'Jazba Junoon', blared constantly from the leading truck in the procession. I wondered if other political rallies ever use music from a Pakistani rock band, and whether I was imbuing this act with too much meaning. But to children of Zia's era even small signs of 'progressiveness' are cause for some celebration and relief. This pop music motif continued till the end, an obviously deliberate attempt to soften the 'Taliban Khan' image and to keep PTI's strong youth base harnessed.
I saw many of my Aitchison students along the way, most of whom will turn 18 next year. This means none of them is a potential voter because they are not eligible for vote registration yet. They couldn't have formed even one percent of the total number in the rally, but their presence did reinforce the Zohair Toru stereotype in my mind, possibly because I knew most of them personally. A democracy, however, for good or for bad, does not differentiate between a Zohair Toru and an Ardeshir Cowasjee.
Upon reaching Oriental College, Punjab University, I parked my car inside (privileges of being the ex-Principal's daughter) and joined some friends in theirs. It was their first time at such a rally and the three middle-aged sisters had much of the well-intentioned, wide-eyed political naivete that seems to be the hallmark of the PTI supporter. Traffic was so choked by the time we reached Karbala Gamay Shah that we had to walk the last mile to Minar-e-Pakistan, carried along by the crowd's thrust. Some boys in front of me made suggestive thumkas (hip  movements) and burst into raucous laughter at their own cleverness. On the other side men danced and marched to the beat of dhols while we weaved our way through the crowd amidst shouts of 'Let the ladies pass!'
Once we reached the ground and had squeezed our way through to a decent position, it became impossible to see a panoramic view of the crowd, so it was not possible to make any kind of guess as to crowd numbers or even to take it all in in one sweep. One could only tell that there were thousands of chanting people on every side and Manto Park was so full that it was not possible for anyone to try and squeeze their way out of the stadium.
The crowd around me was impatient with the speeches of 'irrelevant' PTI leaders and its only interest lay in hearing Imran Khan, constantly chanting his name to urge him along. While this one-man-show has often been touted as a major drawback in Imran Khan's chances, I don't see it as a particular hurdle in a country where the politics of personality cult ensures people vote for Bhutto even thirty years after his death. Where the populace does not know the names of the candidates but votes for 'teer' (arrow, symbol of PPP) or 'sher' (lion, the PML-N symbol).
Strings came on for one song to boost sagging morales.
Half-way through 'Main tou dekhoon ga' I fished for the PTI flag someone had thrust in my hand earlier and I had promptly discarded under my chair, and waved it in thumping rhythm to Strings' lyrics; for that moment one with the crowd and just as starry-eyed and hopeful as them. For who so hard-hearted that can resist the adrenaline-pumped optimism of thousands of people singing along to:
"Woh din phir aae ga jab aisa ho ga Pakistan', 'jab roti sasti ho gi aur mehngi ho gi jaan', 'jo duur gae thay bhoolay se, lotayn ge phir watan ko aek shaam" (A day will come in Pakistan when life will hold more value more than sustenance, and the people who once left the country will come back to it.)
This stanza in particular makes me misty-eyed.
Imran Khan finally took to the stage at around 7 o'clock in the evening by which time the crowd was getting increasingly agitated and several women and children were trying to unsuccessfully make their way out. The crowd, however, was too thick to allow anyone to pass through. Imran took the mic amid a deafening roar. His cricket analogies prompted gleeful high fives from the boys in front of me while those at my back chanted 'Jab tak sooraj chaand rahay ga / DJ Butt tera naam rahay ga' (as long as the Sun and moon remain, DJ Butt's name will remain) upon Imran's mentions of DJ Butt-again I suspect, a deliberate attempt to identify with a youthful, pop-oriented figure. Sound strategy, I feel, of juxtaposing Islamic rhetoric with identifiably popular elements of youth culture.
The speech was full of feel-good optimism as was expected and required. Talk of corruption, delivering rights to the poorest in the society and anti-Zardari sentiment elicited the most visible roars of approval. Personally speaking, I was disappointed at his resorting to lies about Hussain Haqqani's nationality but heartened by his passing mention of minority and women's rights.
I came away feeling that Imran's never-say-die philosophy seems to be paying off once again. I made yet another mental note to get my vote registered the next day. If I manage that, I will be voting in the next elections for the first time in my 33-years. And that right there is a victory for Imran Khan.
This post was originally published here.
Loading ...