Are we carrying out Eidul Azha rituals the right way?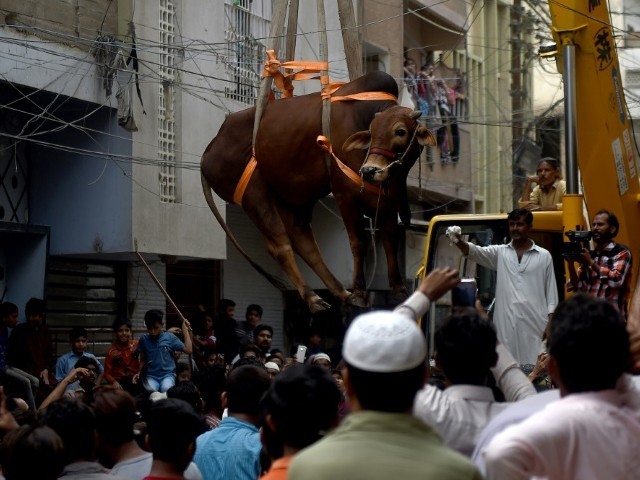 Emaciated bodies, their remains everywhere, blood flowing on already dirty streets across the city and the smell of freshly cut flesh – this is a glimpse of Karachi on the first day of Eidul Azha, aka Bakra Eid. I've heard that amongst sacrificial animals, this day is known as D-Day.
The effects of Eidul Azha are already felt a week or so prior to the event itself. It starts when you step out one fine day and your nostrils are greeted with the oddest of stenches, until you suddenly detect the actual source of the smell: the goat your neighbour bought a day earlier and tied within your residential block. And whilst closing your windows and curtains to block the sights and sounds from entering your home, you start praying, 'Dear God, I hope he sacrifices the animal away from our house'.
This is where one should recall how strongly Islam emphasises upon the importance of cleanliness with regards to Eidul Azha. From how the animals are kept before they are sacrificed to what transpires afterwards, it seems that cleanliness is the last thing on anyone's mind when it comes to Eid in Pakistan. As a result, most of us are familiar with the sight of animals being sacrificed along the road, creating a mess which may or may not be cleaned up. Often times we find the remains lying on streets for days. This is, unfortunately, a national problem which all of us need to collectively address.
My issue with regards to Bakra Eid is how the animals are treated. Amongst other things, our faith dictates that livestock is supposed to be sacrificed without being subjected to physical or psychological brutality. Unfortunately, both these aspects often tend to be ignored. For one, Islamic teachings suggest that animals be slaughtered with minimal suffering. It is encouraged that the knife be hidden and the animals be privately slaughtered so that they are not overcome with fear. Unfortunately, the manner in which the ritual of qurbani (sacrifice) is conducted in Pakistan often leads to animals witnessing other animals being painfully butchered.
Additionally, the act of sacrifice only becomes meaningful when you care for the sacrificial animals; by ensuring comfortable living conditions for them, along with looking after their sustenance. Ideally, they should be kept along with others animals of their own species in order to ensure that they are not frightened as a result of solitary confinement. How often do we see all these needs of the animals being tended to?
Furthermore, the kasai (butcher) business is possibly the most lucrative of all businesses during Bakra Eid. Everyone claims to be an expert butcher and any quoted credentials should usually be disregarded. What matters is how early they come in, the price they quote, and their deemed confidence level with the animal in question. Whether their confidence subsequently waivers somewhere down the line is a separate matter altogether. But what makes all this worse is that individuals who are not trained butchers are often hired by people interested in low-cost solutions. Unfortunately, these pseudo butchers only increase the misery of the animal. This leads to many animals dying in needless pain after bleeding to death for several long minutes instead of being more mercifully sacrificed in a matter of seconds.
A special mention must also be made for how some of the larger cattle like cows and camels are treated on Bakra Eid. Often the animal is wounded before it is killed, hence only prolonging the animal's agony as a crowd of onlookers relish in the display.
The very purpose of Eidul Azha is to try and foster compassion and empathy within a society. As we go about our Eid festivities, we must remember that a sacrifice is acceptable to Allah (swt) only if it is accompanied by piety and sincerity (22:37).
Let's celebrate Bakra Eid how it is meant to be, by being compassionate, considerate human beings.
Eid Mubarak!