Police Martyrs Day: Remembering Safwat Ghayur, Pakistan's Man of Steel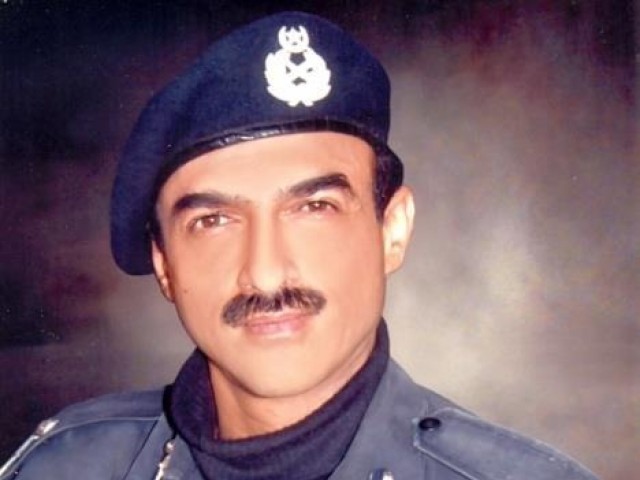 While undergoing training at the Civil Services Academy (CSA) in 1998, we, the officers of Police Service of Pakistan (PSP), received a congratulatory letter from Safwat Ghayur. This was our first formal introduction to the officer who was the then Course Commander of National Police Academy (NPA). 
I had heard his name before but met him only when we reported to the NPA. A thorough and professional police officer, Ghayur was an equally outstanding trainer. He would spend the entire day with us in training; from the morning mile run till the last activity of the day at around 7pm, guiding and coaching us relentlessly during this time.
When we rested for a while in between lectures, he would slowly sip a big cup of black coffee and voraciously read a few pages of his favourite English novel. During sessions, he would purposely raise a point to generate discussions and share his personal experiences and insights, urging us to draw lessons independently as he did so.
He would develop such a kind and compassionate relationship that everyone would believe that he was the closest to them. Training at the NPA was my first learning experience with him. But little did I know that more was to come in subsequent months and years.
I got an opportunity to work with him when he was posted as Capital City Police Officer (CCPO). He recruited me as his Coordination Senior Superintendent of Police (SSP) to assist him. With his full delegated authority, my job became simple – keep him away from the laborious and cumbersome task of file work so that he could focus on planning, strategising and executing operations.
This period allowed me to observe him very closely. I found him to be a highly motivated and passionate officer who had a very strong personality. Conceptually, he was very clear with a distinct road map before him. A true professional, Ghayur practically demonstrated how to lead from the front. Whenever there was an incident, he would be among the first to respond. Similarly, he seemed to be a natural strategist, who meticulously planned and methodically executed several operations, from Jalozai to Mardan, Peshawar and even the erstwhile Federally Administered Tribal Areas (FATA).
He personally commanded every operation: guiding, coaching and briefing his officers on the minutest of details. Having a background in intelligence work, sleuthing and analysis, information gathering had become somewhat his forte. He would painstakingly gather information bit by bit to develop a larger picture. He would then plan to track and hunt down militants operating in his jurisdiction. His operations helped break the back of militants. In turn, this made him one of their biggest targets.
This was a time when militancy was at its peak. Peshawar was bleeding and so was the Malakand Division, and alarm bells started ringing when militants started targeting Buner.
One day, Ghayur came back from a high-level meeting and decreed that the Peshawar Police will launch an operation against militants in Buner. No one dared oppose him and murmurs started to spread. I told him that in the given scenario, it was not advisable to launch an operation in Buner, and that the force may not be ready or willing to undertake an operation of such magnitude and difficulty. At this, Ghayur smiled and asked me to gather all the ranks in police lines.
That evening, around 3,000 personnel of Peshawar police gathered in the police lines and Ghayur addressed them. In his typical, authoritative style he told them that the situation in Buner needed their intervention and asked them firmly whether they will join him. After a brief pause, an old, grey-bearded head constable, shouted at the top of his lungs,
"Sir, for an honourable and brave man like you, we are willing to go anywhere to fight."
This triggered thunderous applause followed by the Naara-e-Takbeer which shook the entire police lines. This was the type of unquestionable obedience and respect that Ghayur enjoyed.
One day he told me that he will not be coming to the office because he had an eye surgery the next day. Surprisingly, he came into the office at around midday and told me smilingly that some medical tests had revealed that he was suffering from hepatitis. I was shocked to hear this dreadful news, but he remained calm and composed. Noticing my concern, he smiled and said in his characteristic style,
"Don't worry handsome, we will fight it out."
Later on, it came to light that he had contracted the disease years ago while undergoing a blood transfusion after sustaining an injury during a Mardan encounter in 1997. The painful process of his treatment began. He would spend his nights supervising operations, taking powerful injections and would then attend office while braving high fever.
He ended up fighting battles on two fronts: one against the militants and the other against this dreadful disease which had ambushed him. But this was typical of Ghayur; stubbornly ignoring his doctors' persistent advice to rest. He was a man with nerves of steel, with resolve and dedication that were simply matchless.
He has to his credit innumerable successful operations over the years which put him on the hit list of many militants and criminal elements. Everyone would urge him to take precautions and he would always smilingly shrug it away and roam around fearlessly.
On August 4, 2010, when he left his office in Peshawar's Saddar area, a suicide bomber was waiting for him. The bomber blew himself up and took the life of one of the bravest the province had ever seen. This news was nothing less than a bomb for us and the police force of the country. There was widespread mourning and grief as people remembered his heroic achievements and publicly claimed that they felt insecure after his death. They knew he was fighting for their safety.
A zinda nation doesn't forget its heroes who died fighting for it #SafwatGhayur

— omar r quraishi (@omar_quraishi) August 5, 2013
His work as Peshawar SSP against criminal and kidnapper gangs, his operations as Crime Investigation Depart (CID) AIG, his achievements as CCPO, and his expeditions against militants as Frontier Constabulary (FC) Commandant, were a great service to the people of this country.
His life was full of action; he fought valiantly and contributed immensely to peace in the region. However, his real time to serve was the last decade of his life when, operating at the strategic level, he contributed a lot to improve the systems and procedures. In this sense, it is not the family alone which suffered because of his untimely death, but the PSP and the people of Pakistan have suffered equally.
Rest in peace, Sarwat Ghayur.