Lesson for Pakistan: "It is not about how much water you have, but how you manage it"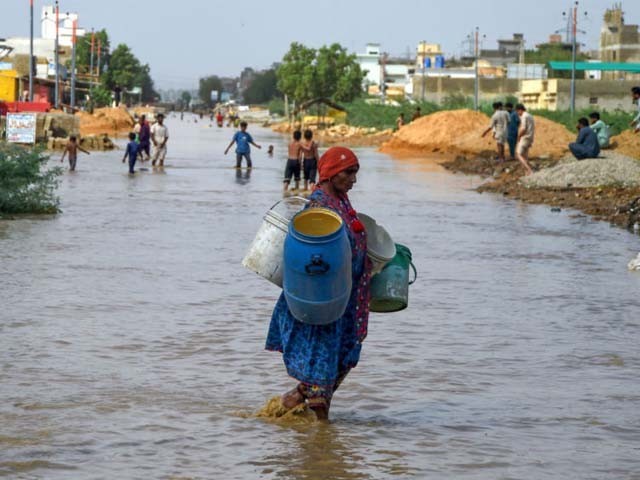 Before Prime Minister Imran Khan touched down in Washington, I landed in America's capital, invited by the State Department for a foreign press tour titled 'Creating a More Water Secure World'. I was curious to learn how the US was dealing with droughts, floods and warmer temperatures given that the country is pulling out of the Paris Climate Agreement.
Donald Trump recently dismissed a study produced by his own administration warning of the potentially catastrophic impact of climate change, saying,
"I don't believe it."
While I was there on the 10-day tour along with journalists from other developing countries, the northern hemisphere was witnessing record-high temperatures, and Washington was sweltering. The spell of hot weather was broken by severe thunderstorms and tornado warnings across eastern parts of the country, yet Americans seemed to take it all in their stride. Extreme weather is now becoming the norm.
I was dismayed to see many American experts tiptoe around climate change, especially at the State Department, our first stop on the tour. How can one talk about a water secure future without addressing climate change? All the technology in the world is not going to help once the planet exceeds the 2°C warming limit.
The State Department informed us that America passed a Global Water Strategy in November 2017 and if a country asks for help, they can provide expertise in the face of floods and droughts that are threatening the sustainable supply of water everywhere. They work on access to safe water, sanitation, hygiene issues, water resources management and cooperation over shared waters. Currently, they are helping 10 countries with priority needs in water and sanitation.
Pakistan is not on their priority list, I was told, since they feel that Pakistan has enough water from its glacier-fed rivers, but it is mismanaged. The priority list could change over time but for now Pakistan is placed as a second-tier country. Their spokeswoman mentioned that they are now "looking at what programme we can do in the future on trans-boundary water issues between Pakistan, Afghanistan and India".
The US itself is creating a nationwide water reuse action plan given their water shortages, especially in western states like Texas and California, which will be rolled out in September 2019 by their Environment Protection Agency.
We then visited their National Oceanic and Atmospheric Administration (NOAA) and Office of Water Prediction where we learnt that communication is the key to respond to severe weather events. Their director, Dr Thomas Graziano, informed us,
"You could be a clairvoyant with the weather, but communication is key to eliciting the appropriate response."
He explained how flooding is now costing them over $10 billion, increased from $4.7 billion a few years ago. We were told that extreme weather is on the rise, especially in the last decade. In 2011, the US experienced 300 tornadoes in one season and this year the Mississippi River was flooded.
His office now uses high technology modelling to predict floods. They use actionable information to model how deep the flooding will be, where it will occur and when the water will recede in order to pre-position people and resources. Their National Water Model is now quite sophisticated and provides them 'real-time flood inundation mapping' using high-resolution technology with data gathered from 122 weather forecast stations and 8,200 stream gauges across the country. Graziano explained,
"Our emergency managers love this information, earlier we were blind."
'Building a weather ready nation' is how they describe their efforts – so they are clearly preparing for extreme weather events caused by climate change. Pakistan, which is regularly hit by floods in many districts – parts of the country were recently left paralysed due to torrential rains and glacial lake outburst flood – could greatly benefit from such an integrated water prediction system, however, the technology is not cheap.
The NOAA has also pioneered the incredible 'Science on a Sphere' – a room-sized global display system that uses newly built 'game-changing' geo-satellites, weather balloons and ground stations along with computers and projectors to display planetary data onto a large animated globe. There are currently 163 installed in the US and other countries at various research institutes, all sold by the NOAA.
It is like looking at planet Earth from space and seeing the big picture, making one realise how dynamic the planet is and how connected all the oceans are. One can create countless specific data sets, other than tracking planetary weather, like tracking turtles across oceans (so fishermen don't catch them), trash flows across the seas and heated areas where wildfires are expected to break out.
We then visited the US Water Partnership (a coalition of 120 different members including US Aid as there is no one department of water in the US). A public-private partnership, it has funded a few water and hygiene projects in Pakistan. Tom Harvey, who helped found the partnership in 2012, explained that,
"Water is life but sanitation is dignity. Rainfall patterns are changing and it is affecting us… there are many in the US who see the facts and understand the science. The climate is changing, some natural and some man-made."
I have personally visited one of their successful water management projects in the remote valley of Siksa in the Khaplu district in Baltistan, implemented by the Mountain and Glacier Protection Organisation. The project has installed a pipeline to bring spring water and snowmelt to this village of 500 households. The US Water Partnership described the work done by this project as "innovative and unique".
We wrapped up our Washington trip with a visit to WaterReuse, a research organisation that advocates for water recycling and works at the state level to help reuse water. They can recycle every kind of water through filtration and disinfection including 'toilet to tap' as one American journalists described it – meaning any kind of water can now be reused! The technology is expensive but it is possible, after all, that's how water is reused on the International Space Station (ISS).
Lastly, we visited the fascinating office of 'Reclamation' which manages and develops water in 17 water-scarce states of the western US (much drier than the eastern part) and is responsible for the building of the Hoover Dam. Reclamation meant reclaiming land from the desert; California and Texas are both reclamation states. Founded in 1902, it is responsible for 'settling the west'. They currently manage 490 dams, 337 reservoirs and 76 hydro-electric systems across the western states. According to their Commissioner Brenda Burman,
"We are the backbone of the economy of the west."
The Colorado River is the lifeblood of seven western states (and Mexico) and 40 million people get water from it – yet it was in drought for 19 years and they somehow managed it well enough to survive the drought.
As American experts keep on reminding us,
"It is not about how much water you have, but how you manage it."
This is a lesson that Pakistan needs to desperately learn.
(All photos by author)