A checklist for the new PCB chief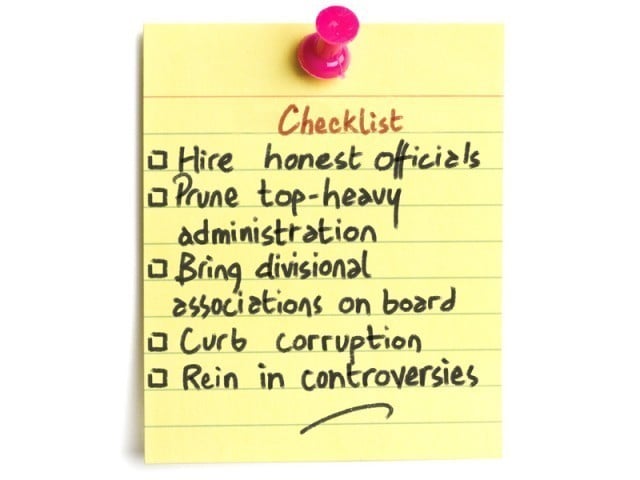 It hurts to the core when I see the absolute shambles Pakistan cricket is in after being associated with it right from the start.
Gone are the days when Justice Cornelius, Hafeez Kardar and Nur Khan were its administrative leaders, the individuals drawing respect from all over while representing Pakistan cricket abroad. I rest the blame on the amount of money associated with cricket. The perks of being head honcho attracted all and sundry, resulting in a total mess of the board's management, which is overstaffed with most personnel being a drain on its resources, who need to be given the boot as soon as possible.
With Ijaz Butt's tenure a thing of the past, the new chief has to get into gear straight away without a honeymoon at the helm. The disaster that was Butt must be forgotten and a fresh start made. Honest and zealous officials should be retained and the rest must be given marching orders.
The new chief has to be firm and ruthless, pruning the top-heavy administration, with its selection committee and financial management sitting through a very stringent review.
The chief should bring on board all the divisional associations, which are the nursery of cricket in the country, seeking advice from individuals who have been linked with the sport on an honorary basis just for the love of it.
The Pakistan Cricket Board (PCB) has come a long way from the Board of Control for Cricket in Pakistan (BCCP) days, from being housed in a room and a half at the National Stadium followed by a servant quarter in the Army Hockey Stadium in Rawalpindi. Then, the players were amateurs and paid a pittance.
Now, the coffers are overflowing but it's imperative for the new boss to take stock of the situation and ensure roles only for the deserving. Imran Khan, the greatest cricketer produced by Pakistan, was given a free hand in selection matters as captain and despite his running battle with the BCCP, he always got his way because the board knew his value and respected his knowledge of the game.
From my time with the BCCP – president of the Rawalpindi Division Cricket Association and an executive member of the board – I'd highlighted certain irregularities in the board's annual accounts. This didn't please the secretary and the head of the finance committee. They cajoled and bullied other members to have me barred from the board when Nur Khan was the BCCP president. The secretary had drawn up a charge-sheet against me and on my pointing out that the agenda had to be taken up first, Khan agreed to it. When I supported my objections to the budgetary lapses with proof, the president fully supported me in deflating the balloon of the conspirators.
Although he was fond of his secretary, personal relationships never blurred his views, handing his followers a guideline on how to run a cricket board.