Has Eid 'modernised' with time?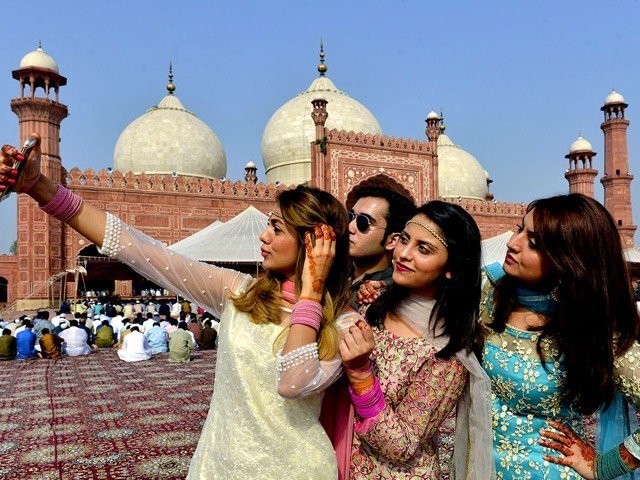 Eid shopping is easy these days. Just saunter in any of the malls, check out the popular brands, take your pick and head back home while enjoying any of the easily available branded snacks. For the parents, this is a job well done. For the kids, it's one of those shopping trips which is topped with a favourite place to eat out, as celebrating Eid for them is just another holiday.
However, decades ago, when I was a child, Eid was a different affair. As we prepared for Ramazan, my father would visit his mother – my grandmother – to wish her on the arrival of the blessed month with a dress and her favourite eatables. My grandmother would retire for most of the month, with special prayers going on late in the nights and resuming early in the morning after a small break.
The arrival of the holy month meant quieter afternoons, busy evenings and early bedtimes; at least for the kids. And this is back when it was still Ramazan Mubarak, not its Arab version Ramadan Kareem!
At that time, there were no hi-teas, no pizza deliveries or frenzied get-togethers at iftar. The iftar itself used to be a simple affair: Rooh Afza was a must and at our household it was a regular tradition to squeeze a bit of lemon to it to add some zesty flavour. Pakoras were an all-time hit with all age groups, with the kids competing to hog up all the aloo (potato) pakoras.
A simple chana chaat, fruit chaat or dahi phulki would be the ultimate item, topped with a steaming cup of tea for the adults. Today, if the traditional menu is not accompanied with spring rolls, chicken samosas or drumsticks, it's outrageous and the kids go on a strike.
If Ramazan has modernised with time, it's only expected that Eid gets a makeover as well. For girls, chaand raat still has its charms, owing to arranging dresses and accessories and applying mehndi on their hands and feet. They still throw a fuss over their attire and compare notes with their friends and cousins.
The boys, however, may grudgingly wake up for Eid prayers, if the dads are willing to go. But there is no excitement or special preparations on their part. It's like a duty to be fulfilled, not an occasion to look forward to. When I was young, boys received Eidi after the special prayers. Today, they get it anyway.
In the days that have gone, each household had mostly the same platter but it was still appetising to all. Be it sheer khurma, doodh sawaiyan or sawaiyon ka zarda, the crispy fried vermicelli was the key ingredient of every Eid menu. The sawaiyan are still there, but only for those who still crave the Eid of their childhood. Today's generation tends to respond with 'No, thanks' – they are happier with pastries, cakes and pies.
Eid afternoons these days are anxiously looked forward to for a distinct reason: taking a nap. The immediate household will pay their dues to each other early morning after Eid prayers or simply first thing in the morning. The enthusiastic ones move on to visit friends or distant relatives. Those who are less eager sneak back to their bedrooms once the morning shift of guests have retired, and succumb to a peaceful rest.
The kids are allowed 'freedom' on Eid to glue their eyes on their television screens or those of various gadgets, as long as they do not disturb the leisure of their parents. They are promised a generous dose of Eidi in return.
The Eidi still has its charms; after all, money never goes out of fashion or demand. Collecting small and big notes of currency and counting incessantly to keep tabs is a favourite past time of kids even today. Only the standards have gone higher, and the generation of today is smart enough to assess the value of money: the bigger the note, the more likeable the uncle or the aunt. Smaller note bearers are simply to be respected.
From the first of Ramazan to chaand raat to Eid day, it is a journey of learning. As children, we learnt the values of fasting, as well as the significance Eid brings in the lives of those who fast and those who prepare for the meals. I try hard to revive the Eid spirit in my younger ones, for the spirit, once alive all around us, now beckons to be witnessed.
Each year, as I enter the kitchen on chaand raat to prepare kheer or sheer khurma after a mental debate to decide the sweet dish, I try to relive the eve before Eid as it was in my mother's kitchen. My sons peek in and pass by, a little disappointed at the array of nuts and the aroma of boiling milk.
In my heart, I console myself that they may not look forward to my menu, but at least in their memories they would retain what a traditional Eid platter looks like. Today, they may rub their eyes when having to dress up early in the morning to accompany their father for prayers, but tomorrow, they may have a tale or two to tell their young ones. For who knows how Eid may look like in the days to come.
Eid Mubarak!