Heroes die, legends live forever: RIP Steve Jobs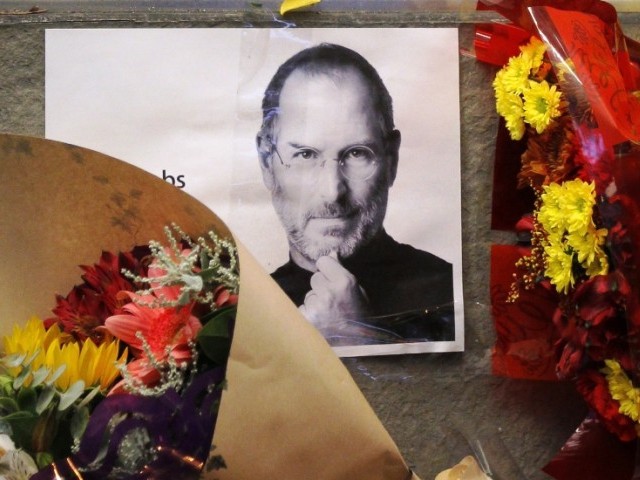 They say that till your deathbed, you will remember the exact moment you learned of a significant global event. I remember all of mine, so far.
I recall, as a child, I was listening to the radio with my parents in Saudi Arabia, when Sadam Hussein invaded Kuwait. I recollect celebrating in my cousin's home in Riyadh, when Imran Khan lifted the cricket world cup. During the fateful hour on September 11th, I was listening to the Howard Stern radio show, who was broadcasting live from New York near the twin towers. And just a few hours ago, on a slow work day, I was browsing The Express Tribune page on Facebook, when under an unrelated news item, I learned of the Apple CEO's passing, through a comment by a fellow reader, that said, "Steve Jobs died RIP."
Like everyone else, I had long known about Steve's battle with cancer, but I had been unaware of how little time he had. When I turned to the popular news haunts for more information, I realized that it indeed was true, and that the man behind Apple had truly passed, leaving the dedication flood gates open in his wake; US president Barack Obama called the man a visionary; Softbank Corp CEO, Masayoshi Son compared Steve Jobs to Leonardo da Vinci; Michael Dell CEO of Dell Inc said the man was an iconic legend.
However, what really caught me off guard were the reactions from the Pakistani web community. We are all normally a very cynical bunch, but the heartfelt sentiments from desis have been pouring through all over Twitter and Facebook. What is it about this man and his company, which carries such a die-hard following, even in an economically hard struck nation like Pakistan? I have noticed that while most franchises in Pakistan struggle to survive, the official Apple stores in Karachi continue to bustle with all sorts of activity.
In the 'mobile market' in Saddar, affluent shoppers ignore the Android powered devices, in favor of the more expensive iPhones. Those who can't afford them, invest in cheaper Chinese knock offs, instead of safer, more legitimate alternatives. And as a techie, I often get asked by my Pakistani mates what MacBook they should buy, so they can live on daal chawal for six months, saving up for one.
It isn't just Pakistan, but a large portion of the entire world that mourns this man and his company's creations. When new Apple products are set to launch countless put their lives on hold by forming queues for weeks outside of outlets. Fans (or fanatics) have been known to get tattoos and haircuts sporting their love for the giant tech corporation from California.
Steve Jobs was a man who made black turtlenecks fashionable for those outside of the French painter, and international spy industry. And when he announced new products at keynotes, members in the audience jumped with joy, exchanging high-fives, leaving clueless viewers like myself fearing for the future of humanity.
Some of my friends might find it ironic that I am writing about the legacy of Steve Jobs. You see, I dislike Apple. While I have gifted iPods to my siblings, I never have, nor do I ever plan to, purchase an Apple product. And although I would never throw one out of bed, I find them overpriced, fragile cosmetically, and as compared to the competition, significantly underpowered.
Despite having said that, I can't deny Steve Jobs' contribution to the tech community, his genius as a salesman, nor his business savvy. As a shrewd operator, he decided that Macs didn't need to compete with PCs in terms of power, price, or utility. Instead, he rewrote the rules, and contested on his own terms, targeting the more fashion conscious crowd with the brilliant Mac vs. PC advertising. Eventually, defying all logic, his computers were outselling cheaper and more powerful PC alternatives.
But, it didn't stop there. Under his reign, Apple, using a very simple idea, shaped one of the greatest selling products ever made. Essentially, they took the portable hard drive, gave it mobility, armed it with a gorgeous looking interface, attached some headphones, and sold it as an iPod. Many product revisions later, they made an XL version, called it the iPad, and laughed all the way to the bank, thus embarrassing other companies who had previously tried to enter the tablet market.
Admittedly, it wasn't all marketing. For all their limitations, Apple products are lightning fast, have the best interfaces, and easily the most attractive looks. Not only this, but they are undeniably innovative. My Samsung Galaxy S, which I adore, while essentially a superior, more open ended version of the competing iPhone, is a smartphone which would not have existed had Apple not paved the way.
In fact, all other present day tablets, portable music devices, touch screen gadgets, and interfaces on modern day Windows operating systems, have all in some way, to varying degrees, found birth due to Steve Jobs. I know it wasn't all him, and that he was part of a hard working team, but smart people surround themselves with smarter ones, and, with his team, Steve Jobs made portable technology an infinitely larger part of our lives. In fact, so iconic was he for his company that Apple's stock price fluctuated with his health. Basically, Steve Jobs took Apple from its humble beginnings to a multibillion dollar enterprise.
In the end, I have to say that with influential businesses like Apple having more cash reserve than the U.S. treasury, I have no doubt that corporations are the new empires and superpowers of our era. And with Steve Jobs passing, I feel that the tech business world has lost its Julius Caesar.