Chill out, PTI! It was just an iftar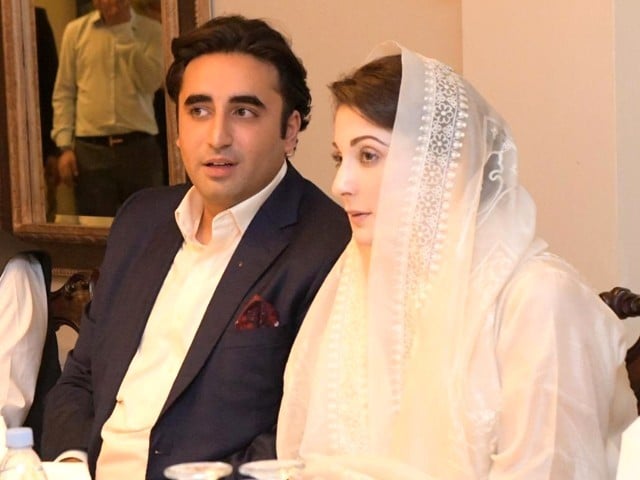 An iftar gathering at the Zardari House in Islamabad has shaken the political corridors of Pakistan. On Sunday, almost 10 opposition parties including the Pakistan Peoples Party (PPP), the Pakistan Muslim League-Nawaz (PML-N), Jamiat Ulema-e-Islam (JUI-F) and the Pashtun Tahafuz Movement (PTM) gathered for an informal iftar-dinner to devise a strategy against the incumbent Pakistan Tehreek-e-Insaf (PTI) government.
Maryam Nawaz led the PML-N delegation which Hamza Shehbaz was a part of, proving Maryam has finally taken the lead role while Hamza will perform a role similar to what his father did for Nawaz Sharif. Nonetheless, this was a big show of solidarity from the opposition and clarified its stance against the PTI government: that it will no longer sit silently and will start mobilising its workers.
In power politics, the opposition cannot sit idly by and is supposed to provide strong resistance to keep a check on those in power. They are expected to launch agitation movements on issues pertaining to the people. In fact, the PTI started a dharna in 2013 in the same vein.
However, despite PTI having provided a strong opposition to the former PML-N government, it seems to not grasp the necessity of having a strong opposition for the survival of a democracy; after all, it is dictatorships that crush resistance and expect submission.
This was an informal meeting where the joint opposition reiterated the same points it has been bringing up for the past nine months. The purpose of this gathering was to make some noise and mobilise, and ironically it was PTI that made it a bigger deal than it actually was. There was nothing new to announce or launch, yet this move successfully put a lot of pressure on the PTI government.
From federal ministers to the prime minister himself, everyone jumped in to criticise this iftar. Thanks to this, all eyes were on the meeting and the people gathered there, and more importantly, all ears were listening to what they had to say.
While the corrupt forces of status quo unite to save their sinking ships, PM Imran Khan stands tall with the future of Pakistan, those whose future and lives he has committed to serve.#ابو_بچاؤ_افطار_پارٹی pic.twitter.com/6UayRnGeCv

— PTI (@PTIofficial) May 19, 2019
One statement targeting this gathering from the minister of information would have been sufficient, and if PTI had even a little political acumen, it could have ignored the whole event entirely and focused on the Shaukat Khanum Memorial Hospital fundraiser instead. However, since PTI always plays into the hands of its rivals, it once again obliged by falling into their trap.
For the Imran Khan-led PTI, the warning sign could have been the Balochistan National Party-Mengal (BNP-Mengal) leaning towards the opposition, as PTI is leading with only a few votes in the National Assembly. If BNP-Mengal and PTM members withdraw their support, the opposition will only need members from the Muttahida Qaumi Movement (MQM) to topple the incumbent government in the centre.
However, Sardar Akhtar Mengal did not participate in the iftar. Even if the opposition somehow manages to get the required majority, at this juncture when Pakistan is facing multiple crises and the globe is facing a period of recession, the opposition is unlikely to topple the government. In fact, it would want PTI to govern more so it can benefit from its mistakes and unfulfilled electoral promises in the next election.
Instead of wasting time and energy on what the opposition is eating and with whom, PTI badly needs to focus its attention towards governance. As long as it fails to do its job, it will only provide fuel for the opposition to criticise it, as is its right.
As far as the joint opposition is concerned, other than seeing the extension of the Charter of Democracy and watching the next generation of Sharifs and Bhuttos carry the flag of democracy, there was nothing substantial or threatening for the incumbent government here. The same opposition joined hands soon after last year's elections and yet remained divided later on, so this iftar-dinner poses no looming threat to PTI.
Why such a storm in a teacup over our iftar? Dinner has barely been served and Govt reps are losing sleep? #IftarDiaries

— SenatorSherryRehman (@sherryrehman) May 19, 2019
It is important to note that the opposition is in no mood to launch a massive protest against the government, as this could destabilise the country further. In a press conference after the iftar, Shahid Khaqan Abbasi stated they were not meeting to topple the government and instead were sitting together to devise a strategy to thwart the economic and financial crisis faced by the country.
Thank you very much @BBhuttoZardari for the lovely iftar, especially for getting up mid-meal & fetching me tea. You are indeed a gracious host. I hope this meeting will culminate into us becoming voice of the masses of Pakistan who have been crushed by inflation & incompetence. pic.twitter.com/L05y5IaObr

— Maryam Nawaz Sharif (@MaryamNSharif) May 19, 2019
It is thus clear that all Asif Ali Zardari is trying to do is apply pressure tactics and keep Maulana Fazlur Rehman busy by asking him to convene the All Parties Conference (APC). In fact, Imran should perhaps thank the PPP, for if this gathering was not arranged, Rehman might still be willing to lead a JUI-F march to Islamabad. Now Rehman will be focusing his energy on the APC and trying to convince all parties to forget their differences, making it quite likely the march will no longer take place.
Thus, this overreaction from PTI gives the impression that it is actually frightened of the joint opposition successfully creating a strategy against it. If PTI can recall the recent past, it will remember how it tried to topple PML-N by aligning with Tahirul Qadri and other opposition parties, and yet failed because PML-N had a majority. Instead of getting worked up over dinners and attacking members of the opposition, PTI's focus needs to be on maintaining support in the NA and delivering on its promises so the perception of misgovernance can be ended.
On the other hand, both Maryam and Bilawal Bhutto Zardari have proved their mettle – Bilawal by designing an accurate joint presser in which he targeted the PTI, and Maryam by standing firm on PML-N's narrative. Both belong to different breeds of politicians and yet have attracted the young vote bank to their respective parties. However, it still remains to be seen how far both can go with the political baggage of the past still lying on their shoulders.
The biggest criticism Maryam and Bilawal face is that they are both symbols of dynastic politics. While that may be true, both have suffered under the public eye – Bilawal after losing his mother and Maryam after her father's imprisonment as well as her own. The narrative can work in their favour in the eyes of the public, especially if they keep engaging in politics of the masses.
For now, the opposition wanted to make a statement and offer some optics to satisfy its vote bank, and it successfully achieved this, thanks mainly to the PTI, which focused all its attention on this and made a bigger deal than was necessary over a simple iftar.