Fusion food at its best: Cabbage rolls stuffed with ground beef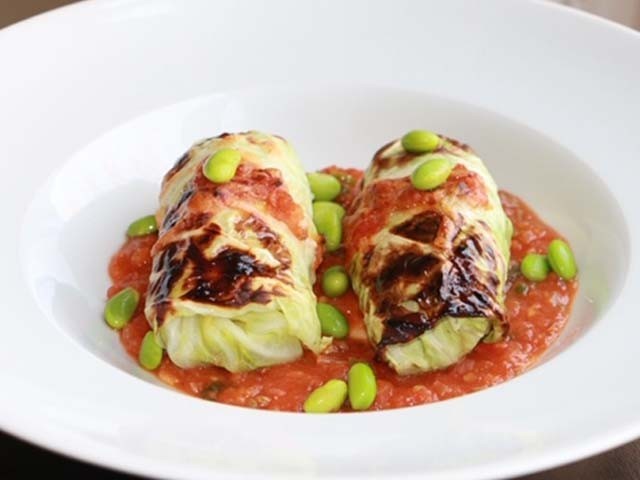 The experience of roasted cabbage rolls stuffed with ground beef and soybeans is tasteful and can be a part of a nutritionally balanced diet. This dish has great variety and is common in Middle Eastern and Mediterranean cuisines. The cabbage rolls can be wrapped around a number of fillings, including seafood, chicken, meat, or vegetables, based on one's personal preference.
My preference is meat filling with an authentic Pakistani taste. I love the aromatic filling served with a tangy tomato sauce, as it brings the eating experience alive with its incredible zing. The filling is essentially ground meat (qeema) prepared with roasted and fried ingredients. These ingredients include cumin seeds, black cardamom, turmeric, chillis, coriander seeds and fresh tomatoes. I fondly recall my mother preparing the meat filling with white rice or an assortment of breads (parathas, rotis, phulkas, and chapatis). She also accompanied the filling with assorted vegetable dishes such as okras, spinach, peas, and potatoes. The filling is complemented with slices of raw onion, cucumbers, carrots, and lemon wedges.
There are many ways to savour this delectable and versatile meat filling. It can be used as a topping for pizzas or pastas, as well as for tacos and sandwiches. My favourite is when the cabbage leaves are wrapped around the meat filling. While cooking, I like to add fresh soybeans which lend a nutty, buttery flavour to the meat. The specialty of my version of the dish is that it can be eaten without the added carbs we would consume from bread or rice. The leaves are nutritious and part of a balanced and healthy low-carb diet. The filling is also very convenient to prepare and refrigerate. I simply prepare it by baking or steaming the cabbage in a covered pot and allowing it to simmer, and then wrapping the cabbage leaves around the meat filling.
This fusion cooking experience of roasted cabbage rolls stuffed with this Pakistan-style meat filling provides me the opportunity to appreciate the coming together of different culinary traditions. I get to witness firsthand the dynamic interaction between ingredients which is the key to any great recipe. I present to you my original recipe for you to try out.
Preparation time: one hour
Serves: Eight people
Ingredients:
Head of cabbage — remove at least 10 to 12 fresh green leaves from the outer portion
Green edamame soybeans — 1 cup
Ground meat — 1 pound
Fresh tomatoes — 3 (medium-sized, finely chopped)
Fresh red onion — 1 (small-sized, finely chopped)
Garlic and ginger — 1 tsp (minced)
All spices powder — 1 tsp
Turmeric powder — 1 tsp
Bay leaves — 2
Black cardamom — 2
Caraway seeds — 1 tsp
Oil — 1 tbsp for the meat mixture, and ½  tbsp for the fried green soybeans
Combination spice powder — 2 tsp total (cumin seeds 1 tsp, raw coriander 1 tsp, red chili flakes 2 tsp. Roast each of them on low flame and blend them in a mixer into a powdered form)
Salt as per taste
Tomato sauce:
Fresh tomatoes — 5 (medium-sized, skinless)
Fresh red onion — 2 tbsp (finely chopped)
Chilli powder — ½ tsp
Garlic — 1 tsp (minced)
Fresh coriander — 1/2 cup (finely chopped)
Fresh green chilli — 2 or 3 (finely chopped)
Lime juice — 1 tbsp
Cumin seeds — 1 tsp
Paprika powder — ½ tsp
Black pepper — ½  tsp
Vegetable stock — 1 cube
Salt as per taste
Oil — 1 tbsp
Method for cabbage rolls:
Washing the minced meat:
1. Using a strainer bowl, wash the ground/minced meat with cold water to remove excess blood.
Tip: Do not squeeze the meat as you wash to avoid losing flavour.
2. Before cooking, pat and dry the meat with a paper towel.
Tip: Paper towels are excellent at absorbing extra water.
3. Keep the meat in the refrigerator wrapped for at least 45 minutes to allow it to dry completely.
Cooking the ground meat:
1. Heat the olive oil in a large heavy-bottomed pot over medium heat and add onions.
2. Cook the onions till they are softened, but not quite translucent or golden brown.
Tip: Stir occasionally, until the onions are very soft and can be mashed with a spoon.
3. Add ginger and garlic paste and sauté for a few minutes until the garlic is fragrant and brown.
4. Add bay leaves, caraway seeds, black cardamom, turmeric, all-spice powder, combination spices powder and salt with half a cup of water. Stir rapidly.
Tip: Adjust the heat if necessary. Avoid burning the mixture, and add water in very small amounts only if you need it to prevent the mixture from sticking.
5. Cook until the oil separates.
6. Add ground meat and sauté with the spice mixture for a few minutes.
Tip: Adjust the heat to prevent the meat from sticking. The meat should be well done and not pink. Allow the spices to infuse the meat.
7. Add half a cup of water and continue cooking until the water is absorbed.
8. Add tomatoes and cook until the meat is done and the oil separates.
9. Meanwhile, in a large saucepan on medium heat, stir fry green soybeans until they are tender. Mix them well with the meat mixture.
10. Set aside the mixture for wrapping.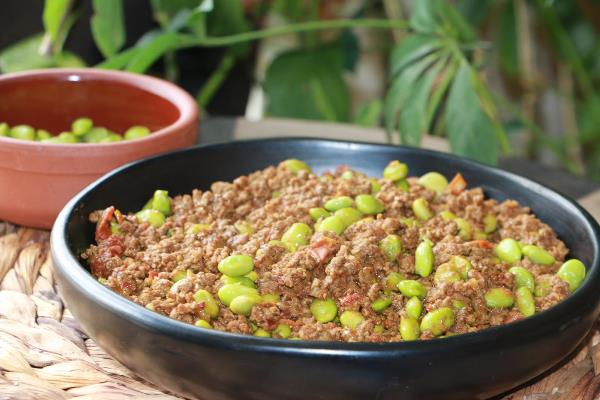 Boiling the cabbage roll:
1. Heat a large pot with water, and bring it to boil. Carefully add raw leaves of cabbage to boil for up to four minutes until they are tender, and ready to wrap.
Tip: Discard leaves that are discoloured or torn.
2. Let the leaves cool. Set them aside for wrapping.
Wrapping the cabbage roll:
1. Place about one table spoon of meat mixture in the centre of each cabbage leaf, and tightly roll it up, tucking in the ends.
2. Repeat the process with each cabbage leaf until all the meat mixture is used. Set aside.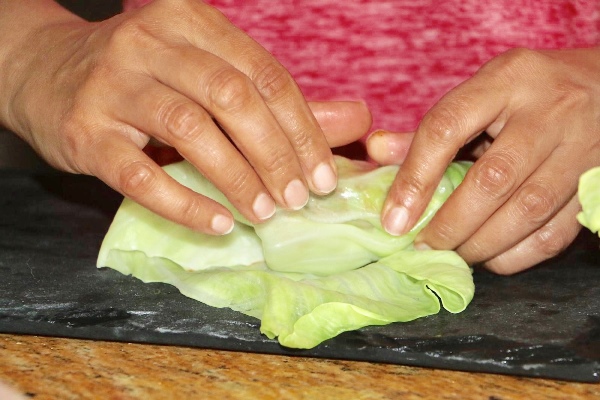 Method for tomato sauce:
1. Place the tomatoes in boiling water, bring it to simmer and cook for up to four minutes.
2. Drain and skin the tomatoes and blend the skinless tomatoes in the food processor.
3. Heat the large saucepan and add oil over medium heat.
4. Add chopped onions and garlic paste. Cook till they begin to brown.
5. Add cumin seeds, chilli powder, paprika, vegetable stock and salt. Stir for a few minutes.
Tip: Add water to prevent from sticking.
6. Add tomato puree, paprika and black pepper. Keep stirring the tomato sauce frequently to prevent it from sticking to the pan.
7. Add cilantro, green chilli and lime juice. Let it simmer to blend all the flavours for a few minutes. Adjust the salt as needed.
Method for baking:
1. Preheat the oven to 350 degrees Fahrenheit.
2. Use a large baking dish, spray it with oil.
3. Arrange the stuffed cabbage rolls about one to two inches apart.
4. Bake them for 15 to 20 minutes until the stuffed cabbage is tender.
5. Broil for two to three minutes.
Serving:  
Carefully transfer the stuffed cabbage rolls in a serving dish. Sprinkle with tomato sauce. Serve hot.
Notes:
1. With this recipe, we can use any type of filling. My family enjoys the meat mixture prepared with Pakistani ingredients.
2. You can prepare these rolls in advance and serve them whenever you want.
3. You can refrigerate the rolls for up to three to four days.
(All photos: Ayishah Taliaferro)