#CWC2019: 4 shockers from an uncertain World Cup squad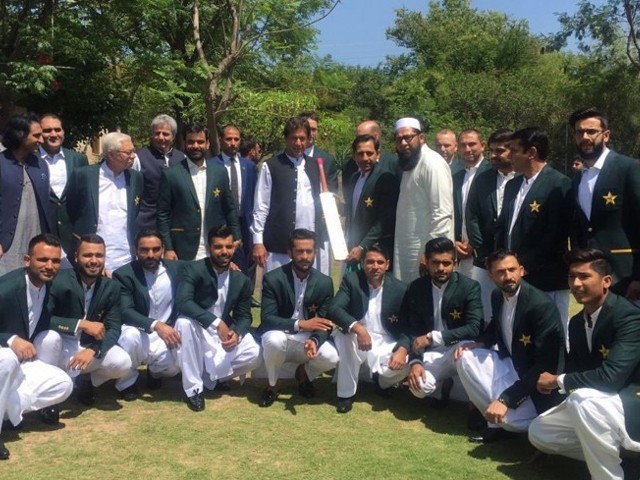 April has been the month of squad announcements, as the 2019 Cricket World Cup is now merely a month away. Almost all the participating teams have shown their trump cards. Our very own Chief Selector Inzamamul Haq recently revealed the 15-member squad alongside the two reserve players who will be touring England next month and representing the best of Pakistan cricket.
Speculations regarding the final 15 had been ongoing for quite a while, and while it all came to end recently, it did not go entirely as everyone expected.
BREAKING: Pakistan have announced their #CWC19 squad. 🇵🇰 pic.twitter.com/NBlvAc2vbo

— Cricket World Cup (@cricketworldcup) April 18, 2019
Most of the squad is as expected, with Sarfraz Ahmed at the helm, and seems to cover most bases by being fairly balanced. But do we have any horses we can truly bet on? Do we have enough resources to survive all nine games before making it to the semi-finals?
Here are four shocking observations from the announced squad that still need substantive evidence to justify the decisions taken:
Experience has been given preference, but should it be?
Shoaib Malik is the most senior player in the entire squad, and perhaps even in the entire World Cup, simply because he is the only player who made his debut in the 90s and is still active in the ODIs. However, what makes his selection dubious is his performance in England overall.
His batting average in England against all teams remains below 15, while he barely allowed himself to bowl his off-spin deliveries. With some worrisome performances with the bat and nothing to show for in his bowling either, was Malik really a must for Pakistan?
Mohammad Rizwan, on the other hand, had a great outing against Australia and passed the yo-yo test with flying colours. So why has Inzamam chosen experience over current form? Only he and the Pakistan Cricket Board (PCB) know the answer.
The curious case of Mohammad Amir
One of the most debated contenders for the World Cup this year was Amir. He has been a story of continuous struggle as far as ODI cricket is concerned. Since the Champions Trophy 2017 final, he has taken only five wickets in 14 matches, with the worst possible average of 92.60. This makes him the worst amongst all bowlers in the world who have bowled a minimum of 600 deliveries over this two-year period.
However, what is good news for him and his fans is that he has the best economy rate (4.78) among the current fast-bowlers who made the cut in the final 15. Pakistan have to face the mighty England for five ODIs and a T20I in their own backyard before the World Cup, and Amir will be there as one of two reserve players for this series. If he performs well and finds his rhythm, he will definitely find himself among his other 14 mates in the dressing room. For this to happen, either Mohammad Hasnain or Junaid Khan would have to take a flight back to Pakistan.
Greatfull for being picked to play against england going to give my 100% InshAllah and good luck to the team for WC19 may the WC trophy comes home InshAllah.. lets support our team…

— Mohammad Amir (@iamamirofficial) April 18, 2019
The shocking exclusion of Usman Shinwari
Shinwari's exclusion is perhaps the most unbelievable and most objectionable in this announcement. The way he has performed in ODIs since his debut in 2017 has been nothing short of extraordianry. He has the ability to win matches on his own, having sent 28 batsmen back to the pavilion in just 15 matches. This speaks volumes of his wicket-taking ability, but Inzamam and Mickey Arthur still have haunted memories of his odd performances during the PSL, for which he is paying through his exclusion from the most important event of the sport itself.
Ever since his debut @usmanshinwari has been the second highest wickets taker & and the best average for pakistani bowlers yet, he is one who misses out how the hell is this a fair selection? Never thought he will be the one missing out pic.twitter.com/psfZ1vjC94

— Mubashar Ali (@Mubasha01910781) April 18, 2019
Why is Imad Wasim getting special treatment?
It was Arthur who brought the culture of fitness by inculcating a yo-yo test before every series. He is the one who has a clear policy of zero-tolerance towards fitness. And yet the twist in the tale came when Inzamam clearly stated that the selectors were lenient towards Wasim's fitness, as he failed to pass the yo-yo test.
Wasim took just two wickets in five games during the Champions Trophy 2017. His bowling presents nothing notable, while his batting is still in the phase of improvement. While he does have a healthy average of 47.40 with the bat, however, selecting a half-fit player is still contradictory to what Arthur has stressed upon thus far, and that too for the World Cup.
Meanwhile, it is nice to see Abid Ali in the squad as he will also be a reserve keeper alongside being the third opener. Teenager Hasnain is still young at this level, while Mohammad Hafeez has not been able to bat or bowl for the past 10 weeks. Fakhar Zaman has also not in the best of forms since the past 12 months.
Though the biggest concern remains the absence of a power-hitter in the middle-order, Asif Ali might be inducted in the 15-member squad if he shows some spark during the upcoming England tour.
Despite the squad being announced, there are several question marks and there remains a lack of clarity about who will be playing for the World Cup in England and who will be watching from home. All our players are, as always, unpredictable, and will luckily get a chance to prove themselves in England and gain some confidence as they get used to its conditions before the Cup begins.
The entire selected squad recently met Prime Minister Imran Khan, and I hope the motivational speech put forward by the former skipper who led us to our only World Cup victory would go some way in creating the magic required to replicate the performance of 1992.
Good luck Sarfraz and Co!