Was Hanif Abbasi only arrested to benefit PTI in the 2018 General Elections?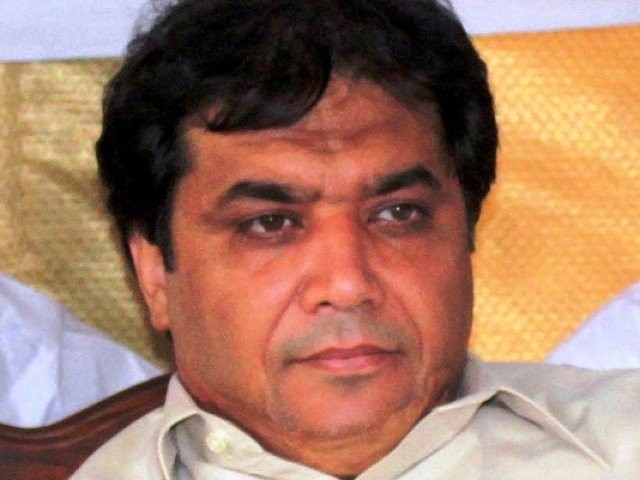 Hanif Abbasi, the Pakistan Muslim League-Nawaz (PML-N) leader from Rawalpindi, has finally been given some relief as the Lahore High Court special bench suspended his life sentence in the ephedrine quota case and granted him bail. It was always expected that Abbasi would be freed whenever a higher court would take up his appeal, as the prosecution never submitted any solid evidence in the court of law.
In fact, the way Abbasi was awarded a life sentence by the anti-narcotics court was strange and unprecedented. The judge who awarded this sentence admitted that he took the help from Google to become aware of the definition of ephedrine and based on this Google search the anti-narcotics court sentenced him to life.
The seven other accused, including Abbasi's business partners, were given a clean chit in the same case as the court cited a lack of evidence, but the benefit of the doubt was not awarded to Abbasi. Suspiciously, the ephedrine case was pending in higher courts for the last five years when suddenly, days before the 2018 General Elections, the High Court ordered the anti-narcotics court to take up Abbasi's case on the basis of daily hearing and announced its verdict on July 21st.  
Abbasi always maintained that he was convicted in order to give Sheikh Rasheed and other political rivals an edge in the elections. After Chaudhry Nisar's departure from PML-N, Abbasi became one of the main figureheads in the party's Rawalpindi division alongside Chaudhary Tanvir Khan. His absence not only dented PML-N's campaign in Rawalpindi and adjacent areas but also divided the different groups within PML-N who were not awarded tickets and were only silent because of Abbasi. Putting him aside was thus a very strategic move.
Abbasi made a name for himself in Rawalpindi during PML-N's five-year tenure, and those within political circles are also aware that Imran Khan chose not to contest against Abbasi as he was advised that the result might not be in his favour. It was only Abbasi's controversial conviction and his absence from the ballot that allowed a politician like Rasheed to win the seat against the lesser known PML-N worker Sajak Khan.
Had Abbasi not been disqualified, he would not only win his own seat but also seats for Malik Ibrar, Danyal Chaudhary and others in Rawalpindi.
Now that Abbasi is free, will anyone be held responsible for his unfair imprisonment and the mental torture his family has been through? Abbasi is not an ideal politician by any means; often times he ends up using the same tone and language that the Pakistan Tehreek-e-Insaf (PTI) and Rasheed are often criticised for. But there should be no doubt that his conviction was unjust and it is now glaringly obvious that the case against him was politically motivated.
Just like the era of Pervez Musharraf, once again institutions like the National Accountability Bureau (NAB) and the anti-narcotics courts were used to target PML-N. After all, without its main crowd-pullers, PML-N could not repeat the success of the 2013 Elections.
His release also validates PML-N's position that the courts have been used to victimise the party and give an edge to its political rival in the elections. After all, this is not the first case where PML-N has been proven right; Nawaz Sharif and his daughter Maryam Nawaz's sentences were also suspended. Shehbaz Sharif was also given bail by the higher courts. Saad Rafique and his brother Salman Rafique are in jail, but it is expected that the moment their appeal will be heard by the higher courts, the decisions given by the lower courts will be reversed. This sheds light on the poor prosecution and inability of the lower courts to sustain under pressure, and the honourable Supreme Court needs to fix this issue and bring reforms to the judicial system.
However, yet another suspended sentence for the PML-N not only makes one question why they were handed out in the first place, but also makes one wonder why the party is suddenly getting relief from all quarters. Does this mean Shehbaz has mended fences with the actual players of the chessboard? The silence from Maryam and Nawaz is only adding to the impression that Shehbaz's narrative has finally prevailed.
This may seem hypocritical to many, but this is how politics is conducted. While the 'respect my vote' narrative is ideal and PML-N was able to use it to create a wave of sympathy, under the prevailing system this narrative cannot bring the PML-N back into power. So it seems that Shehbaz's plan to compromise in order to get back into power is what is allowing PML-N workers to breathe a sigh of relief.
The dilemma in Pakistan is that every now and then political parties find themselves in hot water and react by chanting slogans of democracy, but when the time comes to take a firm stand and the situation demands the top leadership to sacrifice and bear the brunt, they actually prefer to give in or bargain with the powers that be for their own vested interests. Other than Zulfikar Ali Bhutto, who refused to bow down, each and every mainstream political party has only used the slogan of democracy at face value, and swiftly given in to the status quo in order to return to power.
If PML-N is now doing the same and mending fences, ready to sit with the same forces against whom its whole narrative was based, then the question arises: were the Sharifs only using this narrative for political gain? Hasn't PML-N been criticising PTI of having anti-democratic credentials and alleging that the party aligned with undemocratic forces to undermine democracy? But a PML-N with Shehbaz's narrative is no different from PTI, as both believe in power politics.
Meanwhile, Abbasi's release should also be a worrying sign for PTI as it struggles to address the economic and political situation of the country. If PML-N's position is improving and it is returning to power, this should give PTI sleepless nights as PML-N can topple PTI's Punjab government within a few days with the help of a few independent legislators in the Punjab Assembly.
No matter what happens, at the end of the day it is clear that the same courts that were used against the PML-N could eventually be used against PTI as well. This not only raises suspicions over the impartiality of last year's elections and the engineered discourse we have witnessed for the past year, it also has serious implications upon our democracy, for if political parties continue to victimise each other in such a manner and keep working for their own interests instead of working for a real democratic system, it will only weaken an already fragile democracy in Pakistan.