Religious persecution under the guise of free will?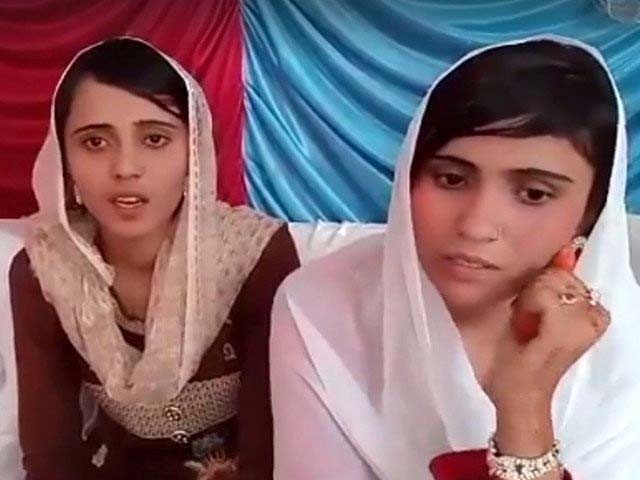 How does it feel to be a child one day and a woman the next? How does it feel to take a different name for the deity you believe in? How does it feel to begin a daily ritual in a new language, with new customs? For you and me, this may seem difficult. But for a child who is forced to give up her name, identity, relations as well as her faith, describing the experience as catastrophic would be an understatement.
After a prolonged cold spell of winter, as Pakistan basks in the warm sunlight of spring, the Hindu community in the country recently celebrated Holi, a vibrant festival of colours. But the festivities lost their hues as two underage girls in Sindh were allegedly kidnapped and forced to convert from Hinduism to Islam. Although the case is still oscillating between fact and fiction, it has, nevertheless, put the issue at large in the spotlight.
Hindu community leaders from a scheduled caste in Sindh's Ghotki district alleged that two underage sisters had been abducted by some local, influential people on the eve of Holi. Community members belonging to the district staged sit-in protests, with a video of an aged man deploring the incident going viral on social media, only to be followed by another, in which the two girls claimed to have converted to Islam voluntarily.
"No one has forced us, we have embraced Islam at will," the two maintained.
#Reena 14 & #Raveena 16 claiming they will fully accepted Islam. This can't be an excuse for Police. Cant ignore both girl are underage, were illegally married after conversion & both could be under immense pressure. For more on Forced conversions read https://t.co/7gT9vigqnz pic.twitter.com/vp6T2MzPtj

— M. Jibran Nasir (@MJibranNasir) March 22, 2019
Society has reasons to believe otherwise. Apart from a case of possible forced conversion, it is also one of underage marriage since one of the girls is reportedly 13 years of age while the other is 15. With human rights activists across the country raising voices against such incidents and the Indian foreign minister raising her eyebrows over the issue, the Prime Minister of Pakistan has ordered a probe. Police have detained at least 12 people suspected of involvement in the alleged abductions and forced conversions, while the girls and their spouses have filed a petition to seek protection from adverse action. Hearing the petition, the Islamabad High Court has ordered the state to take over custody of the girls and ensure their safety till their case is decided.
The US Commission for International Religious Freedom noted in its 2017 report that around 1,000 girls and women from religious minorities (700 Christian and 300 Hindu) are estimated to be abducted, forcibly converted and then married off to their abductors each year in Pakistan.
Another research paper of the University of Birmingham, titled Forced Conversions and Forced Marriages in Sindh, Pakistan published last year, states that evidence provided by NGOs, journalists and academics shows that "in most cases, the victim is abducted and is then subjugated to sustained emotional and physical abuse, often involving threats of violence towards their loved ones".
Ghotki's case has prompted Sindh MPA Nand Kumar Goklani to urge the incumbent provincial assembly to pass and implement the law against forced conversions immediately.
Goklani, in the previous government, had moved a bill against forced conversions, which was passed by the Sindh Assembly in 2016. However, with many religious parties announcing a movement against it and taking to the streets as usual, the then leadership, which had distributed sweets while calling the passing of the bill a 'landmark achievement', succumbed to mounting pressure. Ever since, the bill is resting in a heap of files gathering dust.
However, the Sindh Assembly did manage to unanimously adopt the Sindh Child Marriage Restraint Act in 2014, which raised the legal minimum age for marriage to 18 years. It further made the act a punishable offence.
In the National Assembly secretariat, two bills – Child Marriage Restraint Act (amendment) Bill 2019 and Criminal Law (Protection of Minorities) Act 2019 – were presented by Dr Ramesh Kumar Vankwani, a lawmaker belonging to the ruling party. A resolution has also been submitted in the lower house asking for the bills to be passed on an urgent basis and raising the minimum age of marriage to 18 years.
While the debates over legislation for forced conversions and minimum marriageable age for girls simmer, in Tharparkar, Sindh, a 16-year-old Hindu girl was also reported to have been 'forcibly married' after her 'conversion' to Islam earlier this year. Despite outcry from the community, the case doesn't seem to have been attended to by the authorities.
Similarly, social media in Pakistan recently pleaded justice for a young Christian girl who had been a victim of forced conversion and forced marriage. Sadaf, belonging to a village in Bahawalpur, was first forced to quit school by her parents because of a local man harassing her at the institution. As an ugly consequence, Sadaf was kidnapped from her home. A few days later, the shocked parents were informed that their daughter had accepted Islam and was now married to the person who had been harassing her. The parents were handed over a marriage certificate with Sadaf's thumb print as the affirmation.
There are many more cases to quote here, but they all seem to be fading into obscurity. As a new incident emerges, the previous one is conveniently put aside and forgotten. And as the pile rises, the dreams and lives of many young girls are crushed beneath a forced identity.
So what lessons do we learn? That to be able to live in the Land of Pure, one has to, inevitably, be a part of the overwhelming majority. Or for a woman in Pakistan, who also happens to be a non-Muslim, life may be full of ugly surprises, even before she reaches the threshold of womanhood.
The government may mull over legislation and decisions, as it does in almost every case, but it is the society which is the real culprit, for it is the same society which would have thrown a ruckus had it been a Muslim girl who had been forcibly converted to another faith. To force your power on the weak is a crime. To force your belief on another is a shameful act. To change the identity of a person when she is yet to develop one is a deplorable offence.
Meanwhile, as I write these words, Reena and Raveena of Ghotki, Sadaf and many others like her, struggle to adopt a new persona which has been suddenly enforced upon them. They wonder, is their underage marriage not a crime? If it is a punishable offence, then where is the penalty for the culprits? As Reena and Raveena cleanse themselves of the colours of their old faith, they stare at the blank pages of their new life, devoid of any shade. As you and I attempt to lend them some support, another day passes by.