Sherdil can talk the patriotic talk but doesn't know where or how to walk
Patriotic films have managed to do well at the box office of late. Most recently, Parwaaz Hai Junoon came out last year and fared quite well. In fact, some theatres are still playing it, which obviously suggests that audiences are enjoying this genre.
The most recent release in this genre is Sherdil, which has been in the limelight for a while now, mainly due to Pak-India tensions and the skyrocketing patriotism experienced by the country over the past month.
Sherdil is Azfar Jafri's fourth film after Siyaah, Janaan and Parchi. The film is written by Nomaan Khan and features Mikaal Zulfiqar, Hassan Niazi, Armeena Rana Khan, Sabeeka Imam and Samina Ahmed in pivotal characters.
Sherdil's plot unsurprisingly pertains towards the Pakistan Air Force, particularly the story of Haris (Zulfiqar), the grandson of a martyred pilot whose one dream in life is to serve his country, However, his father, a media tycoon, seemingly opposes his decision every step of the way. The film initially focuses on how Haris becomes a fighter pilot and keeps his motherland his top priority. There's also a romantic angle in the film, which to be honest is its weakest link in terms of conceptualisation, treatment and writing.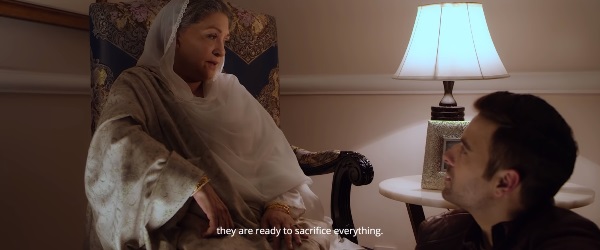 Haris is then sent abroad for training, where he comes face to face with Flight Lieutenant Arun Veerani (Niazi), an Indian fighter pilot. Thus begins their tussle, which is shown as a love-hate relationship between the two in the latter half of the film.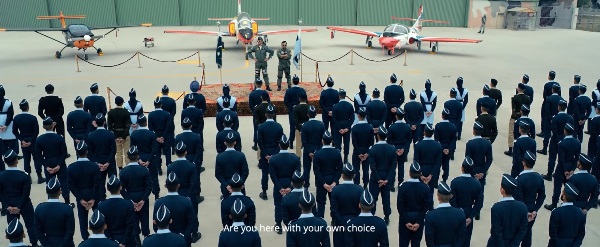 Sherdil's story is lousy, dull and fails to engage on multiple grounds. It also is very hard to believe, even as an audience aware of the fact that this is a Pakistani film.
Performance wise, the only actor standing tall in film is Niazi. Despite his brief presence of hardly 20 to 25 minutes, he leaves the strongest impact on the viewers. After leaving his audience spellbound in Maalik, Niazi ones again entertains and raises the bar through his portrayal of Arun.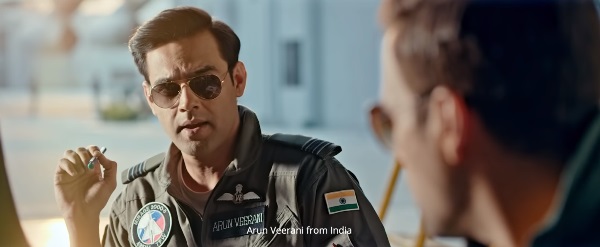 Meanwhile, Zulfiqar's main fault lies in the fact that he doesn't look like the character he portrays in Sherdil; he doesn't look young enough, doesn't ooze the patriotic vibes he is meant to, and while he utters heavily nationalistic dialogues, the zeal and passion required to do so is missing. It's an entirely flat attempt for an actor with a role that is supposed to carry the film.
Sadly, Khan and Imam have nothing substantial to offer in Sherdil either and are seemingly present merely as props. While Imam does have an interesting character, she is still limited to a senseless romantic scene and a club song which feels weirdly out of place; like it is present in the wrong movie.
Similarly, the actor playing Hasan's father can only be described as "next level" when it comes to his overacting. Another character the film could have done without was Don, played by Kashif Khan. His character and performance were both unnecessary in the film.
Sherdil's script makes it yet another huge miss to come out of Pakistani cinema. The story is haphazard, while there are multiple glitches in the film which are too obvious to ignore. When not noticing these glitches, the audience looked bored throughout. The story had a lot of potential for improvement, but none of the people involved in the film seemed to pick up on this.
As for the music, there is only one song in the film that stands out, which is Kudi Da Jhumka, while all the other songs (pointless to begin with) are terrible as well.
Sherdil is one of those films that talks tall on patriotism and sacrifices – a really good concept to work upon, especially in this climate – but unfortunately has no soul to sell these ideas upon. The storytelling is not only redundant, it is archaic. The Pakistani audience has been exposed to such kind of stories since Sunehrey Din (an old Pakistani miniseries), making Sherdil feel like it does not belong in 2019.
However, the only saving grace in Sherdil are the aerial shots and dogfight sequences, which are decent attempts in an otherwise unimpressive and unstimulating experience.
Sherdil offers no entertainment, its jokes fall flat (the genre deserves better than toilet humour), and overall it just doesn't hit the right chords for a film that desperately needed to. All in all, Sherdil is a good idea wasted in visual and artistic translation.
Only for the sake of supporting Pakistani Cinema, I give Sherdil:
All photos: Screenshots