"Patriarchy ka janaaza": The outrage is proof that we need more Aurat Marches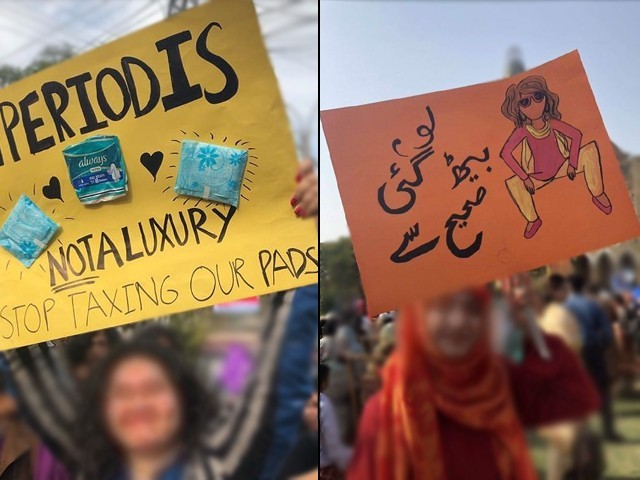 I'm marching through the streets of Karachi,
I'm marching through the streets of Karachi.
My feet connecting with the cold hard concrete of Saddar,
I feel my heart beating.
I'm pumping my fist in the air,
I'm waving my poster side to side,
I'm feeling safe,
I'm feeling comfortable in my own skin.
I'm screaming "Azadi" at the top of my lungs.
I'm looking around. Documenting this moment for today,
For every day,
For all my tomorrows.
– Aurat March 2019.
Last Friday was International Women's Day, and to spread awareness about the Aurat March, #WhyIMarch was trending on Twitter and various other social media platforms. Women shared their truths and spread the message that their rights will no longer be ignored, that their issues will no longer be pushed to the sidelines. Women marched because they are still unable to name and shame their abusers, and because one-fifth of the world's honour killings take place in Pakistan. They marched because their bodies need to be accepted, and because they need an escape from the inherent misogyny prevalent in workplaces. They march because of the never ending cycle of oppression.
I march because the simple slogan 'khaana khud garam karlo' is enough to cause a mass uproar amongst men. #WhyIMarch #AuratMarch2019

— Nida Kirmani (@nidkirm) March 5, 2019
#WhyIMarch because most women are still the first to wake up in the house and start working and the last to sleep before finishing working in the house, no holiday, no pay #AuratAzadiMarch #AuratMarch2019

— meena gabeena (@gabeeno) March 6, 2019
To celebrate, I, along with countless other people, took to the streets of Karachi. I walked onto the gardens of Frere Hall, and the city felt alive. Painted with the colour orange, I saw faces, kurtas, posters and movement – all geared towards the celebration of this day. People stood on the stage swaying their hips, bodies shimmying to dhols playing as they laughed and smiled together, for once acknowledging we are all one populace. This year, the realisation of why we need more Aurat Marches only became stronger, and for good reason.
The aftermath of the march has been both interesting and painstaking. For those who went, it was a sensational experience and they craved more – more of that feeling, that freedom, and that place to voice their truths.
Some incredible things came out of this march. For one, it was phenomenal to see thousands of people standing up against all the injustices that women, transgender people and non-binary individuals face on a daily basis. This was for every woman who has been harassed and hasn't gotten justice, for every bill that has been passed and never enforced, for reproductive rights, economic justice, environmental justice, for the right to work, for safe spaces, for public spaces, and most importantly, for respect.
Secondly, the agenda of the march included performances, politically charged conversations, commemorated the brave women we have lost – Asma Jahangir, Sabeen Mahmud, and Qandeel Baloch to name a few – and displayed an overall understanding of the notion that we are here to work towards claiming our rights and reclaiming our spaces.
Thirdly, last year the march started off with thousands of people as well, but this year it spread from the big cities to cities such as Hyderabad, Peshawar, Faisalabad, Hunza and Mardan. This in itself is an achievement when it comes to spreading awareness. In Karachi alone, there were around 7,000 people marching.
#AuratAzaadiMarch2019 Hyderabad. May be media and anchors should have highlighted this more instead of participating in rating race. #AuratMarch2019 pic.twitter.com/QiPLcSG7Dj

— Aurat March Lahore (@AuratMarch) March 11, 2019
Women of Hunza and Gilgit celebrated #internationalwomensday and they look so powerful! pic.twitter.com/ARUKiWKQKu

— AuratMarchKarachi2019 (@AuratMarch2019) March 8, 2019
Further, everyone at all the marches was thriving, especially when the symbolic funeral of the patriarchy took place. People danced around a faux 'body' of the patriarchy, celebrating its metaphorical end, but the deeper meaning and message was clear to everyone there – to put an end to women being constantly victimised by the patriarchy.
The march allowed room for women to collect and speak up for themselves in an environment where everyone else was doing the same. The march united women, non-binary and transgender people across all the spectrums, and most people I came in contact with wanted the same thing – their truth to be heard.
Finally, the posters alone were a good enough reason to be there – depicting opinionated, bold women pushing for the normalisation of menstruation, calling for an end to the patriarchy and body-shaming, acknowledging the survivors of abuse and harassment, as well as claiming a right to one's body and one's own choice.
However, while movements like this are exactly what we need, not everyone accepted the beauty of the march. Social media has been swarming with backlash all weekend, and those who did not attend the march could not help but rant over the posters.
What kind of freedom is this? 🤔#AuratMarch#AuratMarch2019 #AuratAzadiMarch #MiG21 #Thar pic.twitter.com/3B8uJftgZR

— Zeeshan Shams (@FriendlyMela) March 8, 2019
Unpopular Opinion:
The play cards at the Aurat March has killed the very reason why women were marching. pic.twitter.com/MlYkYszCqJ

— Muhammad Usman (@rana_usman) March 8, 2019
Men and even (some) women are finding it hard to understand why some people held up the placards that they did. And so, as always, the anti-feminists, the misogynists, the egotistical and the ignorant all flocked to Twitter to claim they somehow know better than our lived experiences.
Women too exemplified internalised misogyny in the worst way possible, calling the posters 'vulgar', 'shitty' and 'unnecessary'. Some even posted odes to their husbands on Facebook to prove just how strongly they disagreed with the posters.
I send lanat to #AuratMarch pic.twitter.com/X64DNklsZJ

— Hasan🇵🇰 (@hasanoverhere) March 8, 2019
Sorry to say but it's rubbish, are you feminists supposed to give respect to all ladies? U are not giving respect to them actually u r insulting them by disrespect urself. This is really insane in short LDL to this so called aurat march.#AuratMarch2019
#InternationalWomensDay pic.twitter.com/AXyEkm1ooU

— Haniyaملک🥀 (@HaniyaMalic) March 8, 2019
Sorry to say but Aurat March was a complete failure due to all the shitty and abusive posters. You women literally ignored the main issues like physical abuse, child marriages, education, rape and the list goes on. You don't deserve to be called feminists.

— Sakhwa.🇵🇰 (@sakhwa) March 8, 2019
To everyone throwing a fit all over Twitter and Facebook claiming these posters were 'vulgar', 'elitist' or not proving the point: shame on you. Speaking for women's rights is not mutually exclusive with speaking against men. Feminists seek to destroy the system, not a particular gender and if you don't understand that then you're a part of that flawed system as well.
Indeed everyone needs equal rights but im confused where's our nation actually heading Majority cards in aurat march are totally irrelevant vulgar & disgusting "Naach koi nahi rokega, nazar teri gandi parda mai karun? Bistar khud garam kro? It's so disrespectful for ones own self

— Izma. (@IzmaSiddiqi) March 8, 2019
Why don't we see a Mard March? Because men actually have something useful to do instead of whining about their problems on the streets!#AuratMarch #InternationalWomensDay

— Syed Abdullah (@SyedDady) March 8, 2019
The idea that a so-called 'Mard March' should also take place is just ridiculous. Each time a woman or minority tries to speak up for something that is right, lo and behold, men with fragile egos take to naming and shaming.
The reactions to the Aurat March made apparent just why such a march is necessary for a country like Pakistan. That's exactly why we need to put an end to this system – to show our women the spaces in this world are theirs to claim, and to prove to men they don't have to follow the cookie-cutter rules of the patriarchy to be deemed 'real men'.
To all the people taking offence to the period acceptance posters, do you know what it's like to enter a store and be told to put your pads in a brown paper bag? Do you know what it's like to not be able to afford pads because of the taxes? Do you know what it's like to bleed once a month and be shamed for it; for something so natural? If not, then you shouldn't speak. And you definitely shouldn't stigmatise.
Yikes pic.twitter.com/OMotLE5Fvz

— omar r quraishi (@omar_quraishi) March 8, 2019
To the men that stood up for 'period acceptance', I applaud you. We are still one of the few countries that still sees anything period-related as oh-so-disgusting; as if to bleed and to be a woman is something we should hide. For people retweeting, posting these pictures and saying "yikes", please crawl back into your ignorant cesspool because we don't need people like you trying to destroy a movement as important as this.
You don't have the right to question what a woman chooses to share with the world. One thing that feminism extends is the notion of honesty. If our truths are different, learn to accept this. Learn that feminism is multi-faceted. Acknowledge that everyone's justice is not the same and that this movement, these women and these causes are all here to stay.
All photos: Maheen Humayun