Pakistan's space programme: Achievable goal or impossible dream?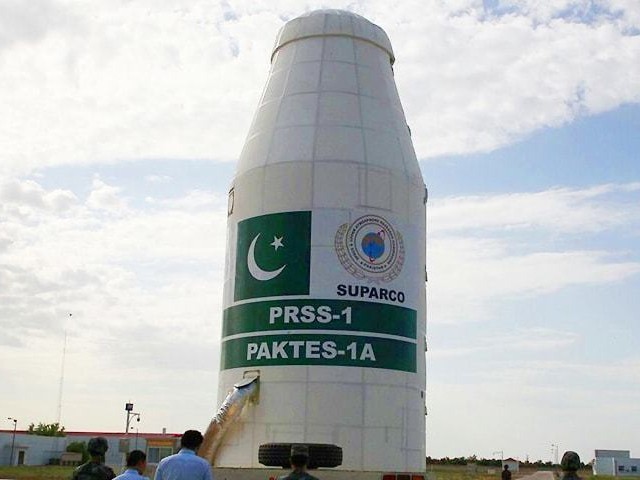 Last year, newly anointed Minister for Science and Technology Fawad Chaudhry boldly announced that Pakistan would launch its first manned space mission in 2022, and as expected, many people took to social media to voice their amusement. The statement cracked many smiles and it became the subject of much ridicule and cynicism.
For the first time in a long time, a Pakistani minister had publicly shown interest in and hinted at developing a space programme. Although space travel may not seem like a necessary concern for a developing nation like Pakistan, the feat would require incomparable resources and in the process of utilising those resources our nation may enter into a scientific and technological renaissance. But what will it take to get into space? Are the wishes of the government genuine? How serious are we about boldly going where only a few have gone before?
Pakistan will send a human to space for the first time in 2022 with China's help, Information Minister Fawad Chaudhry announced Thursday, the same year India plans to launch its manned space mission https://t.co/iiySLoFE24

— Gulf News (@gulf_news) October 25, 2018
The idea of space travel is usually torn between the alluring glamour of scientific exploration and the compulsion to direct our resources towards more pressing matters. Of course, space exploration is not only about pushing scientific boundaries but is often also seen as a means to establish dominance between rival countries. Amidst the growing friction between India and Pakistan, it is important to note that India is already far ahead in the space race. In November 2013, India became the first Asian country to launch a space probe to orbit Mars. The Indian Space Research Organisation (ISRO) also has extensive experience in launching multiple satellites using its own rockets. A major breakthrough came when the country launched a low orbiting satellite, granting the nation the ability to execute 'space warfare'. Mission Shakti, as it was called, did indeed propel India to join the ranks of countries like America, Russia and China in terms of combative abilities in space.
But despite the progress, India has still not sent an astronaut into space. Perhaps Pakistan can take the lead in this respect. Doing so would certainly help establish our country's dominance in the region and propel Pakistan towards superpower status. But Pakistan needs to ensure that its space programme is not perceived as being dangerous. Our national pride should not lead to international denunciation.
China, for instance, has not been careful in this respect. It failed to win the trust of the American government and has largely been denied any international cooperation with regards to the development of its own space programme. Similarly, India recently destroyed one of its space satellites, an operation which almost endangered the lives of the astronauts aboard the International Space Station (ISS). As a result, India received severe criticism from the National Aeronautics and Space Administration (NASA). Therefore, if Pakistan is serious about furthering its capabilities in space, the nation must take a cooperative and inclusive stance at the international level to help ensure future support.
NASA says debris from India's anti-satellite test threatens the International Space Station https://t.co/fb2prR98X6 pic.twitter.com/B2dNcE1Oiu

— CNN (@CNN) April 2, 2019
While India is often perceived as being Pakistan's primary enemy, in reality, there is a far more menacing contender that deserves the badge – climate change. With rising global temperatures, Pakistan, the sixth most populated country in the world, is slowly succumbing to natural catastrophes brought on by completely unnatural means. At least having our own space programme will help the nation better track down the changes in climate, identify precise causes, and create programmes to mitigate the effects of damage done to the atmosphere. This will contribute to research and technological development in the field of meteorology. Of course, any development, whether technological or otherwise will likely be the side-effect of our space programme. As a result, scientific development will begin to flourish in Pakistan and young minds will be inspired to contribute towards their nation's scientific endeavours.
However, adopting a slightly more pragmatic lens, Pakistan is currently devoid of the skills and knowledge needed to propel the nation towards the final frontier. There are only a handful of universities offering aeronautical engineering degrees and there are yet fewer institutes committed to scientific research and development.
Pakistan needs to generate public interest in space exploration, especially among the youth. Pakistan's Space and Upper Atmosphere Research Commission (SUPARCO), which was formed in 1961 by Dr Abdus Salam, has largely been denied the funding and resources needed to ensure a sustained rate of advancement and innovation. If the new government is serious about its space ambitions, then it must breathe new life into SUPARCO. The lack of technological infrastructure will undoubtedly serve as a bottleneck since only nine countries currently possess the capabilities to enter into orbit.
Furthermore, Pakistan's debt has already ballooned in excess of Rs33 trillion and an ambitious space programme will likely pop this balloon. The procuring of necessary items such as space shuttles, a launch pad, mission control facilities, and tracking and data relay satellites are all major capital investments, but they could certainly guarantee heavy returns. To save some of these costs, Pakistan can always request international partners to collaborate and share their facilities. For instance, in 2018, Pakistan launched two homemade satellites using a Chinese launch vehicle. This was a small step, but now the country needs to take bigger leaps.
Recently, Raadeyah Aamir, a Pakistani student aged 12 years, was selected by NASA for its internship programme, giving us a fresh glimmer of hope for our fledgling dreams of space exploration. Perhaps the actualisation of this impossible dream lies in the hands of Pakistan's youth.